Category Archives:
FA Cup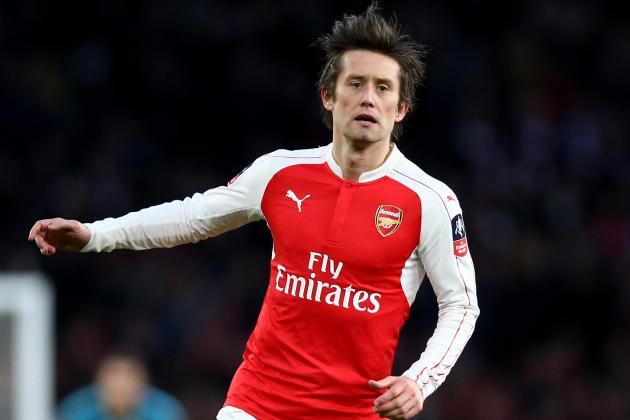 This weekend saw FA Cup duties resume for the teams that were still in the fourth round. Most Premier League teams had routine results with Manchester United, Tottenham, Arsenal, Everton, Watford, Bournemouth and Chelsea getting victories over their lower division opposition. West Brom were surprisingly held at home by Peterborough, which ensures that the lower league side has earned a replay. In the all-Premier League encounters, Crystal Palace edged past Stoke while Manchester City's Kelechi Iheanacho was the star as he bagged a hat-trick in the Citizen's win over Aston Villa.
The fifth round fixtures are out with the tasty draw of the round being the Chelsea vs Manchester City clash. There are two other Premier League clashes with Bournemouth hosting Everton and a London derby between Tottenham and Crystal Palace. Arsenal host Hull (again!), Watford welcomes Leeds United to town while Manchester United visit Shrewsbury Town.
The games will take place on February 19, 2016, so Arsenal's Premier League fixture against Everton could be rescheduled.
When the Gunners hosted Burnley on Saturday, some players made their comebacks from injury with Alexis Sanchez and Francis Coquelin making their impact on the game with the Chilean scoring a goal and providing an assist while Le Coq played 90 minutes and worked in tandem with new boy, Mohamed Elneny.
The game also marked the return to competitive action for Tomas Rosicky that came on in the 70th minute for the impressive Alex Iwobi. Rosicky had a decent game by his standards, making some neat touches and passes, and from the roar of the Emirates faithful when he entered the pitch, you could see how much the player was missed.
According to the Mirror, the legendary Czech midfield maestro has suffered a thigh injury and he's set to miss up to six weeks of action. When you think of the fact that Rosicky has been on the sidelines since May, you can't help but feel disappointed about the situation. Rosicky is one player that gives the team a different dynamism in midfield with his surging turns and perfectly-cushioned through balls but he also offers a goal threat as well.
In Mesut Ozil, Aaron Ramsey, Francis Coquelin, Mathieu Flamini. Mohamed Elneny, Mikel Arteta and to some extent, Alex Oxlade-Chamberlain, Wenger still has the personnel he can feature at central midfield but losing Rosicky is a big blow. If this initial prognosis is right, we won't see the Czech till mid-March and this is me hoping that he would have another setback like Jack Wilshere, that's set to be out for six more weeks.
It's likely that Rosicky's contract will not be extended beyond this season, and I will be hoping that he could still make an impact before the season concludes in May.
Sayonara.
Download the Gooner Daily  BlackBerry App to receive notifications on your Smart Phone when a post is published.
Follow Gooner Daily on Twitter  @goonerdaily. I'll follow back
Visit Gooner Daily's  Facebook page.
Click on the "Follow button" to join Gooner Daily's Mailing List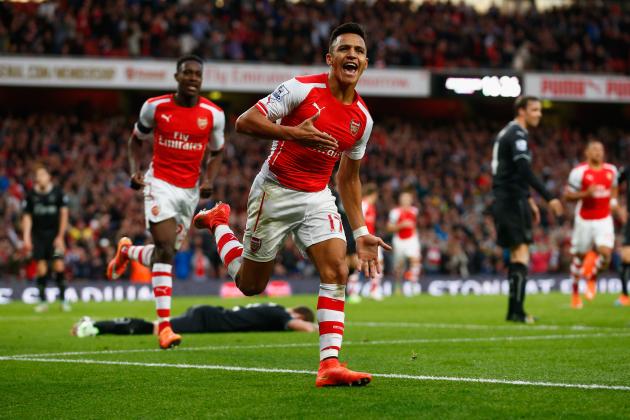 Yesterday saw Lionel Messi crowned the Ballon D'Or winner for the fifth time and comparisons with Cristiano Ronaldo dominated social media as the fans did their various bits to see reasons why Mr. A deserved it more than Mr. B, like it actually mattered. After the event, the top 10 players of 2015 was published and it was good to see that Alexis Sanchez's efforts for club and country in the calendar year saw him book a place as the 10th best player in the world. You know, he was only behind Lionel Messi, Cristiano Ronaldo, Neymar Junior, Robert Lewandowski, Luis Suarez, Thomas Muller, Manuel Neuer, Eden Hazard and Andres Iniesta.
2016 has began on a good note for the Gunners with their victories over Newcastle in the Premier League and Sunderland in the FA Cup. With all FA Cup third round matches played over the weekend, the fourth round draws are out and there are some rather interesting fixtures. The winner of the Wycombe vs Aston Villa replay will take on Manchester City and in recent weeks, the Citizens have found this a bit difficult in their travels. Then there's the tasty prospect of the high-flying Derby County hosting the poor Manchester United. There is also an all-Premier League encounter when Crystal Palace welcome Stoke City to Selhurst Park.
Arsenal has been drawn with Burnley, a team that is currently fifth in the skybet Championship. The Clarets have been in fine form in the league, winning 11 of their first 25 games and they have their hitman, Andre Gray, to thank as his 13 goals have come in handy for Sean Dyche's team. They earned a place in the fourth round after defeating championship league leaders, Middlesbrough, in their own turf with goals from Rouwen Hennings and Stephen Ward.
Arsenal's head to head record with Burnley is pretty impressive with the Gunners having 28 wins, 9 draws and 9 defeats against the Clarets. Both teams have met just twice in the FA Cup and Arsenal has bested Burnley on both occasions. In January 2008, goals from Lord Nicklas Bendtner and lethal finisher, Eduardo da Silva, propelled the Gunners to the next round.
Both teams met again in March 2009 but it was Carlos Vela (I'm sure it was a chip), Eduardo da Silva and Farmer Emmanuel Eboue that scored the goals that ended Burnley's FA Cup campaign. The match will take place on January 30, 2016.
Moving over to injury news, it was heartwarming seeing club captain, Mikel Arteta, returning to the pitch for the first time in two months when he came on as a sub for holding midfielder, Calum Chambers. With the Gunners on the ascendancy, I was hoping that he went through the game unscathed because with Arteta nowadays, you can never know. To his credit, he finished the game without any further setbacks which was highly welcome.
Having players fit in the central midfield position has been a thorn on Arsenal's flesh but there's great news because Tomas Rosicky is now available for selection. The last time Rosicky scored for the Gunners was in January last year, when he captained the team in a 3-2 victory over Brighton and Hove Albion. Having Rosicky available is a big plus because the ageless Czech's experience can be vital in some games.
Then there's Alexis Sanchez….
On a cold night in November, Alexis aggravated his ailing hamstring and he missed the remainder of the month, as well as the entire December. Since Alexis injury, the Gunners defeated Sunderland, Olympiakos, Aston Villa, Manchester City, Bournemouth, Newcastle and Sunderland. The only blip in this amazing run of seven victories was the shameful thrashing at St. Mary's.
The team has adapted in Sanchez absence and with that the manager is more comfortable in allowing his talisman to get deserved rest before he eases him back into action,
"We think he will be short for Wednesday, he has a chance to be available for Sunday [against Stoke]. He is always keen to play. If you listen to Alexis, he can always play – even when he is injured. We try to be cautious. With a muscular injury you never exactly how big the risk but he is very close. If you look at him training he is very close."
Arsenal has a tough run of fixtures against Liverpool, Stoke, Chelsea and Southampton, and we would want Alexis to get into his stride for these games but proceeding with caution is the best option here. Besides, other players like Joel Campbell are performing brilliantly and in Theo Walcott, the Gunners have a genuine goal threat.
More on the Liverpool game tomorrow.
Sayonara.
Download the Gooner Daily  BlackBerry App to receive notifications on your Smart Phone when a post is published.
Follow Gooner Daily on Twitter  @goonerdaily. I'll follow back
Visit Gooner Daily's  Facebook page.
Click on the "Follow button" to join Gooner Daily's Mailing List.
Arsenal 3 (Campbell 26′, Ramsey 72′, Giroud 76′) – Sunderland 1 (Lens 17′)
Match Report – Match Highlights – Post-Match Press Conference
With half an eye on the all-important Premier League clash against Liverpool on Wednesday night, Arsene Wenger had to dig deep within the depth of his squad to pick a team that was going to be capable of defeating Sam Allardyce's Sunderland. The chewing-gum expert had bemoaned the fixture and stated that he was going to rotate his squad, and he kept his word, making seven changes to the team that defeated struggling Aston Villa last season. Wenger on the other hand made five changes with Kieran Gibbs, Gabriel Paulista, Calum Chambers, Alex Iwobi and Joel Campbell coming into the side. Had David Ospina been fit, he would have kept in Petr Cech's stead. Interestingly, Matt Debuchy stayed on the bench.
The game began well for the home side with Gibbs testing the debutant goalie on his near post that prompted him to make a fine save but against the run of play, Sunderland grabbed an unlikely lead from Jeremain Lens. Gibbs had fed the captain of the day, Laurent Koscielny, with what seemed to be a simple back pass but the ball got in between the French defender's legs and fell kindly to Lens that blasted the ball past Cech. I was a bit disappointed seeing the ball breeze past the legendary goalie because I believed it was close enough for him to make a save but hey, that's football.
The Gunners didn't let that goal dismay them and they kept pressing and probing for an equalizer. Their efforts were crowned when Campbell crept unbeknownst to the defenders and latched onto Walcott's drive before side-footing past Pickford to make it 1-1. It was a well deserved goal for a player that had really made an influence on the game.
Going into the break level on terms wasn't bad but there was some concern about Alex Oxlade-Chamberlain's performance. I don't know why his confidence has been dented but he struggled by his fair standards. His best moment arrived when he curled a sweet ball that clipped the post but Walcott's rebound was tame.
With Sunderland on the rise, Wenger took out Chambers and Iwobi to bring on Aaron Ramsey and Mikel Arteta. It didn't take long for Rambo to make his presence felt when he arrived late in the box to convert Hector Bellerin's perfect-cushioned ball to give the Gunners the lead. Two became three when an anonymous Olivier Giroud made good space for himself to side-foot Bellerin's drilled pass. These two strikes were scored within four minutes and it put the game beyond doubt.
From that moment that wind left the sails of the away side and held protected their lead to progress to the next round. There was even time to give the Jeff a debut and he didn't put a foot wrong making neat passes along the way.
The win indicated that Arsenal's defense of the FA Cup title has begun and it would be interesting to see who they face in the fourth round. However, I must say that Joel Campbell's performance on the day was exemplary. He attacked and defended valiantly and there was one moment he unleashed his inner Brazilian executing a neat skill on the touchline. In contrast, the Ox didn't play too well and I hope he gets his act right soon. The lad's inconsistency is quite shocking and with players returning from injury, he could find himself further down the pecking order. I will be really surprised if he starts ahead of Campbell when the Gunners visit Anfield.
Sayonara.
Download the Gooner Daily  BlackBerry App to receive notifications on your Smart Phone when a post is published.
Follow Gooner Daily on Twitter  @goonerdaily. I'll follow back
Visit Gooner Daily's  Facebook page.
Click on the "Follow button" to join Gooner Daily's Mailing List.