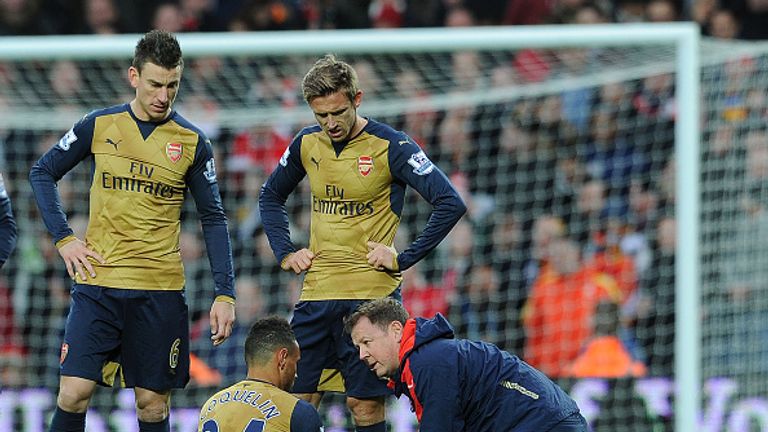 The results from the scans of Francis Coquelin's knee injury are out and frankly, it's not good news. Wenger confirmed his three-month layoff via Arsenal.com,
"The scans are positive because he does not need any surgery but it will be 12 weeks."
This means that Coquelin will miss the following games
Norwich (Carrow Road)
Sunderland (Emirates)
Olympiakos (Georgios Karaiskakis Stadium)
Aston Villa (Villa Park)
Manchester City (Emirates)
Southampton (St. Mary's)
Bournemouth (Emirates)
Newcastle (Emirates)
Bournemouth (Dean Court)
Leicester (Emirates)
UEFA Champions League Round of 16 (probably Barcelona @ Emirates)
FA Cup Fifth Round
Manchester United (Old Trafford) and just maybe,
Swansea (Emirates)
With Coquelin's undisputed importance to the team, you can bet your smart money that he was going to feature in all the matches listed above if he was fully fit. Some are hoping that the manager would go into the transfer market to purchase a shiny new defensive midfielder but the Wenger I've come to know would consider his internal options before he delves into the new market – that's how we got us our Coq innit?
Mikel Arteta has proven once again that he cannot be relied upon to stay fit so the manager is left with two plausible options;
Deploy Aaron Ramsey back to his favored central midfield position alongside Santi Cazorla or
Send out the beast known as Mathieu Flamini to wreak havoc on opposition attacking midfielders.
Errr, who saw that crazy tackle (if that's the right word) Flamini attempted on that unfortunate Dinamo Zagreb bloke? :'(
As a short-term fix, Flamini was deployed in the holding role in the recent 3-0 thumping of Dinamo Zagreb but the Frenchman is acting like a vampire that saw some blood and he wants some more,
"I have an opportunity to be back in the team and I will try to prove every game that I can be in the team. Can I play twice a week for three months? I think I can but now it is my job to prove it. It's a lot of pleasure for me that I get back into the team. The season is always very long so sometimes you have to accept being on the bench but sometimes you have the opportunity to prove you are still there and can still play in the Arsenal team."
Flamini also made a fervent point that…
"To win titles, you don't win it with 11 players, you need 25, and everyone has to play a role during the competitions. With such competitions and so many games, you need everyone ready"
I absolutely agree with the Flamster. Joel Campbell is a player so further down the pecking order he could not see the light of day but as fate would have it, all available options on thew right flank suffered some injuries and he has given an extended run of games. His longest run in his Arsenal career. He started well against Swansea and somewhat faded off in the games against Bayern Munich and Tottenham but he responded well to losing his place to Kieran Gibbs (West Brom) with his best Arsenal performance till date.
That's what competition does to a player. He has to know that he needs to give his possible best in every game because there are others out there ready to take his place in the team. Failing to respond well to competition is the reason why the likes of Kieran Gibbs and Matt Debuchy will not get ahead of Nacho Monreal and Hector Bellerin and I fear the most for Debuchy because there is a certain Carl Jenkinson waiting to show what he's made off.
Flamini isn't the most gifted individual in the Arsenal team and he's odds on to find new employers at the end of the season. This may just be his last hurrah for the team. He may as well be given the chance to strut his stuff.
Sayonara.
Download the Gooner Daily  BlackBerry App to receive notifications on your Smart Phone when a post is published.
Follow Gooner Daily on Twitter  @goonerdaily. I'll follow back
Visit Gooner Daily's  Facebook page.
Click on the "Follow button" to join Gooner Daily's Mailing List.
Arsenal 3 (Ozil 29′, Sanchez 33′, 69′) – Dinamo Zagreb 0
Match Report – Match Highlights – Post-Match Press Conference
The Gunners knew that they had a job they had to do – defeat Dinamo Zagreb and hope for Bayern Munich to do them a favor at the Allianz Arena. With this in mind, many Arsenal fans watched their game and had half an eye on the proceedings in Germany. With barely 10 minutes gone, Douglas Costa made it 1-0 for Bayern and a rout was on the cards when Robert Lewandowski doubled their money. Meanwhile, at the Emirates, the away team was pressing, yes, pressing the Gunners. That got me so confused as I was thinking to myself, 'we are hoping on Bayern to do us a favor and yet, here we are not even doing our own bit?'
There was some anxiety in the crowd with each passing minute and it was important for the Gunners to get the first goal. With Aaron Ramsey making the bench, Joel Campbell probably knew his time in the starting XI was pretty much over but how did he respond to that? A virtuoso performance that would go down as probably his finest in Arsenal colors. He passed the ball well, connected with his teammates, supported Hector Bellerin, made some good tackles and topped it all up with a wonderful assist to Sanchez for the match clincher.
Arsenal scored the first goal in typical Arsenal fashion – brilliant intricate passing play that saw Alexis released on the far side before he attempted a low cross that was headed some by the awesome Mesut Ozil. He has spent so much time assisting his teammate so I was very elated when he scored one for himself. That goal took the wind off the sails of the visitors and it was Arsenal all the way. Alexis had not scored in six games after his hot streak and he was hoping to get in on the scoring act but he had Nacho Monreal to thank for his goal as the Spaniard showed great determination to win the ball before teeing up Alexis for an easy tap-in.
Going in 2-0 in the break was what the home side wanted and with Bayern Munich inflicting further damage on Olympiakos, the stage was setting for a battle at Athens in a fortnight. Alexis got a brace for his good work and at 3-0, the game was pretty much over. The game also saw Ramsey return to first team football after some weeks out and there was the 'football education' as a holding midfielder for Calum Chambers. In all honesty, I haven't been convinced of Chambers' ability as a holding midfielder after his horror show at St. Mary's last season and his cameo didn't do anything to convince me as he was sloppy in possession and looked a bit out of his depth in that role.
On the bright side, there were no further injuries to contend with and every member of the squad played so well. Petr Cech had a relatively untroubled game but he still had to keep his concentration levels high when Laurent Koscielny cleared a ball that ricocheted off Mathieu Flamini and was destined for the net but Cech was on hand to make a quick reaction save. Hector Bellerin almost had another 'Bayern Munich' moment when he showed off his reserves of pace in a counter attack but the defender cleared the ball to safety before he could locate Ozil or Giroud.
All attention will be moved to the Premier League, as the Gunners face Norwich in the Premier League. More of that in the coming days.
The group is relatively poised and the Gunners have it all to do in two weeks time when they face Olympiakos at Athens.
Sayonara.
Download the Gooner Daily  BlackBerry App to receive notifications on your Smart Phone when a post is published.
Follow Gooner Daily on Twitter  @goonerdaily. I'll follow back
Visit Gooner Daily's  Facebook page.
Click on the "Follow button" to join Gooner Daily's Mailing List.
There's nothing more frustrating than seeing the injuries pile up at Arsenal. Before the weekend's loss to West Brom, the Gunners were without Jack Wilshere (ankle), Tomas Rosicky (knee), Danny Welbeck (knee), Aaron Ramsey (hamstring), Alex Oxlade-Chamberlain (hamstring) and Theo Walcott (calf). These are players that are vital to the team but Arsene Wenger's side had soldiered on without them but as if losing to West Brom wasn't bad enough, the Gunners lost two more midfielders in the game with the aging Mikel Arteta suffering from yet another calf strain and most importantly, Francis Coquelin, suffering a knee injury.
Coquelin was doing his bit to control the game but in his bid to recover possession after being sloppy with the ball, he clashed with West Brom's Claudio Yacob and came out second best. According to the folks present at the Hawthorns, Coquelin left the West Midlands on clutches. He has also undergone scans to assess the extent of the injury and tests have shown up substantial ligament damage.
There has been some swelling on the knee and further tests would be taken when the swelling subsides. The initial prognosis shows that Coquelin could be out for as much as three months, which will be a massive blow to the Gunners. It has been a fairy tale year for the French midfielder as he was recalled from his loan at Charlton amid another injury crisis and he established himself as an indispensable player in the squad.
Coquelin didn't only become a figurehead at Arsenal, but he was right on par with the very best in the Premier League. The table below showcases Coquelin's defensive stats with Chelsea's Nemanja Matic, Manchester United's Morgan Schneiderlin and Manchester City's Fernandinho.
| | | | | |
| --- | --- | --- | --- | --- |
| Premier League Only | Coquelin | Matic | Schneiderlin | Fernandinho |
| Appearances (subs) | 12 (0) | 10 (2) | 10 (1) | 12 (1) |
| Goals | 0 | 1 | 1 | 1 |
| Assists | 0 | 0 | 0 | 1 |
| Tackles made (per game) | 3.2 | 3.5 | 3.0 | 4.0 |
| Interceptions made (per game) | 2.7 | 1.9 | 3.1 | 1.5 |
| Fouls committed (per game) | 0.9 | 1.8 | 2.5 | 3.3 |
| Dribbled Past (per game) | 1.1 | 1.1 | 1.1 | 1.3 |
| Clearances (per game) | 0.9 | 1.5 | 1.7 | 0.8 |
| Aerial Duels Won (per game) | 0.8 | 1.8 | 1.0 | 0.5 |
| Blocked shots (per game) | 0.3 | 0.1 | 0.3 | 0 |
| Pass Completion percentage | 91.5% | 89.6% | 90.7% | 89.2% |
| Key Passes | 0.3 | 0.9 | 0.2 | 1.3 |
| Long Balls (per game) | 2.6 | 2.2 | 4.6 | 1.8 |
| Bookings (Yellow/Red) | (3/0) | (1/1) | (2/0) | (0/0) |
Coquelin has a better pass completion percentage than these guys and he commits the least amount of fouls, which shows how his tackling and interceptions have improved. Losing a player like Coquelin is a bitter blow for the club because his unique style of play – the anchorman role, and he has become so good to the extent that the manager didn't see the need to invest in another holding midfielder this summer.
With Arteta all washed up and Mathieu Flamini not a dependable outlet to use in midfield, the only plausible thing for the manager to do will be to deploy Aaron Ramsey alongside central midfield with Santi Cazorla, thereby allowing Alex Oxlade-Chamberlain a chance on the wings. The only issue would be whether Ramsey would have the positional awareness and discipline to play in the holding role.
With Coquelin potentially out till late January / early February, one wonders if Arsene Wenger would delve into the transfer market to purchase a new holding midfielder. Only time will tell but for now, we have to brace ourselves for life without the Coq, and it's never fun when you can't use your Coq (pun intended).
Sayonara.
Download the Gooner Daily  BlackBerry App to receive notifications on your Smart Phone when a post is published.
Follow Gooner Daily on Twitter  @goonerdaily. I'll follow back
Visit Gooner Daily's  Facebook page.
Click on the "Follow button" to join Gooner Daily's Mailing List.