Blog Archives
After such a long wait, the curtain raiser to the season is here again as the defending Premier League and FA Cup champions lock horns in what would prove to be another tasty encounter. There's no love lost between Arsenal and Chelsea and when both teams meet, it's always like a battle between the Night Watch and the Wildlings. Even Arsene Wenger has confirmed that this game isn't going to be a friendly match. Wenger and Jose Mourinho have battled each other for quite some time, and the Press knows about their publicized dislike for each other. While the Arsenal manager does his bit to ensure things don't spiral out of control anytime he's asked about Mourinho and his Rent Boys, you can't say the same for the Portuguese manager that enjoys being in the spotlight.
The last time both teams faced off, Chelsea needed to avoid defeat at the home of football in their bid to win the 2014/15 Premier League title. They achieved that feat with a stalemate and you could see the elation of the players as they came to North London with a game plan and it's fair to say they got it right. The Blues went on to win the title but Arsenal suffered a dip in form that saw them crash to third place when second spot was in their grasp.
Arsenal has a pretty enviable record in this competition with Wenger winning five of the seven Community Shield finals his team has featured in. Wenger's last loss in the tournament was to Jose Mourinho's Chelsea where Didier Drogba put the Gunners to the sword with two goals. Wenger hasn't beaten Mourinho in 13 attempts.
Arsenal Team News
This game would be of particular interest to Petr Cech that left the Blues to join Arsenal this summer. He has been the only Arsenal signing as well, as the fans would be patiently waiting to see if the Gunners as a holding midfielder and a striker anytime soon. However, the squad is relatively stocked in all playing positions, and I hope Wenger would be able to keep everybody happy by rotating efficiently.
Arsenal Injury News
According to Arsene Wenger, the only player currently in the casualty list is Danny Welbeck, but the Copa America stars, Alexis Sanchez and David Ospina, aren't fit enough to be with the team yet.
Arsenal Predicted Lineup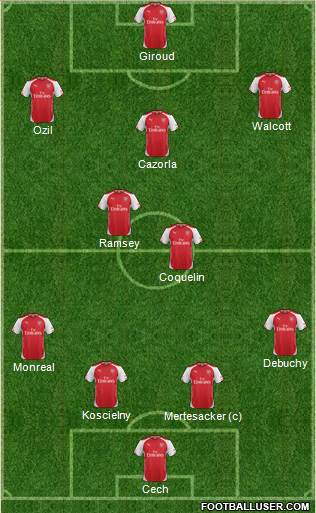 Chelsea Team News
The Rent Boys have been in the United States for some time now, participating in the International Champions Cup. They lost their opening game to New York Red Bulls and they've had to rely on the lottery of penalties to ease past Paris St. Germain and FC Barcelona. They have a game against Fiorentina lined up for August 5th, which essentially means that they'd be traveling from London after the Community Shield to play their final fixture of the preseason tournament before hosting Swansea next week Saturday.
Chelsea Injury News
Diego Costa suffered a hamstring injury in one of their preseason encounters and I doubt if Jose Mourinho would want to risk the player with the likes of Radamel Falcao and Loic Remy available for selection. Gary Cahill is also a major doubt and suffering a broken nose in the game against Barcelona but if he has to play, he'd have to wear a face mask that would make him look like Zorro.
 Chelsea Predicted Lineup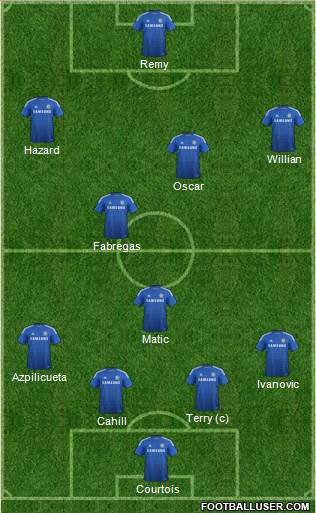 Team Form
Arsenal
Last Five Games: W W W W W
Last Result: Arsenal 1 (Walcott 50′) – Wolfsburg 0
Leading Goalscorer: Chuba Akpom (3)
Chelsea
Last Five Games: W W L D D
Last Result: Chelsea 2 (Hazard 10′, Cahill 86′) – Barcelona 2 (Suarez 52′, Sandro 66′)
Leading Goalscorer: Eden Hazard (2)
Gooner Daily predicts 2 – 1 to the Arsenal
Sayonara.
Download the Gooner Daily  BlackBerry App to receive notifications on your Smart Phone when a post is published.
Follow Gooner Daily on Twitter  @goonerdaily. I'll follow back
Visit Gooner Daily's  Facebook page.
Click on the "Follow button" to join Gooner Daily's Mailing List.
Arsenal 0 Chelsea 0
Match Report – Match Highlights – Post-Match Press Conference
I've been very busy all day at work but this would be probably be the only 'free time' I'd get before going for another meeting scheduled for 4.00pm. Maybe I should return to the habit of blogging at night and publishing the article, first thing in the morning. It worked better for me. Sometimes, you'd wanna publish an article in the office and your boss is like 'Enigma, remember the presentation slides for this' and you're like, there goes another day without a post.
Enough about my office shenanigans.
I watched some damn good football from my team against a side I kinda despise a lot because of their c*ntbag Rent Boy b*stard of a manager, Jose Moaning-H*E. From the onset, he set a team out with no center forward with the sole aim of frustrating the home side or in Chelsea English, 'parking the bus'. However, that didn't deter the Gunners from playing some top-notch football. Mesut Ozil and Aaron Ramsey in particular bossed the midfield but Alexis Sanchez was at his sloppy best, conceding possession to the opposition and building up some frustration for the home fans. But he's a good lad. You can't doubt his effort.
I must say I'm a huge fan of Michael Oliver because he's turning out to be a referee with some big balls between his legs. He proved his mettle in the Gunners FA Cup win over Manchester United at Old Trafford and if there's anything I learned from the official on that game, is that he doesn't take shit from players that try to cheat. So when that rent boy, Cesc Fabregas, who claims he still loves Arsenal more than a dog loves his master, comes to the Emirates turf, dribbles past Santi Cazorla and dives on the turf like someone that was shot with a sawn-off shotgun, you could see the sheer delight when the ref brandished a card for his attempt to cheat his way to win a penalty kick. Even if I hate everything Chelsea stands for, I feel the Gunners can count themselves extremely lucky that David Ospina remained on the pitch, especially after his rash challenge on Oscar that was meant to warrant a penalty and a sending off. The Gunners also have every right to be aggrieved that the ref didn't award the penalty for Cahil's handball in the box but hey, it happens innit?
There were no clear cut opportunities as the game progressed but it was heart in mouth stuff for me when Ramires the Great Lizard was sent through on goal and he missed a sitter. The Chelsea center backs had good games with John Terry shining like a knight in a new armor but it was troubling to see how Olivier Giroud was smothered from making any impact whatsoever. The attacking substitutes, Danny Welbeck and Theo Walcott offered minimal threat thanks to some resolute Chelsea defending but the Gunners did well to quell the attacks they posed, especially through counters.
In the end it was a frustrating result for the Gunners but in the grand scale of things, we can take some positives from the performance of the players, rather than the overall result. Aaron Ramsey faced the media at the end of the game and was quite Wenger-esque in his comments to the media. The Welsh Jesus touched on how the team would have won and the chances not falling to the right players. However, here was my pick of the bunch,
I think so. It's going to be quite difficult for Chelsea to drop the points that we need to go top. Second probably is progression from last season definitely and from a couple of seasons where we have been battling for fourth. We're in another FA Cup final so maybe you can say that's an improvement on last season.
Things have definitely improved for the team and I'd rather end up in second place and win the FA Cup rather than scraping for the bread crumbs of Champions League qualification, which has become a norm for the Gunners in recent seasons. I was also astonished to know that this was the first time the team was drawing a match in 2015, and bar the poor results against Southampton, Monaco and Tottenham, the Gunners have won every other game in the calendar year.
I'm pretty sure that the players can't wait to get their hands on some of that Hull goodness.
Gotta run now. 4pm meeting in a bit.
Sayonara.
You can download the Gooner Daily  BlackBerry App to receive notifications on your Smart Phone when a post is published.
You can follow Gooner Daily on Twitter  @goonerdaily. I'll follow back
Feel free to visit Gooner Daily's  Facebook page and click on the like button.
You can also join Gooner Daily's Mailing List to get notifications of new posts by email by clicking on the Follow button