Blog Archives
Arsenal conceded 36 goals in the Premier League (almost a goal per game), four goals in five FA Cup games on the road to the final, nine goals in 10 Champions League games and two goals in the only Capital One Cup fixture they featured in. This ultimately means that the Gunners averaged conceding at least one goal a game in every competition they played this season.
Gooner Daily analyses the performances of the defenders in the course of the campaign.
Nacho Monreal (37 appearances, one goal, six yellow cards)
Monreal has been a transformed player this season. When he arrived in January 2013, it took him a while to get a hang of things before he acclimatized to the rigors of the Premier League. He joined as Kieran Gibbs deputy but injuries to Kieran Gibbs paved the way for the Spaniard to get an extended run of games. This season, Monreal deputized as a center back when the club was faced in a defensive crisis and he played admirably in Laurent Koscielny's absence.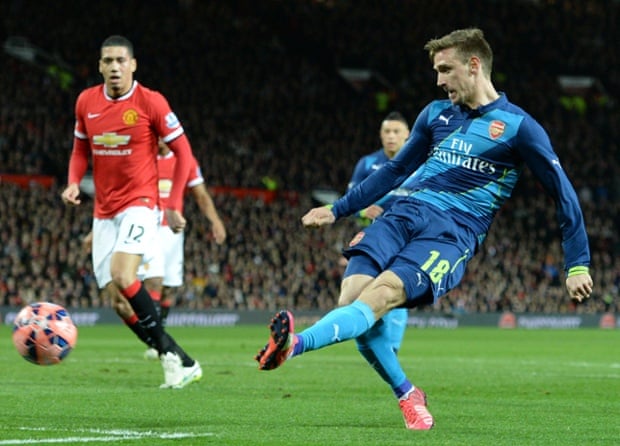 With Kieran Gibbs suffering more fitness troubles, Monreal marauded the left back position with such confidence and made the role his own, even after Gibbs returned to full fitness. To crown up his efforts in the campaign, he scored a goal in the victory over Manchester United at Old Trafford – a goal any striker would have been proud of.
Rating: 8/10
Mathieu Debuchy (14 appearances, one goal, three yellow cards, one red card)
There was so much speculation about the right back that was coming in to replace Bacary Sagna when he left the club to join Manchester City's bench. Names like Serge Aurier and Seamus Coleman were mentioned but Arsene Wenger opted for Newcastle's Matt Debuchy that looked to settle in Arsenal like water off a duck's back.
However, Debuchy suffered two long-term injuries on his ankle and his shoulder that just reduced him to a merger 14 appearances in his debut season with the Gunners. He showed off his temperamental side when he was sent off in the Champions League playoffs against Galatasaray but he managed to score his first Arsenal goal with his head when he featured in an unorthodox center back position when the Gunners visited Anfield.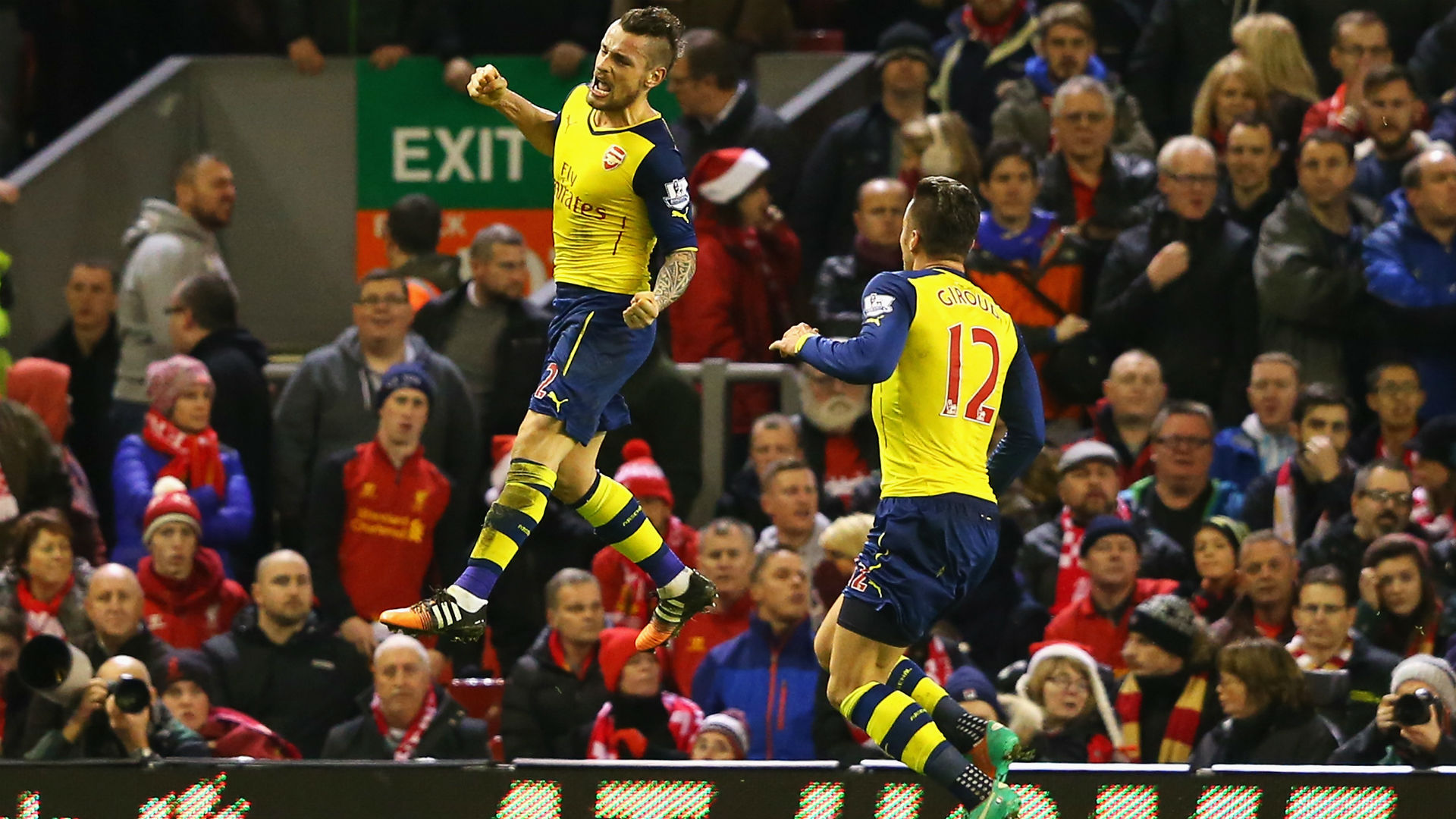 With the emergence of Hector Bellerin and Carl Jenkinson returning from loan, Debuchy has it all to do if he wants to retain his status at the club's primary right back next season.
Rating: 6/10
Kieran Gibbs (31 appearances, one goal, three yellow cards)
At the start of this campaign, Gibbs changed his jersey number to 3, which was vacated due to Sagna's departure for the petro-greens. Gibbs had featured a career-best 41 times in the previous campaign and the assumption was that his injury problems are now behind him. He featured consistently as the season progressed and even managed to get on the score sheet with a vital equalizer against Anderlecht when it seemed as the Gunners were resigned to a defeat.
However, injury struck again and Gibbs lost his place in the team to Monreal. With the Spaniard in good form, Wenger chose not to feature Gibbs but handed him a couple of starts in the Cup fixtures. With Monreal ending the campaign on a high, Gibbs will face a battle in his hands to win his place back in the team. He has already stated that he's ready to fight for his place. Such competition will be beneficial to Arsenal.
Rating: 6/10
Per Mertesacker (44 appearances, one goal, no yellow card)
With Mikel Arteta consistently out of the team due to injuries, the BFG has led the Gunners in almost every game he played. After featuring a career-high 52 times last season, the BFG joined his German side to Brazil and won the World Cup, which essentially meant that he didn't get any time to recharge his batteries with Germany going into the latter stages of the tournament.
This season, the BFG has seen his ardent fans swing to the other direction as he put up some questionable performances with the Round of 16 clash against Monaco being his nadir. Nonetheless, he was efficient as always in his many games and he looked more at home when he featured alongside Laurent Koscielny. Injuries to the French defender saw Mertesacker play alongside the likes of Monreal, Calum Chambers and even Debuchy, but he remained steadfast in his duties.
Now that he has retired from international football, let's see if his career can be prolonged like John Terry.
Rating: 7/10
Gabriel Paulista (seven appearances, no goal, two yellow cards)
In my honest opinion, it was a travesty not replacing Thomas Vermaelen when he left for FC Barcelona in the summer. Arsenal was just an injury away from disaster in central defense and it happened when Koscielny was out injured. Wenger acknowledged that set back and signed a relatively unknown center back from Villarreal, Gabriel Paulista.
After making his debut for the club in the FA Cup fixture against Middlesbrough, Gabriel featured in his first Premier League game that will forever be remembered for that tackle on Romelu Lukaku. His presence allowed the boss to alternate between his first-choice central pairing as the Brazilian settled in to life in North London.
I'd expect him to feature in more games next season, as well as being a good backup in any injury crisis.
Rating: 7/10
Laurent Koscielny (36 appearances, three goals, four yellow cards)
Koscielny has grown from strength to strength in the heart of Arsenal's defense, making him indispensable to the team. He scored the opening goal of Arsenal's Premier League campaign against Crystal Palace and when he suffered an Achilles injury, his absence from the squad was hugely felt. He made his return after several weeks and Mertesacker played better when his rightful partner was available.
Koscielny went on to score against Stoke and Leicester to take his tally to three for the campaign but his all-action, high-octane yet efficient style of play was exemplary all season long.
Rating: 9/10
Calum Chambers (36 appearances, one goal, eight yellow cards, one red card)
For what its worth, this is the first time in Chambers career that he has played this much games. Arsenal's injury woes allowed him to get a run of games as a center back and he was lauded for his mature performances. He continued that good form and even scored his first professional goal against Burnley.
With Nacho Monreal featuring in the middle alongside Mertesacker, Chambers was drafted to right back and he struggled terribly in the defeat to Swansea. With more off form performances in the coming weeks which included a red card in the defeat to Stoke, he lost his place to Hector Bellerin and spent a considerable chunk of the campaign on the bench.
It's going to be interesting to see if he'd feature regularly next season when everyone's fit.
Rating: 6/10
Hector Bellerin (27 appearances, two goals, seven yellow cards)
Like Francis Coquelin, Bellerin has been one of the finds of the season. Injuries to several players paved the way for the young Spaniard to get his debut in the Signal Iduna Park at Dortmund and as the weeks progressed, he made the right back position his own, shoving off the threat of Chambers.
Bellerin has his raw reserves of blistering pace as well as a keen eye for goal, and this season, he found the back of the net on two occasions against Aston Villa and Liverpool. With Jenkinson returning from West Ham and Debuchy on his way back to full fitness, the battle for the right back spot will be very intense but Bellerin must be commended for the great shift he put this season.
Sayonara.
You can download the Gooner Daily  BlackBerry App to receive notifications on your Smart Phone when a post is published.
You can follow Gooner Daily on Twitter  @goonerdaily. I'll follow back
Feel free to visit Gooner Daily's  Facebook page and click on the like button.
You can also join Gooner Daily's Mailing List to get notifications of new posts by email by clicking on the Follow button
'Laurent Koscielny will not be available. He has an Achilles problem, which has got worse. He finds it difficult to play with it at the moment. You can only trust what the players says, he does not feel ready to play and will not play on Saturday. No [he will not need surgery]. – Arsene Wenger
The international break hit the Gunners hard with Mesut Ozil, Laurent Koscielny and Tomas Rosicky all missing out on their national team games due to injury concerns. With the game against Hull around the corner, Arsene Wenger will have to make do with the squad at his disposal and according to the Telegraph, the Gunners boss would be handed a transfer kitty to invest in the squad in the winter.
However, with the game against Hull, some parts of the squad would pick itself. In attack for instance, Wenger would be sweating on the fitness of Danny Welbeck that picked up a knock in the England vs. Estonia game. Yaya Sanogo is still out injured but the Gunners can deploy Alexis Sanchez through the middle, thereby handing a player like Lukas Podolski a chance from the left wing. The German is disgruntled with lack of game time and there are rumors that he may walk through the exit door in January. Arsenal's midfield has also been hit hard by injuries but Wenger can still manage to get a couple of players that would do the business for him tomorrow against Hull. However, the main problem lies in the defense.
Wojciech Szczesny had a great game for Poland in midweek against Germany and I'd expect him to start ahead of David Ospina. With Matt Debuchy injured and Calum Chambers suspended, Hector Bellerin is odds on to get the nod at right back, except a certain versatile Francis Coquelin comes to the manager's mind. The main dilemma would be finding a befitting partner for the stand-in captain, Per Mertesacker. The BFG stayed at home and watched as his compatriots struggled in the qualifiers, losing to Poland and drawing with Ireland but frankly, that's none of our business. *sips Lipton*. He recently spoke about how he chose to retire from international football to prolong his career with Arsenal and that was a decision that went down well with everyone connected with the club.
But with Koscielny injured and the auxiliary center back, Calum Chambers, also out due to suspension, Arsene Wenger has only two plausible options to make in finding Mertesacker's partner.
One option would be to give the promising youngster, Isaac Hayden, another chance to strut his stuff and with the prospect of playing a striker like Nikica Jelavic (four EPL goals this season), the lad will have to be on his toes. Hayden's only performance this season came in the Capital One Cup third round defeat to Southampton and he acquainted himself well on the night, forging a good partnership with Chambers.
The youngster is very confident in his own abilities and with Wenger being a manager that is never afraid to hand a chance to youth, Hayden might have an extended run of games with the Gunners having relatively easy fixtures coming up. One can only hope that Koscielny would be able to recover for his Achilles injury just in time for the home clash against Manchester United next month.
The second option would be to play Nacho Monreal in the unorthodox center back position, something the boss experimented with in preseason. Arsene Wenger has even spoken about his intentions to field him in that position when the chance arises,
"He can do well as a center back because he is intelligent, because he has a good sense of interception, because he reads the game well and is a good passer."
Monreal is clearly below Kieran Gibbs in the pecking order for the left back position and he hasn't played much football this season. A combination of Gibbs' good form and Monreal's back problem has seen the Spaniard play only four games this season and I'm sure that he'd fancy a chance to get a run-out in the first team, albeit as a center back.
Irrespective of who Wenger chooses, Arsenal should have enough in the tank to defeat Hull.
Sayonara.
You can download the Gooner Daily  BlackBerry App to receive notifications on your Smart Phone when a post is published.
You can follow Gooner Daily on Twitter  @goonerdaily. I'll follow back
Feel free to visit Gooner Daily's  Facebook page and click on the like button.
You can also join Gooner Daily's Mailing List to get notifications of new posts by email by clicking on the Follow button
In the 2013/14 season, Arsenal's defense was much-improved and this was due to the fact that Arsene Wenger got his first-choice pairing right and he stuck with them till injuries or suspension took its toll on the defensive rearguard. The center back pairing of Per Mertesacker and Laurent Koscielny were ever-present for the club, while club captain, Thomas Vermaelen, struggled with injuries, loss of form and lack of game time.
In the full back positions, Kieran Gibbs and Bacary Sagna were automatic starters whenever they were fit while their deputies, Nacho Monreal and Carl Jenkinson, were restricted to a handful of appearances.
This is the second installment of a four-post series focused on Arsenal's performances in the 2012/13 season. I've already shared my views on the performances of the goalkeepers but today's post is focused on Arsenal's defensive rearguard.
Feel free to share your comments.
Bacary Sagna – 48 Apps, One Goal, Three Assists
In recent times, Bacary Sagna has been marred by long-term injuries that has taken its toll on his career. Suffering two fractures on the same leg must have been a horrific experience but as we all know, football isn't really a forgiving sport.
With Carl Jenkinson deputizing admirably in Sagna's absence, many wondered if the Bac Man would replicate the form that won him a place in the 2008 PFA Team of the Year. At the start of the campaign, injuries to Vermaelen and Koscielny made Sagna start as a center back. Wenger gad featured him in that position at preseason so it was no surprise.
Sagna featured heavily for the Gunners and performed admirably in his defensive duties but in attack, he really failed to impress. The back passes were endless and there were times he looked clueless on what to do with the ball.
Then there was the niggling issue of his contract that was a thorn in Arsenal's flesh throughout the season and finally, he jumped ship to Manchester City on a bumper deal that was too good for him to refuse. Nonetheless, it was a fair campaign by his standards and the fans are looking to the future.
Rating – 6/10
Kieran Gibbs – 41 Apps, One Goal, Two Assists
For the first time in Gibbs' fledgling Arsenal career, he managed to amass his highest amount of games for the club. He even scored a lovely goal in the Champions League qualifier against Fenerbahce when he latched on to Theo Walcott's cross to score Arsenal's first goal of the qualifying campaign.
Unlike Sagna, Gibbs was very inventive when he was in the final third and his recovery levels were top-notch this season. However, it would be very hard to forget Andre Marriner's moment of madness in Stamford Bridge when he brandished Gibbs a red card for a sin Alex Oxlade-Chamberlain committed.
It's unfortunate to know that Gibbs' good form for Arsenal wasn't enough for him to be called up by Roy Hodgson and in fairness to the England manager, Leighton Baines and Luke Shaw deserved to be on the plane to Brazil.
Rating – 7/10
Carl Jenkinson – 22 Apps, One Goal, Two Assists
With Koscielny and Vermaelen injured, Sagna was drafted to the center back position, allowing Jenkinson to get a run-out in the first team. Even when Koscielny returned to the first team, Jenkinson retained his place but as the weeks progressed the young Englishman resumed his bench warming duties.
His most memorable moment in September was that brilliant assist he created for Aaron Ramsey against Sunderland and he will also be remembered for clearing the ball off the line when Jozy Altidore out-muscled Sagna and played the ball past Wojciech Szczesny. Jenkinson reached his low point this season when he inadvertently supplied a pass to Cesar Azpilicueta in the Capital One Cup
His second assist of the season was a lovely pin-point cross to the World's Best Released Striker, Nicklas Bendtner, that headed the ball home against Hull and on the final matchday of the season, Jenkinson scored his first goal for the club. A personal high for the young Arsenal fan.
Rating – 6/10
Nacho Monreal – 36 Apps, No Goal, One Assist
In Monreal's first full season at the club, he proved that he was nowhere near Gibbs with his performances. He managed to create a good assist for Santi Cazorla when the Gunners visited Villa Park but Monreal played like a liability in some games, with his poorest performance coming up against Manchester City at the Etihad.
However, Monreal would be remembered for scoring the winning penalty in the Capital One Cup third round clash against West Brom.
Rating – 5/10
Thomas Vermaelen – 21 Apps, No Goal, One Assist
How the mighty have fallen.
I can vividly remember when Vermaelen joined the club in 2009 and he slammed in six goals in his debut campaign, rising to an indispensable status. With Robin van Persie leaving the club, Vermaelen was handed the captain's armband and it ensured that he was a regular starter for the club and after a series of below-par performances, Arsene Wenger paired Laurent Koscielny with Per Mertesacker and they never looked back ever since.
Last season, the good form of both players relegated the captain to the bench for extended periods and he also had some injury demons to contend with. It was a welcome sight seeing the captain lift the FA Cup but one must wonder if he's ready to spend another campaign on the bench next season.
Rating – 5/10
Laurent Koscielny – 46 Apps, Three Goals
It wasn't all peachy and creamy for Koscielny at the start of the season when he conceded a penalty and got sent off against Aston Villa. In the Champions League qualifier against Fenerbahce, Pierre Webo kicked his face leaving him concussed and he missed a couple of games to injury.
In his return, Koscielny and Mertesacker built on the telepathic understanding they had forged last season and the clean sheets started piling up for the Gunners, particularly at the Emirates. Koscielny also got in on the scoring act with goals against Sunderland and Newcastle but his most important goal was the equalizer for the Gunners in the FA Cup final.
It's also heartwarming to know that he has signed a long term deal with the club.
Rating – 9/10
Per Mertesacker – 52 Apps, Three Goals
There was a reason Mertesacker played the most games for Arsenal this season. He is an exceptional footballer, a leader, and most importantly, a defensive colossus. His pairing with Koscielny has been heralded as the best pairing in the League and with 16 clean sheets to their name, it's not hard to see why.
In the absences of Vermaelen and Arteta, Mertesacker also wore the captain's armband and his performance against Dortmund in his native Germany was one of the best performances I've seen from a defender in a game. Mertesacker would have been a pantomime villain if the penalty he conceded against Wigan turned out to be the deciding factor of the game but he showed off great determination to be on the right end of the pitch to head the ball home, sending the game into extra time.
I can't wait to see the BFG next season.
Rating – 9/10
So there you have it, the second of four posts focused on different playing positions in the team. My take on the midfield comes up next.
The voting sequence for the 2013/14 End of Season awards is still ongoing, so feel free to make your votes count in the polls.
Sayonara.
You can download the Gooner Daily  BlackBerry App to receive notifications on your Smart Phone when a post is published.
You can follow Gooner Daily on Twitter  @goonerdaily. I'll follow back
Feel free to visit Gooner Daily's  Facebook page and click on the like button.
You can also join Gooner Daily's Mailing List to get notifications of new posts by email by clicking on the Follow button