Blog Archives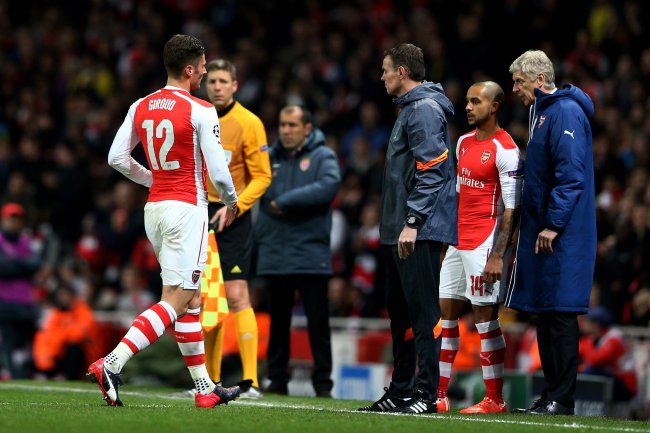 This summer, like many summers before it, Arsenal fans were hoping that the club would sign a center forward that would 'lead the club to glory'. While Alexis Sanchez, a winger by trade, lead the club's scoring charts with 25 goals in 52 games last season, the club's strikers didn't hit such heights last season. Olivier Giroud had an injury-plagued campaign, but he still managed to score 19 goals in 36 apps, Danny Welbeck scored eight goals in 34 apps and Theo Walcott made his long-awaited injury comeback to score seven in 20 apps.
The Gunners went into the 2015/16 season with Giroud, Walcott and Welbeck as its registered center forwards, following the club's failure to recruit a new center forward in the transfer market. Sadly, Welbeck is still suffering from a knee injury he picked up in April and required surgery to fix it. According to his national team manager, Roy Hodgson, the English forward could be out for six months. This means that Arsenal has only two center forwards for a considerable chunk of the campaign and if anything happens to any of them, the team would be thin bare in attack.
How have the forwards fared this season? The table below compares the statistics of Walcott and Giroud this season.
| | | |
| --- | --- | --- |
| STAT (PREMIER LEAGUE ONLY) | WALCOTT | GIROUD |
| Appearances (Subs) | 3 (2) | 3 (3) |
| Goals | 1 | 2 |
| Aerial Duels Won (per game) | 0 | 2 |
| Passing Accuracy | 75.6% | 68.5% |
| Key passes (per game) | 0.4 | 0.7 |
| Shots (per game) | 3.2 | 3 |
| Dribbles (per game) | 0.6 | 0.5 |
| Fouled (per game) | 0.4 | 0.5 |
| Offsides (per game) | 0.6 | 0.7 |
| Dispossessed (per game) | 0.8 | 1 |
Stats via WhoScored.
Despite their contrasting styles of play, their stats are somewhat similar. With Walcott, you pass the ball into space, he uses his pace to latch onto it before executing a Thierry Henry-esque placed finish. This was exhibited in the Aston Villa game where Mesut Ozil sent him through with a peach of a pass and the Dinamo Zagreb game where Alexis Sanchez fed him with a neat through ball in behind the defense. With Giroud, you pass the ball to his feet because he loves to linkup with his teammates and he's also a dominant force in the air because of his imposing frame. He showed great improvisation to score a spectacular scissors kick against Crystal Palace but his headed goal against Stoke was bread and butter stuff for the Frenchman.
This season, both strikers have come to terms with the reality that they will be rotating with each other and this should build some healthy competition between them. Walcott has always signaled his intentions to play as a center forward and this season he has been given that chance to prove his worth to his manager. With Giroud starting the Capital One Cup game against Tottenham on Wednesday, every indication is pointing to the fact that Walcott would start the Leicester City game this weekend, which would mean that he's the alpha dog in attack this season.
I still feel that Wenger should select the strikers based on the opposition (which I believe he's doing), so in my honest opinion, Giroud would have been a better option to start with in the Chelsea game because his physicality would have been a plus against the likes of Kurt Zouma and Gary Cahill. They really made Walcott very peripheral in that game. Well, I'm no Wenger though, and of course he knows best but Twitchy Ol' 'Arry Redknapp decided to voice his opinions about the Arsenal striking rotation policy,
"Arsene Wenger has talked about rotating Olivier Giroud and Theo Walcott as his main striker but that creates a big problem for Arsenal: what is your style of play? 

One is a big man who thrives on crosses and is strong in the air, while the other is all about pace who wants to run in behind. So every week you have got a different way of playing and that can only disrupt the shape of the team.

It is a difficult one because you aren't swapping Giroud with someone like Graziano Pelle at Southampton, both of whom like to hold the ball up and bring others into play. Walcott and Giroud are complete opposites and while that can be a strength because they offer a different kind of threat, the other players are going to struggle to find a consistent pattern to their play. 

I'd play Theo wide right. I'd find a place for him because pace is what teams fear most."
The Twitchy One believes that it would create a disruption in play because one week you're passing the ball into space for Walcott, the other week, you're passing the ball to Giroud's feet and feeding him a couple in the air. I don't agree with Redknapp's thoughts though because I feel that the players know their roles and responsibilities on the pitch and they can adapt to any style of play the game demands. Take a player like Hector Bellerin for instance. He floats his crosses when Giroud plays and he drills his crosses when Walcott plays. That's the kinda adaptability I'm talking about. Using the intelligent Mesut Ozil as another case study, he knows the kinda passes he'd give Walcott (against Stoke) or Giroud (against Crystal Palace). In case you didn't know, he has provided assists to both of them this season because he assists when he wants.
As the campaign progresses, we will see more of Walcott and Giroud and in the very end, they will be judged by the amount of goals they have scored for the club, and I hope they score many this season.
Sayonara.
Download the Gooner Daily  BlackBerry App to receive notifications on your Smart Phone when a post is published.
Follow Gooner Daily on Twitter  @goonerdaily. I'll follow back
Visit Gooner Daily's  Facebook page.
Click on the "Follow button" to join Gooner Daily's Mailing List.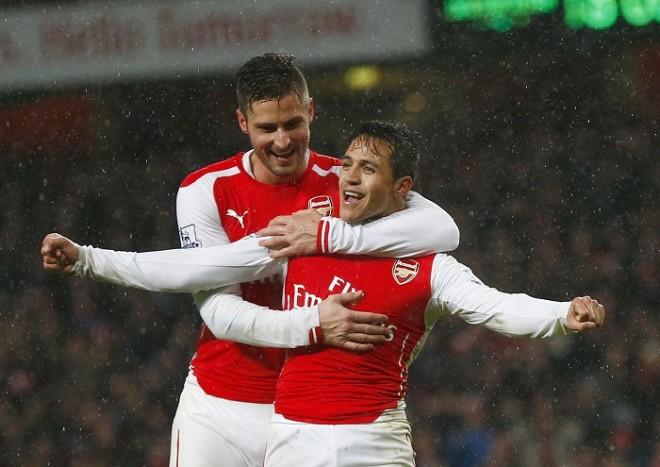 Arsenal scored 105 goals in the 2014/15 campaign which was a truly magnificent feat.
Gooner Daily analyses the strikers that contributed to that tally
Lukas Podolski (13 appearances, three goals)
Podolski is quite a lovable character off the pitch but on it, he hasn't been given a chance to prove his worth this season. Whether its simply a case of the manager not having faith in him or the forward not being good enough, it was rather strange. Nonetheless, he scored his three goals in two Champions League games before departing to Inter on loan.
Rating: 4/10
Alex Oxlade-Chamberlain (36 appearances, three games)
This was a very productive season for the Ox. Ceasing on the opportunity created with Theo Walcott out injured, the Ox featured consistently on the right wing and earned plaudits for his direct style of play even though his end product was quite questionable.
The English speedster made his mark in the North London derby and scored two goals in the Champions League. One of his most telling contributions this season came in Old Trafford when he made mincemeat out of some Manchester United defenders before providing a neat pass to Nacho Monreal. The rest they say was history.
Rating: 7/10
Yaya Sanogo (20 appearances, one goal)
Wenger has shown some measure of faith on this lad but many fans (me included) do not believe that he has what it takes to be in an ambitious club like Arsenal. Maybe I'm wrong but I need Sanogo to prove me wrong. In 20 apps for the Gunners, he managed to score his first goal for the club against Dortmund. He was farmed out on loan to Crystal Palace and scored a goal in 11 appearances for the Eagles.
Rating: 4/10
Theo Walcott (19 appearances, six goals)
It's never easy being out of the game for so long, especially when things were going well for you before the unfortunate incident happened. Since his return to full fitness, Walcott was introduced slowly into the squad and got a couple of goals but there was a period he was frozen out of the squad.
The hat-trick he bagged against West Brom would give his manager something to think about ahead of this weekend's FA Cup final.
Rating: 7/10
Joel Campbell (10 appearances, no goal)
After a long wait for him to return to the squad, Campbell finally made his Arsenal debut but failed to make any real impact in the course of the season. He was used a make-weight in getting Gabriel Paulista to North London. In 20 appearances for the Yellow Submarine, he managed to score a goal.
I don't see him returning to the squad though. He's clearly not good enough.
Rating: 3/10
Danny Welbeck (34 appearances, eight goals)
Arsenal's transfer deadline day signing, Welbeck, hit the ground running with a scintillating hat-trick against Galatasaray and did his bit to contribute to Arsenal's course this season.
He reached his pinnacle this season when he scored the goal that sent Manchester United out of the FA Cup. Yes, there were the misses but Welbz is a player that can improve greatly in the future and he can look back at his achievements this season with some measure of pride.
Rating: 7/10
Olivier Giroud (35 appearances, 18 goals)
The usually-fit Giroud suffered a freak injury at the start of the season and missed a large part of the first half of the season. In his return to fitness, he hit a hot streak of goalscoring form that also saw him win his first BPL Player of the Month award.
Following some comments by ex-Gunner, Thierry Henry, Giroud's confidence was hit hard and he went on a goal drought that he has quite concerning. With the FA Cup final on the horizon, Arsene Wenger is faced in a dilemma on whether to use to Frenchman in poor form or a Walcott that just scored a hat-trick.
Rating: 8/10
Alexis Sanchez (51 appearances, 24 goals)
Sanchez has been a revelation since signing for the club. His exemplary performances has also rubbed off on his teammates and he's a no-brainer to win the Player of the Season award.
Rating: 10/10
Sayonara
You can download the Gooner Daily  BlackBerry App to receive notifications on your Smart Phone when a post is published.
You can follow Gooner Daily on Twitter  @goonerdaily. I'll follow back
Feel free to visit Gooner Daily's  Facebook page and click on the like button.
You can also join Gooner Daily's Mailing List to get notifications of new posts by email by clicking on the Follow button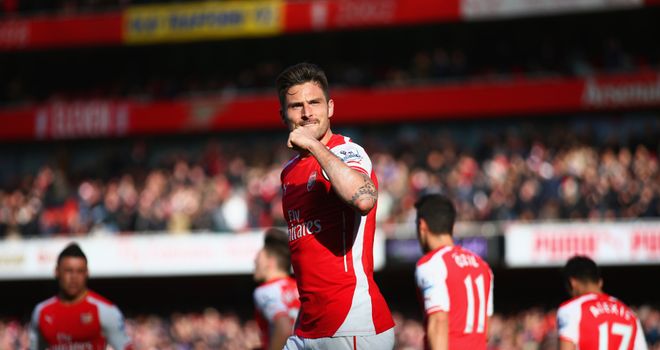 In all my years as an Arsenal supporter, I've seen many strikers leave their mark while wearing the famous Red and White of the North London outfit. Ian Wright was a lethal goal scorer in his days and with 184 goals to his name, he remains one of the greatest players the club has ever heard. However, there was the King himself, Thierry Henry, that wowed the fans with his va va voom style of play that endeared him to the hearts of fans forever. Even with 228 goals to his name, the King wasn't just a great goal scorer, he was a scorer of great goals.
Then there was the Robin van Persie era. The Flying Dutchman is currently on the bad books of many Arsenal fans when he opted to join the 'enemy' but the latter period of his Arsenal career was flooded with a lot of goals, a whole damn lot. Van Persie was Arsenal's get-out-of-jail-free card in many situations and with 132 goals to his name, it looked like a big void was left to fill when he departed in the start of the 2012/13 campaign. With van Persie gone, the Gunners had proactively signed two left-footed forwards to ease the pain of losing such an important attacking outlet.
Which brings us to good ol' Olivier Giroud. He began his career in the French Ligue 2 and played in a couple of clubs before getting his breakthrough at Montpellier Herault SC. Giroud was instrumental in the club's maiden Ligue 1 title in the 2011/12 campaign and when he joined the club at the point when van Persie was departing for greener pastures. With no other striker coming after the Dutchman was sold, there was a certain level of expectation, or should I say burden, that was placed on Giroud's shoulders.
After smashing in 39 goals in his first two seasons at Arsenal, many of the fans still believed that Olivier Giroud wasn't good enough to lead the line at Arsenal. The fans want a 30-goal a season striker that would also score in big games. Apparently, Giroud turned out to be a flat-track bully that only scored "lower teams" but he couldn't do the same against the big guns of the Premier League. Last season, the fans were elated with the pursuits of Gonzalo Higuain and Luis Suarez, even if the moves didn't come to fruition. That season, Giroud scored 22 goals in 51 games, Higuain netted 24 goals in 46 games and Suarez smashed in 31 goals in 37 games. Obviously good goalscoring returns for exceptional strikers in good form.
At the start of the new campaign, Giroud scored a late equalizer and suffered a long-term injury and some fans labeled Giroud's injury as a "blessing in disguise" because they believed that Giroud's injury would force Wenger to remove the dust of the Arsenal cheque book and sign that striker from Planet Krypton that would score goals in industrial quantities like Cristiano Ronaldo and Lionel Messi. Then that guy, Danny Welbeck, arrives. Certainly not from Krypton and he certainly won't give you 30 goals a season.
Since his return from injury, Giroud has scored Manchester United, Newcastle (brace), Liverpool, Manchester City, Aston Villa, Middlesbrough (brace), Crystal Palace and most recently, Everton which is a return of 10 goals in his last 17 games. This also took his overall tally to 51 goals in 119 games for Arsenal, which is pretty much impressive if you ask me. All those folks that made their voices heard about how Giroud doesn't score in 'big games' were made to eat their words. Still it's 'not good enough' for some Arsenal fans. Many they have watched Cristiano Ronaldo and Lionel Messi score so many goals with consummate ease and would prefer to see the same at the Emirates.
The table below shows the top five leagues in Europe and their top goal scorers.
| | | | | |
| --- | --- | --- | --- | --- |
| LEAGUE | LEADING GOAL SCORER (CLUB) | GAMES PLAYED | GOALS IN LEAGUE | OVERALL GOALS |
| English Premier League | Diego Costa (Chelsea) | 28 | 17 | 18 |
| English Premier League | Sergio Aguero (Man City) | 28 | 17 | 22 |
| Spanish La Liga | Cristiano Ronaldo (Real Madrid) | 36 | 30 | 39 |
| Italian Serie A | Mauro Icardi (Inter) | 31 | 14 | 19 |
| Italian Serie A | Carlos Tevez (Juventus) | 28 | 14 | 20 |
| German Bundesliga | Arjen Robben (FC Bayern) | 25 | 17 | 19 |
| French Ligue 1 | Alex Lacazzete (OL) | 30 | 21 | 25 |
Yes, we all want that dream striker that would give you 30-goals a season but looking at this list, you'd notice that they are the main goalscoring outlets in their respective clubs. At Arsenal, that load has been equally shared – Alexis Sanchez leads the charts with 18 goals, Santi Cazorla has eight, Welbeck seven, Ramsey six and even Ozil has popped in four. Giroud currently has 12 goals and in the form he's in, I expect him to shatter the 20-goal mark sooner rather than later.
Strikers are naturally judged by goals but Arsenal fans that watch Giroud week in week out will know that he offers a lot to the team. In this brilliant piece on Mesut Ozil by North London is Red, the writer mentioned how Giroud's offensive work is underrated. The striker's link-up play is up there with the very best and his selfless nature has seen him notch up some assist for his teammates. Michael Owen can be very annoying on TV sometimes, but he was effusive in his praise for the French forward,
"Today he never shirked [against Everton]. Some of the lesser strikers would think about going missing a little bit. He was always involved.

"He makes bad balls into good balls. He can be that link player, he sets up chances, he gets in the box, he gets into the good areas. He is a good finisher with both feet and his head. I am really impressed."
Many Arsenal fans would feel that Olivier Giroud might not bang in the goals like Robin van Persie, Ian Wright and Thierry Henry, but shouldn't they at least wait till the end of the season before they access and reevaluate the striker's performance this season?
At least, players like Alex Oxlade-Chamberlain have publicly praised his contributions to the team. I feel some of the fans should follow suit.
Sayonara.
You can download the Gooner Daily  BlackBerry App to receive notifications on your Smart Phone when a post is published.
You can follow Gooner Daily on Twitter  @goonerdaily. I'll follow back
Feel free to visit Gooner Daily's  Facebook page and click on the like button.
You can also join Gooner Daily's Mailing List to get notifications of new posts by email by clicking on the Follow button