Blog Archives
*removes cobwebs from blog*
That was quite a break. With the paucity of things happening at the club coupled with some international football, I decided to take a mini break from writing about the club but real football is back, so here I am.
The best news about the international break was that there were no further casualties but there was the sad news that Jack Wilshere suffered a setback and would be out for quite some time. The two players we thought were going to recover after the international break and add something to the side are still nursing injuries. Oh well!
Let's head straight to the preview shall we?
Arsenal Team News
The only thing at the back of the fans mind today would be, who would score the goals for the Gunners, because they've become hard to come by in recent weeks. Arsenal's home record against Stoke is very impressive with Arsene Wenger's side recording 11 straight wins against the Potters on home soil. However, the Gunners have failed to score in five of their last six home league games, recording one win, three draws and two defeats. Arsenal's shot conversion ratio is 5.6% – only Liverpool, with 5.4%, have a lower figure.
There's great news concerning Wenger's best defensive duo, Laurent Koscielny and Per Mertesacker as both players are fit for today's game. Mesut Ozil also played 90 minutes for Germany in midweek so he's fit to start.
Arsenal Injury / Suspension News
Jack Wilshere (ankle), Tomas Rosicky (knee) and Danny Welbeck (knee)
Arsenal Predicted Lineup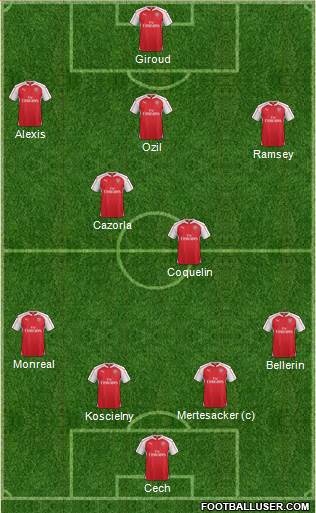 Stoke Team News
Despite the improvement in their overall technical play, Stoke has ensured a very torrid start to the season, losing two and drawing three of their last five games. Their disciplinary record was also questionable as they were on the spotlight for their last performance against West Brom, where they ended the game with just nine men following the red cards brandished to Charlie Adam and Ibrahim Afellay.
Following the summer spending, one would have thought that Stoke's fortunes would improve this season but it has been a case of a series of heart breaks and near misses for the Stoke faithful. A late Philippe Coutinho strike changed one point to zero for the side and therer were two quickfire draws against Tottenham and Norwich. Then of course, there was the defeat to West Brom a fortnight ago.
I don't expect Stoke to get anything out of today's match and the record books aren't in their favor as well.
Stoke Injury / Suspension News
Ryan Shawcross (back), Peter Odemwingie (hamstring), Glen Johnson (groin), Marko Arnautovic (ankle), Miran Diouf (ankle), Charlie Adam (suspension), Ibrahim Afellay (suspension)
Stoke Predicted Lineup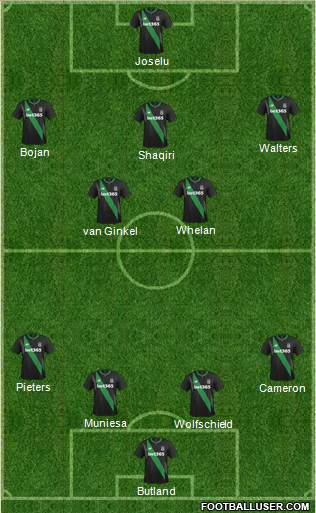 Team Form
Arsenal
Last Five Games: W L W D W
Last Result: Newcastle 0 – Arsenal 1 (Coloccini own goal 52′)
Leading Goalscorer: Own Goal (2)
Stoke
Last Five Games: L D D D L
Last Result: Stoke 0 – West Brom 1 (Rondon 45′)
Leading Goalscorer: Miram Diouf (2)
Gooner Daily predicts 3 – 0 to the Arsenal
Sayonara.
Download the Gooner Daily  BlackBerry App to receive notifications on your Smart Phone when a post is published.
Follow Gooner Daily on Twitter  @goonerdaily. I'll follow back
Visit Gooner Daily's  Facebook page.
Click on the "Follow button" to join Gooner Daily's Mailing List
Stoke 3 (Crouch 1′, Bojan 35′, Walters 45′) – Arsenal 2 (Cazorla 67′ pen, Ramsey 70′)
Match Report – Match Highlights – Post-Match Press Conference (via Arsenal.com)
Three wins in a row. Three clean sheets on the bounce. Then 'this' happened. Typical Arsenal.
The day started really well as we watched Chelsea continue their unbeaten run against Newcastle. *psyche*. The only record that remains a source of sheer pride to Arsenal fans worldwide was taken so cruelly from the hands of Jose Mourinho and his hordes thanks to their newly found nemesis, Papiss Cisse. As expected, Arsenal fans laughed at the club as Twitter was buzzing with tweets from our faithful. Little did we know that our darling team was going to give us another shit-fest to witness.
Arsenal had fresh injury concerns to contend with as Laurent Koscielny and Nacho Monreal, two of our best defenders by a far mile this season, had fitness issues. This saw Per Mertesacker and Calum Chambers play through the middle thereby handing another chance for young Hector Bellerin. Further up the pitch, Danny Welbeck was having a groin problem so Olivier Giroud spearheaded the attack. Following his great cameo performance against Southampton, better things were expected of the French forward. Little did we know that he was going to have one of those games that would make you want to tear some hair from your head.
From kickoff, yes, kickoff, Stoke launched an attack from the left hand side with Kieran Gibbs going to sleep and Mertesacker caught out of position. Somehow the cross managed to evade Chambers and Bellerin lost his footing. When the ball arrived at Peter Crouch's feet, Emi Martinez had already committed himself and he laid his arse flat on the turf allowing the lanky forward to score one of the easiest tap ins of his career. 21 seconds gone, Arsenal were already one nil down. shii!
The Gunners did well to see if they could respond to the massive disappointment and they should have had an equalizer when Bellerin used his raw reserves of pace to get to a ball that was on the brink of going out of play and he managed to provide a cross that came straight to Giroud. It was the kind of cross you'd expect the big forward to kill off but he somehow managed to miss the target when it seemed easier to score. If the game was tied at 1-1, it would have changed the outcome of the contest but you know how cruel football is. You have to take you chances or you'd be punished.
Phil Beardsley was given a chance to let one rip from distance but Martinez failed to handle a shot that came straight at him. Luckily, he has his defenders to clear the ball to safety because had Crouch been the first person on the rebound, it would have been a very embarrassing moment for a keeper that had looked so assured in recent weeks. There were a few half chances for the Gunners with Santi Cazorla blasting another shot wide. I'd also learned from the game that Arsenal has played 110 corners and it has only yielded one goal, with 106 or so defended by the opposition at the near post. That's just terrible.
Stoke upped the ante with Miram Diouf heading a ball that was saved by Martinez but the offside flag came to the goalie's rescue. Stoke extended their lead when Gibbs and Mertesacker went to sleep again on the left hand side with a cross evading both of them and coming straight to Bojan Krkic's feet. The young Spaniard placed the ball past Martinez with the goalie on the prowl. If you think conceding two goals to Stoke wasn't bad enough, Arsenal shot themselves on the foot yet again at the stroke of halftime as another array of shitty defending saw Jonathan Walters blasting the ball into the roof of the net to make it 3-0.
It's also worth noting that Stoke smothered the Gunners anytime they had the ball and Alexis Sanchez was a player that was marked tightly. However, he created a moment of sheer individual brilliance when he took on the entire Stoke defense and even dribbled the goalie only for his effort to smash the post. Arsene Wenger put Giroud out of his misery by summoning Lukas Podolski but every Arsenal fan was utterly shocked when Bojan made mince meat of the defense before firing the ball in to make it four for Stoke but the ref ruled out the goal for offside.
From then onwards, it was all Arsenal. Wenger made a tactical switch by replacing Bellerin with Flamini and dropping Ramsey to the holding role with Welbeck coming in to support the attack thereby changing the entire dynamic of the team. It was Flamini that made a rear foray forward before he was clipped by some bloke in the box leaving the ref no choice but to award a penalty. Up stepped Cazorla, a player that had not scored in 27 Premier League games (since January) to sidefoot the ball past Asmir Begovic to make it 3-1. As expected the keeper acted by a cuntly cunt when he failed to release the ball. Three minutes later, Ramsey showed off his great technique to blast Sanchez' corner into the net to make it 3-2. Two players that goals were hard to come by suddenly found their shooting boots to put Arsenal on the brink of an unlikely comeback.
Just when things were looking good for the Gunners as they pinned Stoke to the edge of the wall, Chambers decided to show off his naivety and inexperience by getting himself sent off for grabbing a player. That act took the winds off the sails to the team and from there on I knew that the game was as good as over. It's moments like this, you take stock and wonder why a 19-year-old would be playing consistently for a team like Arsenal. Don't get me wrong, Chambers has been great since he joined but times without number, his inexperience has gotten the better of him on many occasions.
In the end it was not to be as the Gunners dropped points yet again to a team that they should have beaten on paper. Yes, the Britannia is a hard place to come and play football but Stoke had lost in that stadium to Leicester, Burnley and Aston Villa. Those that watched the game can also attest to the fact that their goals came from lapses in concentration from the Arsenal rearguard, it's not like they tore the defense apart with some 'great football'.
This is a great concern for me and everyone connected with the club. These lads never seem to learn anything as they continue to make the same mistakes on a consistent basis. It's rather unfortunate to see things pan out this way but we have to move forward and hope for the best.
It's Galatasaray up next. I hope we don't cock up in Turkey.
Sayonara
You can download the Gooner Daily  BlackBerry App to receive notifications on your Smart Phone when a post is published.
You can follow Gooner Daily on Twitter  @goonerdaily. I'll follow back
Feel free to visit Gooner Daily's  Facebook page and click on the like button.
You can also join Gooner Daily's Mailing List to get notifications of new posts by email by clicking on the Follow button
In the Premier League, there are some grounds that you looking forward to playing and there are others you just dread due to your horrible record there. Arsenal against Stoke at the Britannia falls into the latter category. Despite the fact that Stoke is one of the most average teams you'd ever see, their record against the big sides in the league (especially at home) is commendable. Last season, Arsenal, Manchester United and Chelsea all suffered stinging defeats in Stoke-on-Trent and the Potters have lost just one game in their last eight meetings (W1 D3 L4) against Arsenal at the Britannia.
However, Stoke's record at home this season has been quite shabby. Losses to Burnley, Leicester and Aston Villa coupled with poor results elsewhere has seen Mark Hughes' side languishing in 13th place and defeat to Arsenal today as well as better results from teams under team could see the outfit drop further down the table. The Gunners on the other hand, are picking up some form and with favorable results in their last three games as well as three clean sheets on the bounce, it has been a breath of fresh air. However, the lads have to remember that there's no room for complacency.
Last season, the game was settled when Laurent Koscielny committed a blatant handball in the box, leaving the ref no choice but to point to the spot. Jon Walters stepped up and sent Wojciech Szczesny the wrong way to hand the home team all three points. Szczesny won't be between the sticks today due to his rib injury and with David Ospina still out injured, the young Argentine goalie, Emiliano Viviano Martinez would be given another chance to strut his stuff in Arsenal's goal. Injuries have paved the way for the young man to get an extended run out and it's a chance that he has grabbed with both arms. Yes, there were doubts when he came into the pitch but his performances have proved that he's an able deputy. He recently revealed that he had set his heart elsewhere in his search for first team football but he has taken a U-turn and he wants to challenge for a place in the club.
Injuries continue to ravage the Gunners with Laurent Koscielny's Achilles tendon still under scrutiny. Mesut Ozil is still out of contention (knee), Theo Walcott's groin is still strained and Serge Gnabry (match fitness) is still a couple of weeks away from first team football. There will be fitness tests for Danny Welbeck and Kieran Gibbs (hamstring) but there's hope at the end of the tunnel for Mathieu Debuchy that is expected to return to first team football action this month.
Stoke have their own injury worries as well with Ireland (illness – fitness test), Walters (knee – fitness test), Sidwell (knee), Whelan (calf), Moses (thigh), Teixiera (ankle), Huth (calf), Odemwingie (knee). I'd expect the same team that started against Southampton to play today.
In the defense, there aren't much options but the major concern would be the fitness of Nacho Monreal, Arsenal's unsung hero in recent weeks. With Per Mertesacker, Laurent Koscielny and Calum Chambers all set to start, the Gunners would be threadbare in defense and would have only Hector Bellerin to summon in the wake of any unforeseen incident to the center backs. In midfield, Mathieu Flamini had his best game in eons and I hope this won't change Wenger's mind in purchasing a new DM (that's if the decision hasn't been made already). He was very efficient with the ball and he made good interceptions. Aaron Ramsey is currently the weak link and he hasn't top gear yet. I expect Santi Cazorla to play as the playmaker. On the back of his lovely performance against Southampton, you'd expect Olivier Giroud to start with Danny Welbeck and Alexis Sanchez flanking him. This essentially means that the Ox might be benched.
Enjoy the game wherever you are.
Sayonara.
You can download the Gooner Daily  BlackBerry App to receive notifications on your Smart Phone when a post is published.
You can follow Gooner Daily on Twitter  @goonerdaily. I'll follow back
Feel free to visit Gooner Daily's  Facebook page and click on the like button.
You can also join Gooner Daily's Mailing List to get notifications of new posts by email by clicking on the Follow button