Blog Archives
The last time both teams met in the League, Alexis Sanchez was in a mean streak of goalscoring form and the Gunners bagged all three points. A lot has happened since then with the Gunner securing Champions League football for the umpteenth time while Sunderland continue to fight for their Premier League lives. Arsenal have won seven and lost none of their last 10 Premier League matches against Sunderland. Sunderland have won just one of their last 22 Premier League games against Arsenal, and are winless in the last 10 (D3, L7).
Three of the last six meetings at the Emirates between these sides have ended in goalless draws. Arsenal have failed to register a first-half shot on target in their last two games.
Sunderland's gaffer, Dick Advocaat, has remained positive about avoiding the drop, especially with two daunting fixtures against Arsenal and Chelsea (both away).
"Normally, if you have 37 points, you're safe. But we will go on until the end and we have to do what we have to do to get that point. The other teams have to do what they have to do too, and win their games. We have to make it as hard as possible defensively and be sharp. Maybe we can do something sneaky like we did at Everton. We will stay up, I have no doubts about that."
If Sunderland had secured maximum points against Leicester, this would have been a dead-rubber fixture. Arsenal need a point to secure third place to avoid the drama of going through playoffs yet again. Let Manchester United worry about that. However, if Hull defeats the Red Devils and Sunderland lose to Arsenal and Chelsea, they'd be relegated. No doubt.
Lee Cattermole received his 14th booking of the season on Saturday, the joint-most in a PL season, level with Mark Hughes, Robbie Savage and Cheick Tioté. All 14 have been for fouls. Lee Cattermole will become the first player to receive 15 Premier League yellow cards in a single season. He would also earn a three-game ban. My money is on the young thug to get another booking.
No side has drawn as many games as Sunderland (8) at home, while Burnley are the only side to score fewer goals in front of their own fans.
Team News
34% of the goals Arsenal have conceded this season have been from headers, the highest proportion in the top flight. Batefembi Gomis was the last person to add to this stat with Andre Herrera's goal coming with his foot. This means that the Gunners would have to be wary about the threat Sunderland could pose from set pieces.
Arsene Wenger expects them to take the 'Swansea approach' because they need a point to secure their status in the League. Let's just hope that the Gunners wouldn't be as profligate as they were in their last home game. Speaking of profligate, Olivier Giroud has failed to score in his last six league and cup games but he has a decent record against the Black Cats with three goals scored in his last four games against the outfit. He'd be hoping to end his drought tonight.
Injury Updates
Arsenal: Matt Debuchy (hamstring), Alex Oxlade-Chamberlain (hamstring), Mikel Arteta and Abou Diaby (lacking match fitness), Danny Welbeck (knee), Laurent Koscielny (illness)
Sunderland: Wes Brown, Jordi Gomez and Ricky Alvarez (knee), Liam Bridcutt (knock),  Jack Rodwell (hamstring), Billy Jones (muscle)
Team Form
Arsenal
Last Five Games: W D W L D
Last Result: Manchester United 1 Arsenal 1
Leading Goalscorer: Alexis Sanchez (24)
Swansea
Last Five Games: L D W W D
Last Result: Sunderland 0 Leicester 0
Leading Goalscorer: Connor Wickham and Jordi Gomez (6)
Predicted Lineups
Arsenal (4-2-3-1): Ospina; Bellerin, Gabriel, Mertesacker, Monreal; Coquelin, Ramsey; Walcott, Ozil, Sanchez; Giroud
Swansea (4-3-3): Pantilimon; Reveillere, O'Shea, Coates, Van Aanholt; Bridcutt, Cattermole, Larsson; Defoe, Fletcher, Wickham
Gooner Daily says 3 – 0 to the Arsenal
You can download the Gooner Daily  BlackBerry App to receive notifications on your Smart Phone when a post is published.
You can follow Gooner Daily on Twitter  @goonerdaily. I'll follow back
Feel free to visit Gooner Daily's  Facebook page and click on the like button.
You can also join Gooner Daily's Mailing List to get notifications of new posts by email by clicking on the Follow button
In all honesty, it hasn't been a good start to the 2014/15 season. The Gunners are walloping in mid-table in the Premier League, already out of the Capital One Cup, the ever-increasing injury list continues to pile up and the performances on the pitch have been downright disappointing. However, the Gunners come into this game on the end of what proved to be a priceless victory following the dismal performances from the lads on the night. Sunderland on the other hand, will have to do better following the 8-0 bashing they received from an in-form Southampton side. Both teams have become draw specialists early in the season and I'd be hoping for more than just one point this afternoon.
History favors the Gunners in this fixture as Arsenal has won their last three encounters against the Black Cats, which includes a home and away double last season. Aaron Ramsey stole the show when both sides clashed in September 2013 and the home game will be fondly remembered by the awesome team goal that was finished off by Tomas Rosicky. Olivier Giroud, you flickin' devil, you! Arsenal are on a nine-match unbeaten run against Sunderland in the Premier League and are vying to win at the Stadium of Light for the fourth season in a row.
Gus Poyet has signed veteran French fullback, Anthony Reveillere on a free contract in his bid to improve a back line that was in shambles last week. With Vergini scoring such an embarrassing own goal last week, he might have to do with some time in the dugout for a more experienced lad like Reveillere. Ex-Gunner, Vito Mannone, could be another goalie that could get the axe, following such a shambolic performance at St. Mary's Stadium. He epitomized a torrid display with a rash pass that was curled home by Dusan Tadic and I see Costel Pantillimon getting his Premier League debut for Sunderland today. The Gunners still have to be weary of the threat Steven Fletcher would pose and they would ignore him on their own peril.
Team News
With the shocking defensive display against Anderlecht on Wednesday night, I would be surprised if I see Nacho Monreal and Per Mertesacker play together in the heart of the defense. The Spaniard has proved that you can't teach an old dog new tricks and the sooner Calum Chambers get deployed alongside the BFG, the better for everyone. This would mean that Hector Bellerin would get a run out on the right. With Wenger confirming that he cannot give a date for Koscielny's return, that would be a real cause for concern. I also see Mikel Arteta returning to the midfield to displace Mathieu Flamini because it's saddening to know that the Frenchman hasn't been in good form at all. He couldn't even dominate a midfield of unknown players in midweek, let alone, some recognizable ones here in the Premier League.
With Wilshere suspended (thank Heavens), Tomas Rosicky or probably, Lukas Podolski would be in line to make an appearance to allow Santi Cazorla and Aaron Ramsey strut their stuff in the middle but with the unhappy German scoring the goal that gave Arsenal all three points in midweek, I'd expect Arsene Wenger to hand him a chance to build on that cameo performance. In attack, the usual suspects, Danny Welbeck and Alexis "Work Rate" Sanchez would be odds on to add to their goals tally and Alex Oxlade-Chamberlain is set to achieve a milestone as he makes his 100th appearance for the club if he starts.
Injury Updates
Sunderland: Álvarez (knee), Coates (thigh), Giaccherini (ankle), Jones (hamstring).
Arsenal: Matt Debuchy (ankle), Olivier Giroud (foot), , Yaya Sanogo (hamstring), Mikel Arteta (calf), Mesut Ozil (knee), David Ospina (thigh), Laurent Koscielny (Achilles tendon), Abou Diaby, Serge Gnabry, Theo Walcott (lacking match fitness), Wilshere (suspended)
Team Form
Sunderland
Last Five Games: D L D W L
Last Result: Southampton 8 Sunderland 0
Arsenal
Last Five Games: D W L D W
Last Result: Anderlecht 1 Arsenal 2
Predicted Lineups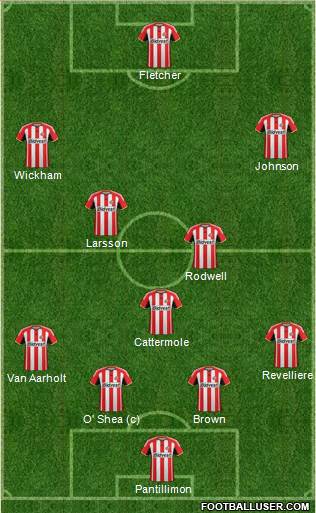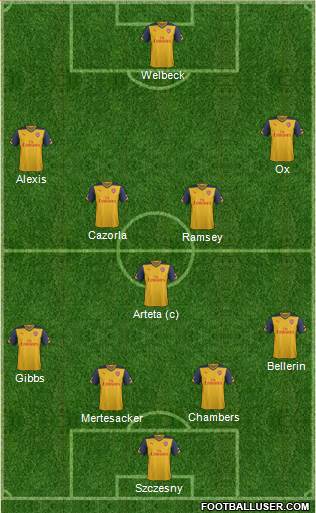 Wenger has stated that his team can find that extra degree in their game to pick up some form, Sunderland offers a perfect platform to do that. Let's hope we wont be disappointed yet again.
Sayonara.
You can download the Gooner Daily  BlackBerry App to receive notifications on your Smart Phone when a post is published.
You can follow Gooner Daily on Twitter  @goonerdaily. I'll follow back
Feel free to visit Gooner Daily's  Facebook page and click on the like button.
You can also join Gooner Daily's Mailing List to get notifications of new posts by email by clicking on the Follow button
The clash between Sunderland and Arsenal will be remembered for more reasons than one.
Mesut Ozil capped a scintillating debut with his first of many assists in Arsenal colors, Olivier Giroud's first-timed finishes are becoming a stuff of legends, even a cool, calm and collected finisher like Theo Walcott can actually have a bad day at the office and Aaron Ramsey, my word, is maturing to one of the finest complete midfielders in the Premier League.
However, this article isn't focused on all the nice stuff that happened from an Arsenal perspective but I want to share my unbiased thoughts of the moment of controversy that occurred in the 69th minute when the game was tensed up at 2-1 to Arsenal with the next goal being the all-important goal. A goal for Sunderland would have leveled the contest and brought them back into the game while a goal for Arsenal would have clinched the tie. The latter happened.
After receiving a through ball, American powerhouse, Jozy Altidore, got involved with a mini wrestling match with Arsenal's captain of the day, Bacary Sagna, as both players tussled for the ball. With Altidore weighing more and probably more built than Sagna), he won the contest with the French defender and closed in on Wojciech Szczesny. As you would expect from an agile keeper like Szczesny, he rushed out of his line to close in the gap on Altidore but the American's placed effort crept under Szczesny and rolled beyond the goal line but it was swept off by Carl Jenkinson (I think?).
Play actually stopped and we all thought that Atkinson was going to refer to the all-new goal line technology initiative that was recently adopted into the Premier League. Instead, Atkinson adjudged that it was a foul on Altidore outside the box and Craig Gardner blasted the resulting free kick over the bar. Shortly afterwards, the event was reconstructed on the big screen and the HawkEye goal line technology system showed that it was actually a goal, as the ball had crossed the line. To rub salt into the wound of Sunderland, Aaron Ramsey stepped up to score the third that put the game to bed.
I'm not taking anything away from Arsenal's brilliant away performance but that goal should have stood. Had Theo Walcott converted at least two of the chances that were afforded to him in the first half, this wouldn't have been a cause for debate because the game would have been over before the second half began. But at 2-1 down, scoring a goal that was wrongly disallowed would take its toll on the team's morale, and in most cases, the game is always lost from there.
Permit me to take you down memory lane in a certain 2010 FIFA World Cup first knockout round fixture between Germany and England. At 2-1 down, Frank Lampard rifled in one of his trademark bullets that smashed the underside of Manuel Neuer's bar, went beyond the goal line and crept back into play. However, the ref and his assistant didn't see it and a crestfallen England went on to concede two more goals that sealed their elimination.
In the Premier League, decisions involving goal line errors have been been a menace and in most cases, the referee's decision not to allow the goal often results in a backlash, as the manager, players and fans alike of the affected team leave no stones unturned in voicing their frustrations.
I can't remember the season, but Tottenham's Pedro Mendes blasted a long-range shot that brought out the worst in Manchester United's Roy Carroll and after he fluffed at making a simple save, the ball went beyond the line but he managed to bring it back into play. If my memory serves me right, the game ended in a goalless draw.
To err is certainly human and referees are no cyborgs but the goal line technology system was meant to help them mitigate such occurrences from happening again in the Premier League.
In Arsenal's first game of the season against Sunderland, Fabian Delph fired a shot in the edge of the area that hit the inside of the post before it crept away. The man with the whistle, Anthony Taylor, had a stinker all game long, but he still managed to call on the all-new HawkEye Decision System and he was duly notified that the ball didn't cross the line.
Martin Atkinson could have resorted to this and Sunderland should have gotten their rightful equalizer. Even with the game tied at 2-2, I still believed that Arsenal would have had enough in the tank to get a third and kill off the game. Many Arsenal fans wouldn't really care that this decision went their way citing Lady Luck and all that, but if it was Olivier Giroud that had a chance that went beyond the line and was not given, the vitriol and abuse at the ref would have been incessant.
In the long term, I hope referees would have to understand that the goal line technology system is meant to assist them in making those decisions and the quicker they embrace this new system, the better for the Premier League.
They can like to practice what has been preached.
Sayonara.
To vote for Gooner Daily for the 2013 OYAA award of Best Online Media for Sport, please click here.
You can download the Gooner Daily  BlackBerry App to receive notifications on your Smart Phone when a post is published.
You can follow Gooner Daily on Twitter  @goonerdaily. I'll follow back
Feel free to visit Gooner Daily's  Facebook page and click on the like button.
You can also join Gooner Daily's Mailing List to get notifications of new posts by email by clicking on the Follow button