Blog Archives
Theo Walcott may be 26-years-old but for those that don't know, he has spent 10 years at Arsenal.
His career began at Southampton but the Gunners snapped him up at a very young age and nurtured him to become a man in every sense of the word. Back in the day, he was 'just' known for his pace but with each passing season, Walcott added some more into his game and 10 years, Arsenal fans can be proud of the player he has become.
From his first goal against Chelsea in the 2007 Carling Cup final to his 81st goal against Manchester City this season, Walcott is one player that will always give you that edge in attack. His battle with Olivier Giroud at the start of the season was quite interesting but in recent weeks he has been drafted to an unfamiliar left wing position, and he hasn't lit many fireworks there. However, you cannot fault his defensive work and his spirit, as he has matured to an all round player, which is something his manager can be rightly proud of.
The 2012/13 season will always stand out for Walcott as he achieved his personal best of 21 goals in a single campaign but injuries have been one of the biggest thorns in Walcott's flesh and I feared for the worst when he suffered an anterior cruciate ligament injury that sidelined him for up to a year. Since his return to first team action, he has made his contributions to the team with some goals and as long as he remains in the team, there's always a chance that he could find the back of the net.
It hasn't always been peachy and creamy with Walcott though. Off the pitch, his contractual issue was a pain in the arse for the Gunners and there was a collective sigh of relief when he put pen to paper. On the pitch, there are loads of games when Walcott becomes so anonymous, that you tend to wonder if he was selected at all. The last game against Stoke was a harsh reminder of that – Alex Iwobi proibably had more touches in the 15 minutes he played than Walcott in 75, and you see the impact the young Nigerian tried to make in the little time he was allotted on the pitch.
But that's the Theo Walcott we have come to know – brilliant on some days, pretty much shite on others, but we love him nonetheless.
On the international scene, Walcott hit the back pages when Sven Goran Eriksson took him to 2006 World Cup in Germany but was a surprise omission in 2010 World Cup, especially after he scored a scintillating hat-trick in the qualifier against Croatia. He got his first stint of an international tournament with his nation when he was selected for Euro 2012 and he made an impact in England's 3-2 win over Sweden where he leveled the tie at 2-2 before providing an assist for Danny Welbeck.
With England being one of the first teams to qualify for the European Championships this summer, Walcott played his part with three goals in the qualifiers, taking his overall tally for his nation to eight goals in 42 appearances.
At just 26, he's already due for a testimonial at Arsenal, but we would have to wait for quite some time because he's not ready to hang those fast boots anytime soon. He already has 320 appearances for the Gunners, and I won't be surprised when he hits 400 in the next two to three seasons.
Here's to Walcott – Arsenal's stalwart
Sayonara.
Download the Gooner Daily  BlackBerry App to receive notifications on your Smart Phone when a post is published.
Follow Gooner Daily on Twitter  @goonerdaily. I'll follow back
Visit Gooner Daily's  Facebook page.
Click on the "Follow button" to join Gooner Daily's Mailing List
The Capital One Cup Round of 16 fixtures were completed yesterday with Middlesbrough cementing their status as giant killers in the competition yet again as they went to Old Trafford and earned themselves a victory over Manchester United. Elsewhere, Jurgen Klopp finally got his first victory as Liverpool manager with a narrow win over a Bournemouth side Brendan Rodgers couldn't beat in the Premier League. Manchester City was the pick of the bunch with the Citizens running riot against Crystal Palace and Southampton edging past managerless-Aston Villa. In addition to Tuesday's results that saw Everton, Hull, Stoke and Sheffield Wednesday emerge victorious, the draws for the quarterfinals would create an interesting prospect but Arsenal's participation in this season's tournament is over.
Arsenal fans are more concerned about the fitness of Alex Oxlade-Chamberlain and Theo Walcott as they suffered injuries in the loss to Sheffield Wednesday. Prior to kickoff, the Ox was seen performing a stretching routine and it was no surprise when he was seen on the turf for seemed to be a hamstring injury. Walcott replaced the injured Ox and added to Arsenal's woes as he spent barely 10 minutes on the pitch before suffering what is now reported to be a calf injury.
With Arsenal having all-important fixtures against Swansea, Bayern Munich and Tottenham before the international break, it's quite saddening to know that Arsene Wenger would be without his English forwards, as the Mirror has confirmed that they are set for a lengthy layoff. With Walcott and the Ox out injured, the Gunners injury list is piling up yet again as the Englishmen are set to join Jack Wilshere (ankle), Tomas Rosicky (knee), Danny Welbeck (knee), Aaron Ramsey (hamstring), David Ospina (shoulder) and Mikel Arteta (ankle).
Wenger can ill-afford any more injuries to the squad because it's getting heavily depleted and the team is walking on a thin thread on several positions. Petr Cech is the only available goalkeeper for selection with Ospina suffering a shoulder injury. If Wenger couldn't trust Matt Macey with a game against Sheffield Wednesday in the Capital One Cup, do you think he would get any minutes in more important competitions like the Premier League and Champions League? I think not.
With Walcott injured, the Gunners will lay all their striking eggs on an Olivier Giroud basket. The Frenchman responded well to spending some time on the bench with three goals in a week and he would be hoping to continue his scoring streak even though he hit blanks in Hillsborough due to lack of service. Walcott has proved that he's a capable center forward and we would be waiting to see how he would respond to Giroud's upturn in form. This competition is beneficial to the team and I hope it continues as both players do their bit to prove their worth to Wenger.
As for Oxlade-Chamberlain, I feel sad for him because he hasn't fully convinced this season. Yes, there was the great goal against Chelsea in the Community Shield but he has failed to maintain that consistency and Wenger didn't bat an eyelid in playing Aaron Ramsey out of position ahead of a natural winger like the Ox. With Ramsey suffering a hamstring injury against Bayern Munich and Arsene Wenger playing Walcott as a center forward, the way was paved for the Ox to get an extended run of games.
I wish them speedy recoveries from their muscular injuries.
Sayonara.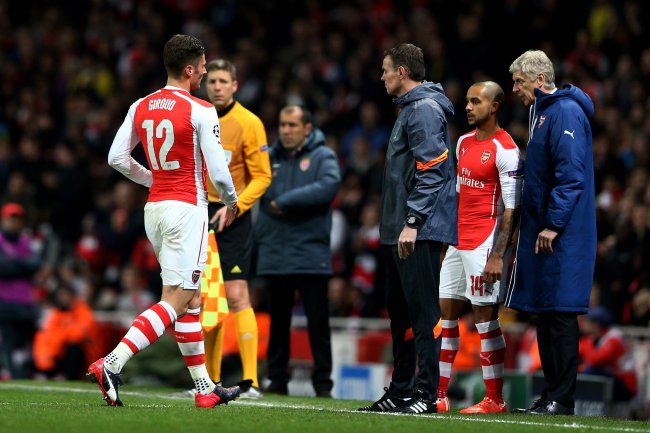 This summer, like many summers before it, Arsenal fans were hoping that the club would sign a center forward that would 'lead the club to glory'. While Alexis Sanchez, a winger by trade, lead the club's scoring charts with 25 goals in 52 games last season, the club's strikers didn't hit such heights last season. Olivier Giroud had an injury-plagued campaign, but he still managed to score 19 goals in 36 apps, Danny Welbeck scored eight goals in 34 apps and Theo Walcott made his long-awaited injury comeback to score seven in 20 apps.
The Gunners went into the 2015/16 season with Giroud, Walcott and Welbeck as its registered center forwards, following the club's failure to recruit a new center forward in the transfer market. Sadly, Welbeck is still suffering from a knee injury he picked up in April and required surgery to fix it. According to his national team manager, Roy Hodgson, the English forward could be out for six months. This means that Arsenal has only two center forwards for a considerable chunk of the campaign and if anything happens to any of them, the team would be thin bare in attack.
How have the forwards fared this season? The table below compares the statistics of Walcott and Giroud this season.
| | | |
| --- | --- | --- |
| STAT (PREMIER LEAGUE ONLY) | WALCOTT | GIROUD |
| Appearances (Subs) | 3 (2) | 3 (3) |
| Goals | 1 | 2 |
| Aerial Duels Won (per game) | 0 | 2 |
| Passing Accuracy | 75.6% | 68.5% |
| Key passes (per game) | 0.4 | 0.7 |
| Shots (per game) | 3.2 | 3 |
| Dribbles (per game) | 0.6 | 0.5 |
| Fouled (per game) | 0.4 | 0.5 |
| Offsides (per game) | 0.6 | 0.7 |
| Dispossessed (per game) | 0.8 | 1 |
Stats via WhoScored.
Despite their contrasting styles of play, their stats are somewhat similar. With Walcott, you pass the ball into space, he uses his pace to latch onto it before executing a Thierry Henry-esque placed finish. This was exhibited in the Aston Villa game where Mesut Ozil sent him through with a peach of a pass and the Dinamo Zagreb game where Alexis Sanchez fed him with a neat through ball in behind the defense. With Giroud, you pass the ball to his feet because he loves to linkup with his teammates and he's also a dominant force in the air because of his imposing frame. He showed great improvisation to score a spectacular scissors kick against Crystal Palace but his headed goal against Stoke was bread and butter stuff for the Frenchman.
This season, both strikers have come to terms with the reality that they will be rotating with each other and this should build some healthy competition between them. Walcott has always signaled his intentions to play as a center forward and this season he has been given that chance to prove his worth to his manager. With Giroud starting the Capital One Cup game against Tottenham on Wednesday, every indication is pointing to the fact that Walcott would start the Leicester City game this weekend, which would mean that he's the alpha dog in attack this season.
I still feel that Wenger should select the strikers based on the opposition (which I believe he's doing), so in my honest opinion, Giroud would have been a better option to start with in the Chelsea game because his physicality would have been a plus against the likes of Kurt Zouma and Gary Cahill. They really made Walcott very peripheral in that game. Well, I'm no Wenger though, and of course he knows best but Twitchy Ol' 'Arry Redknapp decided to voice his opinions about the Arsenal striking rotation policy,
"Arsene Wenger has talked about rotating Olivier Giroud and Theo Walcott as his main striker but that creates a big problem for Arsenal: what is your style of play? 

One is a big man who thrives on crosses and is strong in the air, while the other is all about pace who wants to run in behind. So every week you have got a different way of playing and that can only disrupt the shape of the team.

It is a difficult one because you aren't swapping Giroud with someone like Graziano Pelle at Southampton, both of whom like to hold the ball up and bring others into play. Walcott and Giroud are complete opposites and while that can be a strength because they offer a different kind of threat, the other players are going to struggle to find a consistent pattern to their play. 

I'd play Theo wide right. I'd find a place for him because pace is what teams fear most."
The Twitchy One believes that it would create a disruption in play because one week you're passing the ball into space for Walcott, the other week, you're passing the ball to Giroud's feet and feeding him a couple in the air. I don't agree with Redknapp's thoughts though because I feel that the players know their roles and responsibilities on the pitch and they can adapt to any style of play the game demands. Take a player like Hector Bellerin for instance. He floats his crosses when Giroud plays and he drills his crosses when Walcott plays. That's the kinda adaptability I'm talking about. Using the intelligent Mesut Ozil as another case study, he knows the kinda passes he'd give Walcott (against Stoke) or Giroud (against Crystal Palace). In case you didn't know, he has provided assists to both of them this season because he assists when he wants.
As the campaign progresses, we will see more of Walcott and Giroud and in the very end, they will be judged by the amount of goals they have scored for the club, and I hope they score many this season.
Sayonara.
Download the Gooner Daily  BlackBerry App to receive notifications on your Smart Phone when a post is published.
Follow Gooner Daily on Twitter  @goonerdaily. I'll follow back
Visit Gooner Daily's  Facebook page.
Click on the "Follow button" to join Gooner Daily's Mailing List.