Blog Archives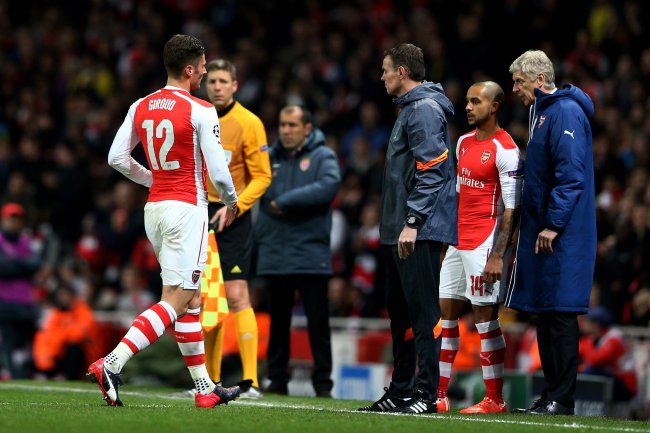 This summer, like many summers before it, Arsenal fans were hoping that the club would sign a center forward that would 'lead the club to glory'. While Alexis Sanchez, a winger by trade, lead the club's scoring charts with 25 goals in 52 games last season, the club's strikers didn't hit such heights last season. Olivier Giroud had an injury-plagued campaign, but he still managed to score 19 goals in 36 apps, Danny Welbeck scored eight goals in 34 apps and Theo Walcott made his long-awaited injury comeback to score seven in 20 apps.
The Gunners went into the 2015/16 season with Giroud, Walcott and Welbeck as its registered center forwards, following the club's failure to recruit a new center forward in the transfer market. Sadly, Welbeck is still suffering from a knee injury he picked up in April and required surgery to fix it. According to his national team manager, Roy Hodgson, the English forward could be out for six months. This means that Arsenal has only two center forwards for a considerable chunk of the campaign and if anything happens to any of them, the team would be thin bare in attack.
How have the forwards fared this season? The table below compares the statistics of Walcott and Giroud this season.
| | | |
| --- | --- | --- |
| STAT (PREMIER LEAGUE ONLY) | WALCOTT | GIROUD |
| Appearances (Subs) | 3 (2) | 3 (3) |
| Goals | 1 | 2 |
| Aerial Duels Won (per game) | 0 | 2 |
| Passing Accuracy | 75.6% | 68.5% |
| Key passes (per game) | 0.4 | 0.7 |
| Shots (per game) | 3.2 | 3 |
| Dribbles (per game) | 0.6 | 0.5 |
| Fouled (per game) | 0.4 | 0.5 |
| Offsides (per game) | 0.6 | 0.7 |
| Dispossessed (per game) | 0.8 | 1 |
Stats via WhoScored.
Despite their contrasting styles of play, their stats are somewhat similar. With Walcott, you pass the ball into space, he uses his pace to latch onto it before executing a Thierry Henry-esque placed finish. This was exhibited in the Aston Villa game where Mesut Ozil sent him through with a peach of a pass and the Dinamo Zagreb game where Alexis Sanchez fed him with a neat through ball in behind the defense. With Giroud, you pass the ball to his feet because he loves to linkup with his teammates and he's also a dominant force in the air because of his imposing frame. He showed great improvisation to score a spectacular scissors kick against Crystal Palace but his headed goal against Stoke was bread and butter stuff for the Frenchman.
This season, both strikers have come to terms with the reality that they will be rotating with each other and this should build some healthy competition between them. Walcott has always signaled his intentions to play as a center forward and this season he has been given that chance to prove his worth to his manager. With Giroud starting the Capital One Cup game against Tottenham on Wednesday, every indication is pointing to the fact that Walcott would start the Leicester City game this weekend, which would mean that he's the alpha dog in attack this season.
I still feel that Wenger should select the strikers based on the opposition (which I believe he's doing), so in my honest opinion, Giroud would have been a better option to start with in the Chelsea game because his physicality would have been a plus against the likes of Kurt Zouma and Gary Cahill. They really made Walcott very peripheral in that game. Well, I'm no Wenger though, and of course he knows best but Twitchy Ol' 'Arry Redknapp decided to voice his opinions about the Arsenal striking rotation policy,
"Arsene Wenger has talked about rotating Olivier Giroud and Theo Walcott as his main striker but that creates a big problem for Arsenal: what is your style of play? 

One is a big man who thrives on crosses and is strong in the air, while the other is all about pace who wants to run in behind. So every week you have got a different way of playing and that can only disrupt the shape of the team.

It is a difficult one because you aren't swapping Giroud with someone like Graziano Pelle at Southampton, both of whom like to hold the ball up and bring others into play. Walcott and Giroud are complete opposites and while that can be a strength because they offer a different kind of threat, the other players are going to struggle to find a consistent pattern to their play. 

I'd play Theo wide right. I'd find a place for him because pace is what teams fear most."
The Twitchy One believes that it would create a disruption in play because one week you're passing the ball into space for Walcott, the other week, you're passing the ball to Giroud's feet and feeding him a couple in the air. I don't agree with Redknapp's thoughts though because I feel that the players know their roles and responsibilities on the pitch and they can adapt to any style of play the game demands. Take a player like Hector Bellerin for instance. He floats his crosses when Giroud plays and he drills his crosses when Walcott plays. That's the kinda adaptability I'm talking about. Using the intelligent Mesut Ozil as another case study, he knows the kinda passes he'd give Walcott (against Stoke) or Giroud (against Crystal Palace). In case you didn't know, he has provided assists to both of them this season because he assists when he wants.
As the campaign progresses, we will see more of Walcott and Giroud and in the very end, they will be judged by the amount of goals they have scored for the club, and I hope they score many this season.
Sayonara.
Download the Gooner Daily  BlackBerry App to receive notifications on your Smart Phone when a post is published.
Follow Gooner Daily on Twitter  @goonerdaily. I'll follow back
Visit Gooner Daily's  Facebook page.
Click on the "Follow button" to join Gooner Daily's Mailing List.
I don't know if this is the right way to go about this, but it's worth a try.
Picture Arsenal Football Club as a rich bloke that set his eyes on a very young girl called Walcott. He obviously likes what he sees but she's really young with her best years ahead of her, so he takes her under his care and caters for her as she grows. He sees her doing so well in the world and she's getting more beautiful by the minute, and he starts to get some feelings, and he wants 'some'. Then, she gives him.
He wants it after another four years, and she gives him again. He comes around the block for some of that good stuff but she tells him to 'hold on', and suddenly he thinks she's not going to give him anymore. He starts panicking and making all sorts of assumptions and even ponders giving her to another. Now, she has given him what he wanted and he'd have to wait for another four years.
****
According to the official website, Theo Walcott and Santi Cazorla have extended their contracts with the club. Both players have been instrumental to the club in different capacities and while Walcott has been around for as long as I can remember (now the club's longest serving player), Cazorla joined from SC Malaga in the start of the 2012/13 campaign and his magnificent performances won him the Arsenal Player of the Season award. He continued his great form into the 2013/14 season and last season, his role in the team changed.
With Cazorla turning 30, a few thought that the Gunners would cash in on him – especially with Atletico Madrid on the prowl but the club has signaled their desire to remain with the player and I'm happy he's going to be around for a long while. He's a fantastic player and his influence has risen in the club, as he's currently the third in command behind Mikel Arteta and Per Mertesacker.
As for Walcott, it's an issue I've touched on in the past and I'm happy that we can finally concentrate on the activities on the pitch, rather than the shenanigans off it. From what I've heard, Walcott is now among the club's highest earners and I hope he does his bit to justify that huge pay. With the likes of Aaron Ramsey and the Ox playing on the right wing and Olivier Giroud and Danny Welbeck playing through the middle, it's going to be very interesting to see how Wenger manages Walcott this season.
That's Wenger's headache though and I'm happy he will be having such selection problems. The squad is really huge and Wenger would have to manage them effectively in his bid to challenge for all fronts this season.
Wishing Walcott and Cazorla the very best in the 2015/16 campaign.
Sayonara
Download the Gooner Daily  BlackBerry App to receive notifications on your Smart Phone when a post is published.
Follow Gooner Daily on Twitter  @goonerdaily. I'll follow back
Visit Gooner Daily's  Facebook page.
Click on the "Follow button" to join Gooner Daily's Mailing List.
So I'm back at work, suffering for a little dose of post-public holiday hangover (the feeling of being in holiday mode when you're meant to be mentally ready for work) but it would pass. When you have the large amount of pending emails I'm seeing this morning, you'd know that a lot can happen at work between Thursday last week and today, because I spent Friday last week, Saturday, Sunday and yesterday playing the Witcher III on my PS4.
With plans ongoing for the forthcoming Emirates Cup, Arsene Wenger would want to ensure that his squad is a tight-knit bunch and he wouldn't want any 'unhappy ' players in the squad. It's a long season ahead of us and Wenger would want to secure the futures of some of the players with contracts that are reaching their end.
From the best of my knowledge, signing a contract is meant to be a pretty much straightforward thing. On one end is the club representatives, telling the player and his agent the terms of the new contract, the number of years and of course, the weekly salary figure. Some clubs even go as far as adding clauses (that usually proves beneficial or troubling in the near future). The player and his agent read the terms, iron a few things out before the player puts pen to paper and bob's your uncle. Maybe it's a bit more complicated than I feel it is but when a contract situation becomes protracted it becomes a niggling issue that's no different from a thorn in a flesh.
Look at young lads like Francis Coquelin and Hector Bellerin that recently extended their contracts with the club. At the start of last season, it seemed unlikely that they were going to make their breakthroughs at the club. Even Arsene Wenger has acknowledged several times that he didn't envisage that these lads would have exceeded all his expectations. Both players had stroke of luck on their side and latched onto the opportunities that were afforded to them by putting up great performances on the pitch and the club deemed it fit to tie their futures to long term deals – which of course, they signed without batting an eyelid. No issues, no problems, just signing a good ol' contract and they did.
Enter Theo Walcott – Arsenal's longest serving player with Abou Diaby leaving the club a few weeks ago. In 302 games for Arsenal, Walcott has scored 76 goals with half a century coming in the Premier League. The club has groomed a relatively raw young talent from Southampton and improved him drastically. I'd say that Walcott isn't a finished product just yet, as there are some aspects of his game that needs improvement but he's a player that gives you that unpredictably and edge in a game, especially when the chips are down.
He did well to nail a first team berth in the squad but he suffered that ACL injury that sidelined him for a very long time. His return to the club saw him score a couple of goals but Wenger 'froze him out' of the first team for the ending months of last season before giving him rare starts against West Brom in the final league game and Aston Villa in the FA Cup final and he gave his manager something to think when he scored four goals in two games.
This season, Walcott began with a bang as his scored with literally his first attempt on goal in Arsenal's 3-1 victory over Everton in the Barclays Asia Trophy final. He started on the right flank but drifted into a center forward position to score after anticipating Santi Cazorla's brilliant overhead through ball. With that effort, Walcott is doing his bit to become indispensable to the team but he's running into the final months of his contract and he has to sign da ting if he wants to remain at Arsenal.
A player with one year on his contract puts a club in a rather precarious situation in regard to his future and in most cases, drastic decisions are made. Will the club cash in on him and make 20m+ for his services, or will the club play hardball with him and let him on Bosman? Decisions. Decisions.
When he was asked his contract situation, Walcott seemed to be 'relaxed' about it,
"I enjoy playing for this club, so I am just letting them crack on with things and I'll continue playing football.

"We'll just play the waiting game and see what happens but I'm sure it won't be long. This squad, for me, is one of the best I've been involved in. I want to be part of that."
This so-called waiting game can take longer than expected but it's really tiring, bearing in mind that Walcott put the club in the same situation in the 2012/13 campaign. The Guardian is reporting that he's hoping for a pay rise to match his peers but I don't know if it would be up to the £140,000-a-week deal the club pays Mesut Ozil and Alexis Sanchez.
It's also worth noting that Walcott has suffered a lot of injuries in his Arsenal career and this statistical breakdown by the folks at Paddy Power gives an extensive overview of Abou Diaby Walcott's injury problems.
I hope Walcott signs da ting though. He's a good asset to the team.
Sayonara.
Download the Gooner Daily  BlackBerry App to receive notifications on your Smart Phone when a post is published.
Follow Gooner Daily on Twitter  @goonerdaily. I'll follow back
Visit Gooner Daily's  Facebook page.