Blog Archives
You don't need any soothsayer to tell you that in recent times, Arsenal is a club that has become synonymous with injuries.
Every avid football fan would tell you that injuries are part and parcel of the game, that's why managers have as much as 25 players to choose from. Some clubs have the luxury of having the adequate depth to soften the blow caused by an injured player while others, well, aren't blessed with such an option.
Using the same club as a case study two season's ago, former Arsenal skipper, Thomas Vermaelen, suffered so many injuries in the 2013/14 season but Arsenal miraculously managed to keep Per Mertesacker and Laurent Koscielny fit and both center backs played up to 50+ games in the FA Cup-winning campaign. Lady Luck didn't smile on the Gunners last season, with Koscielny suffering some injuries, coupled with the club's failure to replace Thomas Vermaelen in the summer, Wenger was forced to shuffle between Calum Chambers, Nacho Monreal and even Mathieu Debuchy to partner Mertesacker in defense.
As the weeks progressed, Arsenal signed a goalie with a thigh injury, Olivier Giroud suffered a freak injury in the game against Everton that sidelined him for three to four months. Mesut Ozil suffered a knee injury in October or so, then Paddy McNair destroyed Jack Wilshere's ankle in November. Despite the regular niggles here and there, another player, Alex Oxlade-Chamberlain, suffered a hamstring injury in March that halted his campaign.
At the tail end of the 2014/15 season, Danny Welbeck suffered a knee injury that has sidelined him till this moment, then Tomas Rosicky suffered an injury in the Euro 2016 qualifier for the Czech Republic against Iceland. The injury persisted through the summer and the ageless Czech missed out of the entirety of the preseason with his team.
It has already been reported that Wilshere is going to be out for four weeks following a hairline fracture on his fibula, and Rosicky is expected to join him after going under the knife to fix a niggling knee problem. According to his agent, Pavel Paska, Rosicky had an anthroscopic surgery on his knee and he's going to be out of out for four to eight weeks.
With Wilshere and Rosicky injured, Arsenal are now short of two midfielders that add some measure of depth to the squad. Wenger is relatively stocked with options in midfield but he can ill-afford more injuries to his players. With Arsenal competing for several trophies this season, Wenger would be hoping to rotate the squad from time to time, depending on the opposition and competition but he would have to forget about using the services of Wilshere and Rosicky till October / November….and that's me being very optimistic.
Sayonara
Download the Gooner Daily  BlackBerry App to receive notifications on your Smart Phone when a post is published.
Follow Gooner Daily on Twitter  @goonerdaily. I'll follow back
Visit Gooner Daily's  Facebook page.
Click on the "Follow button" to join Gooner Daily's Mailing List.
Today, Gooner Daily discusses about the performances of the players that make up Arsenal's engine room.
Mikel Arteta (11 appearances, one goal, two yellow cards)
With Thomas Vermaelen departing to FC Barcelona, Arsene Wenger continued the succession by giving the captain's arm band to Mikel Arteta. The new skipper featured in the FA Community Shield and lifted his first trophy. However, Arteta's campaign was plagued by many injuries and with the emergence of Francis Coquelin, he wasn't even eased into action when he regained full fitness. The fans would be hoping that he would contribute to the team's cause next season.
Rating: 4/10
Jack Wishere (22 appearances, two goals, six yellow cards)
For the first time in ages, Wilshere enjoyed a good pre-season campaign and he featured regularly in Arsenal's 4-1-4-1 tactical setup. His performance against Manchester City was up there with the very best but his season suffered an abrupt dent when he was on the end of a poorly-timed tackle from Manchester United's Paddy McNair which ruled him out for a considerable chunk of the season.
Arsene Wenger did the right thing to re-introduce him slowly to the thick of things, and Wilshere crowned that with another 'goal of the season' when the Gunners played West Brom in the Premier League curtain closer.
Rating: 7/10
Mesut Ozil (23 appearances, five goals, two yellow cards)
Ozil was heavily involved in Germany's World Cup triumph and was sent back to the rigors of the Premier League as the season progress. He struggled initially with adjusting to playing on the left wing and he put up some concerning performances but he opened his goalscoring account in the game against Aston Villa when he returned to his favored No. 10 role. In October, he suffered a knee injury that sidelined him for three months.
He returned a stronger player and added goals to his game with strikes against Brighton and Aston Villa. He opened the scoring in the North London derby and swung in a superb free kick in the thrashing of Liverpool. Ozil has become very integral to the team and he has made his influence known. We can only hope he continues with time.
Rating: 8/10
Aaron Ramsey (40 appearances, 10 goals, seven yellows, one red card)
Following his breakthrough performance last season that saw Ramsey scored 16 goals including the famous winner at Wembley, a lot was expected of the Welsh Jesus this season. He handled that responsibility well by scoring the match winner in the first game of the season but he struggled for fitness and form this season.
After going on a goal drought for three months, Ramsey scored a sumptuous volley in the 3-2 defeat against Stoke and followed it up with an unbelievable left-footed piledriver in the dead-rubber fixture against Galatasaray. Due to the fact that Ramsey is one hell of a complete player, Wenger deployed him on the right flank in a tactical switch that saw some players moved around but as the weeks went by, Ramdey's influence dwindled on the right. When he returned to the middle, he was back to his best and the fans are hoping that he stays in the middle at Wembley.
Rating: 8/10
Santi Cazorla (52 appearances, eight goals, five yellow cards)
Cazorla was an ever-present player for Arsenal this season and his versatility ensured that he was used by the gaffer in several playing position on the pitch. He also developed a penchant for executing set piece with such ridiculous ease that it was a no brainer on who to select anytime the Gunners had a penalty. Cazorla also raked up his assists count this season, and he put up a lot of stand-out performances in the course of the season.
There has been a lot of speculation regarding a move away from the club but the midfielder is focused on excelling with the club. Good to see him put on the band in a couple of occasions as well.
Rating: 8/10
Mathieu Flamini (32 appearances, one goal, six yellow cards)
Flamini featured as a back up to Arteta and got a run-out when the captain was out injured. However, his performances this season have been fairly inconsistent, and the fans won't be quick to forget how he lost the ball in the buildup to Tottenham's goal. Whether it's been a case of his aging legs or the player not just being good enough, Flamini hasn't reached the heights he set in the yesterday tear with Arsenal.
It's very certain that the club would not renew his deal when it expires next summer.
Rating: 3/10
Tomas Rosicky (23 appearances, three goals, two yellow cards)
It's quite bizarre to know that Rosicky's first Premier League game came as late as December in the win over QPR, and as you'd expect from the ageless Czech, he scored the match winner. While the games were kinda hard to come by in the league, Rosicky featured in the cup fixtures as he captained the side and got a goal in the 3-2 win over Brighton. His last goal of the campaign arrived in the narrow win over Everton and as expected, he has made a couple of substitute appearances and it's good to know that he has chose to extend his contract with the squad.
Rating: 7/10
Francis Coquelin (29 appearances, no goal, seven yellow cards)
They say the best things in life are free.
Maybe they were talking about Coquelin. The French man has been the best thing that happened to Arsenal in the second half of the season. Enough said.
Rating: 10/10
Sayonara
You can download the Gooner Daily  BlackBerry App to receive notifications on your Smart Phone when a post is published.
You can follow Gooner Daily on Twitter  @goonerdaily. I'll follow back
Feel free to visit Gooner Daily's  Facebook page and click on the like button.
You can also join Gooner Daily's Mailing List to get notifications of new posts by email by clicking on the Follow button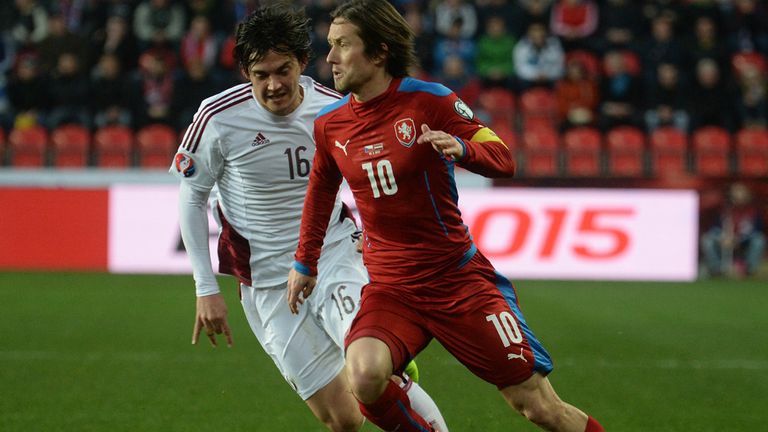 Tomas Rosicky has given nine years of his career to Arsenal, but to Czech Republic, he has given a lot more.
He first burst into the international scene as a 15-year-old in 1995 and he played through the youth teams before making his full debut for the national side as a 19-year-old against Ireland in February 2000. He was selected in the Czech team for Euro 2000 but the team was ousted from the group stages that featured Netherlands, France and Denmark. With Patrik Berger suspended, Rosicky played in the middle with Pavel Nedved as the Czech team lost to Holland and France but he was benched in the final game against Denmark.
Qualification for the 2002 FIFA World Cup went well for the Czech Republic and Rosicky played his part with two goals in the campaign. Their reward for coming second was a playoff against Belgium but they lost to the two-legged tie to the Belgians. As expected, Rosicky and the Czech team qualified for Euro 2004 and he was heavily involved in their group stage adventure as they sealed nine points from a group that had Latvia, Holland and Germany. In the quarterfinals, the Czech eased past Denmark but they suffered heartbreak in the semis with an extra time loss to eventual winners, Greece.
In was in the 2006 World Cup that the Czech maestro announced himself with this magnificent strike for his nation against the United States
He scored again with another strike against U.S.A but it was a disastrous campaign for the Czech as they lost their remaining games to Ghana and Italy. That's when Rosicky's adventure with Arsenal began and it has been a worthwhile journey ever since.
Following the retirement of Pavel Nedved in August 2006, the captain's armband was handed to Rosicky. In the buildup to Euro 2008, Rosicky was involved in some controversy when he and some of his Czech teammates, Martin Jiranek, Tomas Ujfalusi, Jan Polak and Marek Cech, managed to get some prostitutes into their hotel by telling team officials that the girls were 'autograph hunters'. They also claimed they had been celebrating Ujfalusi's birthday. This earned the players a fine of £25,000.
Rosicky's hamstring injury cost him his place in the Czech squad for Euro 2008. Without Rosicky to help the team, the Czechs began the campaign well with a victory over Switzerland but subsequent losses to Portugal and Turkey ended their tournament with more disappointment. Rosicky's last international tournament with the Czech team was Euro 2012, where he led them to victories against Greece and Poland in the group stages before their quarterfinal loss to Portugal.
Yesterday, Czech Republic hosted Latvia and the game ended in a 1-1 draw but there was a personal milestone in the game for the Czech captain, as he notched up his 100th cap for his nation, which is a remarkable feat. The record amount of international games for any player is currently held by Egypt's Achmed Hassan, that amassed 184 games for Egypt between 1996 and 2012 playing in eight African Cup of Nations and winning four.
Rosicky is one player I admire and I know a day would come when his aging legs won't allow him to keep playing for the Gunners, but I hope that day doesn't come anytime soon. He's an awesome technician on the ball and like fine wine, he gets better with age. That hamstring injury robbed him off his best years for the club as he was part of that quartet of awesome in Arsenal's midfield that almost won the Premier League in the 2007/08 season. Emmanuel Adebayor might get the plaudits for scoring the goals but Aliaksandr Hleb, Mathieu Flamini, Cesc Fabregas and Rosicky.
This season has featured 22 times with three goals to his name. Many Arsenal fans will be proud of his achievements for the club, especially his contributions in the second half of the 2011/12 and 2012/13 seasons.
Here's to Tomas Rosicky, the newest international centurion.
Here are his top strikes for the Czech Republic, for your viewing pleasure.
Sayonara.
Gooner Daily has been nominated for the Best Sports blog category (section 22) in the 2014 Nigerian Blog Awards. Please vote!
You can download the Gooner Daily  BlackBerry App to receive notifications on your Smart Phone when a post is published.
You can follow Gooner Daily on Twitter  @goonerdaily. I'll follow back
Feel free to visit Gooner Daily's  Facebook page and click on the like button.
You can also join Gooner Daily's Mailing List to get notifications of new posts by email by clicking on the Follow button