Blog Archives
After enduring a stuttering start to the new year in the Premier League, Arsenal will hope to return to winning ways in the competition. Two points from a possible nine was a poor return for Arsene Wegner's side but the smell of revenge would be in the air when Southampton visit the Emirates tonight. The last time both sides met, the Gunners were on the wrong end of some thrashing as Ronald Koeman's side finished the game with four unreplied goals at St. Mary's.
With the Gunners recording a victory over Burnley in the FA Cup last week, the players will be hoping to gather momentum to start a streak of victories that would be needed to win the Premier League, even though they face stiff opposition from Manchester City and Leicester, that have clashes against Sunderland and Liverpool respectively.
The Gunners will have to be weary about the aerial threat Southampton will pose as the club has scored a league-high 10 headed goals in the Premier League so far in 2015/16 and they have also fired in the most crosses from open play in the league this season (436). When both sides met earlier the season, Southampton converted two headed chances from Virgil van Dijk and Jose Fonte but one was ruled out while the other went in.
Arsenal Team News
Wenger made nine changes from the team that lost to Chelsea, so he's set to welcome back his key players for what will prove to be an all-important game for the Gunners.
Alexis Sanchez and Francis Coquelin got some first team football action, and the Chilean can be proud of his output over the weekend. Sadly, the Gunners will be without Tomas Rosicky, that has picked up another injury. The manager gave some favorable news about Jack Wilshere and Danny Welbeck but they are not still available for selection.
Arsenal Injury / Suspension News
Jack Wilshere (ankle), Danny Welbeck (knee), Santi Cazorla (knee), Tomas Rosicky (thigh)
Arsenal Predicted Lineup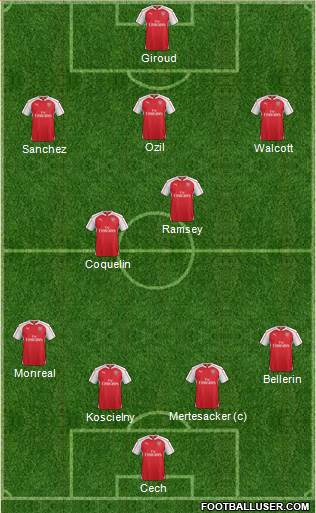 Southampton Team News
The Saints were not in action over the weekend following their third round defeat to Crystal Palace so Koeman has a very fresh squad to select from as they were given breathers over the weekend. The Saint's boss was delighted that his new signing, Charlie Austin, was able to score on his debut and he would be hoping for more of the same. Austin banged in 18 goals in the Premier League for QPR before they suffered the ignominy of relegation but the R's cashed in on the forward when he signalled his intentions of not signing a new deal.
Since the return of injured goalie, Fraser Forster, to the side, the Saints have found some defensive stability and the goalie will want to continue his run of clean sheets that currently stands at three. The last time Forster featured at the Emiratesm he had a Man of the Match performances with a string of saves that kept the Gunners at bay till the death.
Southampton Injury / Suspension News
Florin Gardos (knee), Steven Davis (knock), Graziano Pelle (knee), Jay Rodriguez (foot)
Southampton Predicted Lineup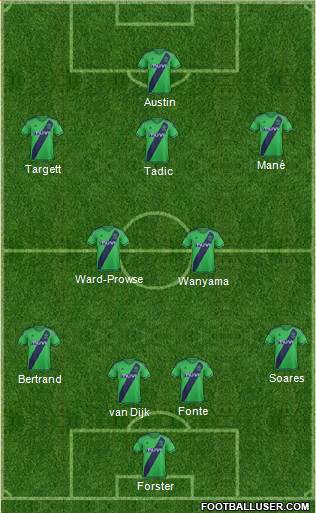 Team Form
Arsenal
Last Five Games: W D D L W
Last Result: Arsenal 2-1 Burnley
Leading Goalscorer: Olivier Giroud (18)
Southampton
Last Five Games: L L W W W
Last Result: Manchester United 0-1 Southampton
Leading Goalscorer: Graziano Pelle (9)
Gooner Daily predicts a 3 – 0 win.
Elsewhere, the Gunners will be without experienced full back, Mathieu Debuchy, that has moved to Girondins Bordeaux  on loanin his quest for regular first team football ahead of Euro 2016. Debuchy has been on the fringes since his return from injury and he has featured just seven times this season. Debuchy has been given the No. 24 jersey with first choice right back, Milan Gajic, wearing the No. 2 jersey.
With Gajic currently injured, Debuchy would slot directly into the team and I expect the fullback to even retain his place when Gajic returns. In their last 4-0 win over Rennes, Bordeaux manager, Willy Sagnol, had to field a defensive midfielder, Andre Biyogo Poko, as an auxiliary right back, so in Debuchy, he has a full back that can offer something to the team.
Currently, Bacary Sagna and Christophe Jallet are currently above Debuchy in the French national team pecking order, so he has five months to impress head coach, Didier Deschamps, ahead of the forthcoming European Championships that will be hosted in France.
I don't see the fullback returning to North London though, with Hector Bellerin, Calum Chambers and Carl Jenkinson challenging for a first team berth. Bordeaux are currently seven in Ligue 1, so they stand a chance of qualifying to the Europa League with PSG, Monaco and the season's surprise package, Angers currently on the Champions League positions.
I wish Debuchy all the best at Bordeaux.
Sayonara.
Download the Gooner Daily  BlackBerry App to receive notifications on your Smart Phone when a post is published.
Follow Gooner Daily on Twitter  @goonerdaily. I'll follow back
Visit Gooner Daily's  Facebook page.
Click on the "Follow button" to join Gooner Daily's Mailing List
While the fans are still basking in the euphoria of yet another FA Cup victory (the Gunners haven't lost in the competition since 2013), there's the business of the Premier League to look forward too as Arsene Wenger's side visit Anfield to take on a Liverpool side that is stricken with injuries, to the extend the manager, Jurgen Klopp, had to recall a couple of players from their respective loan spells so that they could feature in the game against Exeter.
Arsene Wenger rotated his squad for the Sunderland game with the likes of Calum Chambers, Kieran Gibbs, Alex Iwobi, Joel Campbell and Gabriel Paulista getting some first team action. Unlike David Ospina that was unavailable due to a groin problem, Matt Debuchy was fully fit and available for selection but he spent 90 minutes on the dugout while Hector Bellerin earned the plaudits for two well-taken assists.
The French defender arrived at the club from Newcastle and was touted as the ideal replacement for his departed compatriot, Bacary Sagna, but he endured an injury-ravaged campaign as he suffered a nasty ankle injury, recovered from it, then suffered a dislocated shoulder following a shove from Marko Arnautovic when the Gunners hosted Stoke. In his absence, Bellerin grew from strength to strength to become an indispensable member of the team. Since Debuchy's return to full fitness, he has fallen behind the pecking order to Bellerin and instead of working hard to win his place in the team, he resorted to moaning and whining,
"I'm waiting to talk to the boss, we talked earlier in the season on the subject. I have to accept the competition [from Bellerin] at the moment. But currently, I need playing time. It's clear that I need to talk again with the boss.

"I'll look at the offers to move. "I love England and the football here, but why not return to France. In the summer Wenger told me we'd talk if I was not happy with my situation in December. It is now December.

"Of course I would be disappointed not to make the Euros, it's probably my last chance to play in such a situation."
As expected, there are a couple of clubs interested in Debuchy's services with Aston Villa, West Brom and AS Roma all hoping to sign the player this window. It seems as if Debuchy is going to get his wish as Arsene Wenger has granted the player the permission to leave in January,
"[Debuchy] has an opportunity to go, yes, but he has not been in touch with any club"
With Debuchy given the go-ahead to leave, Chambers would assume the role of Bellerin's deputy, which essentially means that his football education as a holding midfielder will soon be over.
Speaking of holding midfielder, Arsenal is on the verge of signing Mohamed Elneny from FC Basel. A fee of around £7 million was agreed between both parties and the Egyptian midfielder successfully completed his medicals but the only challenge left was securing a work permit for the lad. The rule books had some clauses that didn't favor the player, as Egypt is currently ranked 57 in the FIFA World Rankings, which meant their rankings weren't high enough for the player to be granted a work permit but Arsenal has appealed for a 'special dispensation' for the deal to go through.
Hey, they should give him the 'exceptional talent work permit' that a certain Ryo Miyaichi got when he wanted to join the club after officially passing his trials. The young Jap is currently in German division 2 outfit, St. Pauli, and he hasn't enough made his debut yet for the club.
With Coquelin is out injured, having Elneny would be a big plus for the club and I hope the club sorts things out quickly.
Sayonara.
Download the Gooner Daily  BlackBerry App to receive notifications on your Smart Phone when a post is published.
Follow Gooner Daily on Twitter  @goonerdaily. I'll follow back
Visit Gooner Daily's  Facebook page.
Click on the "Follow button" to join Gooner Daily's Mailing List.
Yesterday, the world stood still for Africa as the Glo CAF Awards took center stage. Manchester City's Yaya Toure has been the alpha-dog in African football for the past four years or so but this time he was ousted by Gabonese goalscoring hotshot, Pierre-Emerick Aubameyang. Toure and Samuel Eto'o shared the record with four awards each, so Toure would have made history if he won the award.
Aubameyang deserved his award though, as he finished last season with 25 goals in 46 games. He has even been on fire this season, scoring 27 goals in 27 games and he has been heavily linked with a move to North London. During the Glo CAF Awards, Aubameyang was approached by renowned Nigerian sports journalist, Colin Udoh, and the Gabonese forward confirmed to the journo that he's not leaving Dortmund.
As you would expect from any professional, Aubameyang would not blow his trumpet about his future, considering the fact that the event was about celebrating footballing excellence from an African perspective. Nonetheless, he's a player many Arsenal fans would like to see at the club and I have a hunch that he would be the club's marquee signing this summer. Right now, our attacking hopes rests on Olivier Giroud, Theo Walcott and Danny Welbeck (when he decides to become fit.)
Elsewhere, Sevilla's Grzegorz Krychowiak has been on the spotlight in a recent exclusive interview with FourFourTwo. He was an integral part of the Sevilla team that triumphed in the 2014/15 Europa League and he helped his country, Poland, qualify for the European Championships this summer.
He was linked with a move to Arsenal last summer but he claimed that he left all that in the hands of his agent,
"I never had a favourite team or league. The Premier League? Some say it's the best in the world, other people think that's La Liga.

I've heard about Arsenal, but I leave it to my agent. I trust him and he's the one who deals with that kind of the stuff. I can't think about things like that. I have to keep my mind free of any distraction and just focus on doing my job for Sevilla."
With Arsenal on the verge of signing Egyptian midfielder, Mohammed Elneny, Krychowiak is definitely off the radar and with Francis Coquelin returning to full fitness in a couple of weeks, it's going to be very interesting to see how the situation in holding midfield is managed. Remember we still have Mathieu Flamini and Calum Chambers that have deputized in Coquelin's stead.
Moving to potential departures, Football Italia reports that Matt Debuchy has been linked with a move to AS Roma, where he could be reunited with his former LOSC Lille Metropole manager, Rudi Garcia. Debuchy has gone public about his dissatisfaction with lack of playing time and Arsene Wenger one individual that is well known for offloading 'unhappy players', so that they would disrupt the harmonious atmosphere of the team.
In Andrey Arshavin and Lukas Podolski, these are January transfer window departures that had little or no effect on the team. With Chambers capable of playing as a right back and a certain Carl Jenkinson returning to the club in the summer to stake his claim for a first team berth, Debuchy may not be missed. I was hoping that he'd put his head down and try to convince his manager in training or with his performances when he's deployed but he's a classic case of a guy that wants to leave the kitchen because he can't take the heat.
Finally, Football League World has reported that skybet Championship outfit, Reading, is interested in securing Alex Iwobi's services on loan. The nephew of the legendary Jay Jay Okocha has featured sparingly for the Gunners this season, although he has been a regular with the Under-21s. A move to Reading would be in his best interests as he would gain some valuable match experience.
I will keep you updated as the days go by.
Sayonara.
Download the Gooner Daily  BlackBerry App to receive notifications on your Smart Phone when a post is published.
Follow Gooner Daily on Twitter  @goonerdaily. I'll follow back
Visit Gooner Daily's  Facebook page.
Click on the "Follow button" to join Gooner Daily's Mailing List.