Monthly Archives:
April 2018
Following the emphatic win over CSKA Moscow on Thursday, it's expected for the manager to field a side capable of getting the goods against a struggling Southampton side but I believe rotation is imminent to keep the squad fresh. There are some decisions that are quite easy for Arsene Wenger with David Ospina's groin injury ensuring that Petr Cech remains in goal today and certainly on Thursday.
I expect the boss to shake things up in defense. Sead Kolasinac is need of a game, and I believe Nacho Monreal deserves a breather today. With Laurent Koscielny still nursing his Achilles tendon injury, I'd expect him to sit today's game with the likes of Calum Chambers or Rob Holding pairing with Skhodran Mustafi. Hector Bellerin will probably retain his place in the right fullback position.
I'd expect some shuffles in midfield with the likes of Mo Elneny making another case to stake a claim for first team football. Aaron Ramsey had such an amazing outing on Thursday and he'd want to build on that performance, so Granit Xhaka might be rested. Henrikh Mkhitaryan's knee injury is likely to rule him out till the end of the season, so this offers the likes of Alex Iwobi and Danny Welbeck to feature consistently on one of the flanks, as well as showing the boss what they are capable of, so it would be a nice audition nonetheless.
With Arsenal's Europa League slots more or less assured, a victory will be good for momentum as the Gunners have picked up a rich vein of form which is a stark contrast from how they started 2018 with a series of horrible losses that made everyone request for Arsene Wenger's head on a plate. Let's just hope the good form continues.
Sayonara
Follow Gooner Daily on Twitter  @goonerdaily.
Visit Gooner Daily's  Facebook page.
Click on the "Follow button" to join Gooner Daily's Mailing List
Confidence has been restored to the Arsenal camp following their impressive wins on the trot but there was a dark cloud over our silver lining when new signing, Henrikh Mkhitaryan, was forced off following a clash of knees with some Russian bloke with vodka in his blood with our dear Armenian coming out second best. It's never good when a player indicates to the bench to substitute him because it clearly shows that he can't take any part of that game and that was the case on Thursday evening with Mkhi.
Alex Iwobi came on in his stead and had a good game by his modest standards but we needed to hear the manager's assessment (via Arsenal.com) of the situation after the game,
"Micki came off and he will be out for Sunday. He has a scan and the fear is that his medial knee ligament has been touched. We'll know more about that soon. For how long he will be out, I don't know."
When the manager says 'he doesn't know', he throws things into limbo and as expected, some other sports websites have been quick to give their own assessment of the injury because, you know, they seem to work hand in hand with the club's physio, Colin Lewin. The Telegraph has reported that Mkhitaryan could miss the rest of the season and with the campaign having just a month left, they might just be correct.
That being said, I'd like to take some time out to reflect on Mkhitaryan's fledgling career with the Gunners following his swap from a disastrous spell at Manchester United in January. 12 games, two goals and six assists has been a very good return from the attacking midfielder and the Gunners are right to expect more from him as he's a player of immense quality.
Having Mkhitaryan in the side also relieved the creative stress off Mesut Ozil as the Gunners could also boast of another attacking midfielder that has a penchant for creating chances for others and it was good seeing him connect with his long time friend, Pierre-Emerick Aubameyang with their collective performance against Watford showing the world that that bromance still exists. I'm quite happy we got a player like Mkhi for free bearing in mind that we wanted him a few seasons ago when he won the Bundesliga Player of the Year award scoring 25 goals and notching up 26 assists.
I wish Mkhi a speedy recovery and hope to see him on the pitch.
Follow Gooner Daily on Twitter  @goonerdaily.
Visit Gooner Daily's  Facebook page.
Click on the "Follow button" to join Gooner Daily's Mailing List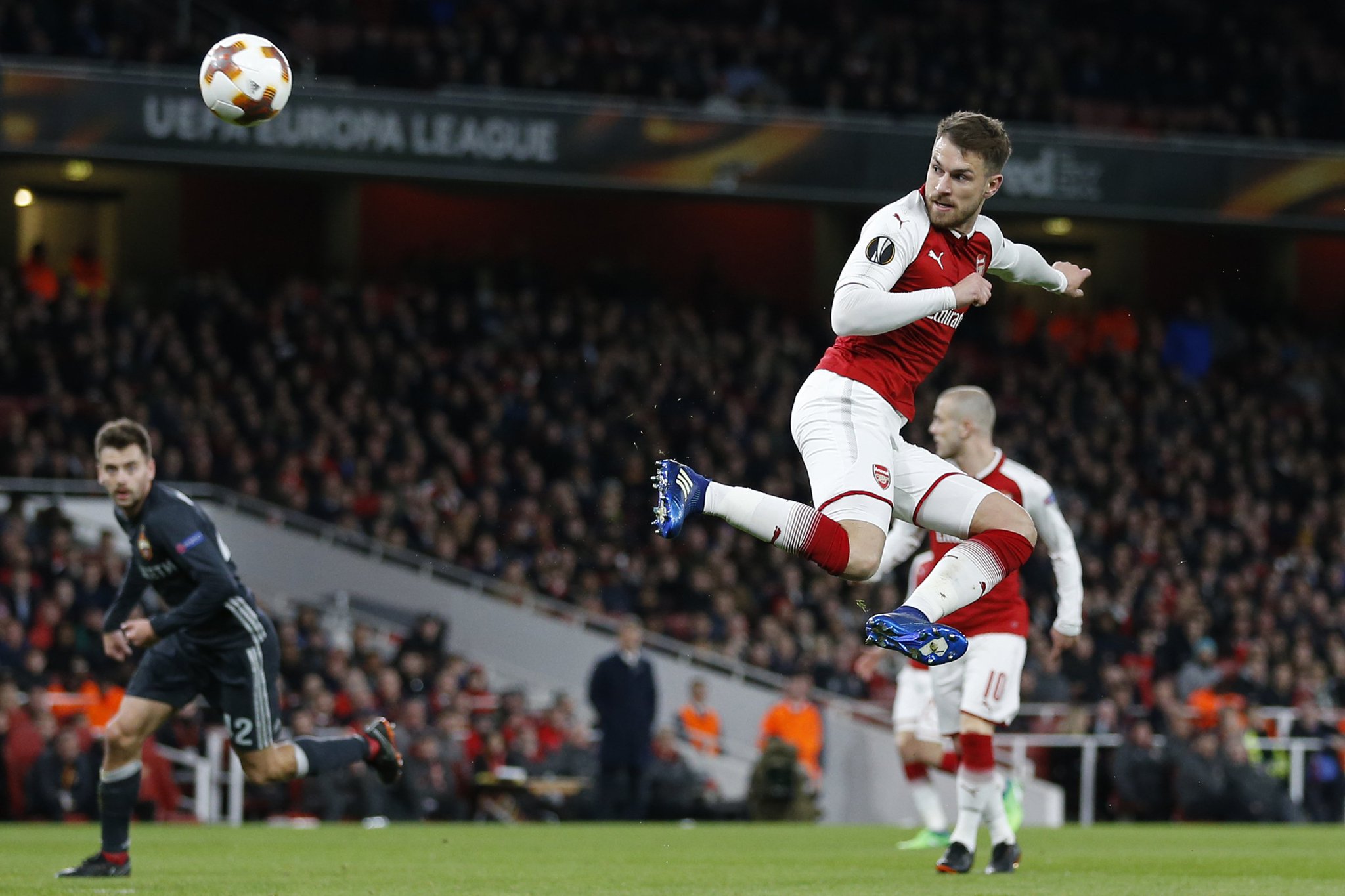 With the change in the fortunes of the Gunners winning four games on the trot and keeping three clean sheets, it was important to get a positive result against a CSKA Moscow side that denied Olympique Lyonnais a chance of a dream final in their home stadium. History was made as the CSKA stalwarts, Igor Akinfeev, Vasili Berezutkiy and Alexei Berezutkiy played against the Gunners again, 12 years after clashing with them in the Champions League. Of course, the Berezutkiy twins, 35, are approaching the twilight of their careers but pairing them with Sergiy Ignasevich, 38, meant that the CSKA defense had a combined age of 108 years. I guess Gianluigi Buffon, Giorgio Chiellini and Andrea Barzagli have nothing on these guys.
An early goal was important to calm the nerves of the home side and it was duly delivered when Hector Bellerin's drilled pass was dispatched with some aplomb by Aaron Ramsey. Despite his attacking prowess, Bellerin doesn't rake up much positive numbers in attack so it was good seeing the young Spaniard get on the back pages for the right reasons this time, in the wake of all that has happened with him in this tumultuous campaign. Arsenal were pegged back with a piece of individual brilliance from Golovin but it must be pointed out that the equalizer from CSKA came on the end of some terrible defending with a shambolic clearance from Skhodran Mustafi and an idiotic foul from Laurent Koscielny. Petr Cech was helpless in goal as Golovin swung his free kick over the wall and into the net.
That goal gave the visitors some form of confidence but Arsenal regained the lead when Mesut Ozil was scythed down in the box but Smonnilkov to give the Gunners their third penalty in two games. For a team that hardly wins spot kicks, I must say I'm very happy about it. Up stepped Alexandre Lacazette to take a higher pressure penalty than the one he dispatched on Sunday but the result was the same – an Arsenal goal and you could see the relief in his celebrations.
Then came the best goal of the night and possibly a contender for the Europa League goal of the tournament. After some intricate passing play, Ozil lofted a sumptuous ball over the CSKA defense for Aaron Ramsey. The Welsh Jesus noticed Akinfeev off his line and had the audacity to dink the ball over the Russian goalie with the sexiest of touches you'd ever see. The goal was better with each passing replay. The Gunners weren't done with their blitz as Lacazette latched onto another Ozil killer pass and smashed it past Akinfeev to make it four in just 35 minutes. The Emirates went into raptures on such show of amazing attacking display.
The Gunners kinda took their foot off the pedal in the second but they still had a host of chances to kill the contest off. Ozil's creative juices were on full flow all night as he swung in a pass that left the CSKA defense for dead and found Henrikh Mkhitaryan but his finish was poor to say the least. The Armenian suffered a blow on the knee and when he signaled to the bench that he wants to be changed, I feared the worst. Alex Iwobi came on in his stead and the manager confirmed after the game that he's out for Sunday's clash with Southampton. Iwobi found Lacazette on the far post but the Frenchman's attempted finish was way off the mark and even fell back to Iwobi embarrassingly.
In the end, it was a satisfying victory for the Gunners and they have a healthy advantage to take back to Moscow next week Thursday. Arsene Wenger's side have one foot on the semis and it would take a capitulation in grand style for the Gunners to miss out on the semis.
The mood is really good at the Emirates and with relegation-threatened Southampton coming to town, we can only lick our lips in anticipation of another victory.
Feels good to return to writing about Arsenal. I hope I can remain consistent this time.
Sayonara
Follow Gooner Daily on Twitter  @goonerdaily.
Visit Gooner Daily's  Facebook page.
Click on the "Follow button" to join Gooner Daily's Mailing List