Category Archives:
Arsenal
It was clearly evident that Unai Emery was going to make wholesale changes to the team that put up that shitefest at Old Trafford and with Standard Liege coming to town, the opportunity existed to gain a stronghold of the group. Emi Martinez expectedly deputized in goal while the gaffer handed starts to the recently recovered injury trio, Rob Holding, captain Hector Bellerin and Kieran Tierney in defense. The out-of-favor Skhodran Mustafi completed the back line. In midfield, Lucas Torreira and Dani Ceballos played behind Chris Willock while Reiss Nelson and Ainsley Maitland-Niles flanked the impressive Gabriel Martinelli in attack.
Following that breathtaking performance against Nottingham Forest in the Carabao Cup, I was excited to see what these lads had to offer as most of them in the playing squad are still trying to stake a claim for first team football. The Gunners hit the ground running when some lovely passing play in midfield allowed the ball to get to Tierney on the byline that whipped a cross that was nodded home by Martinelli. For someone so young, you can't fault his bravery when he's attempting those headers from killer crosses. If you thought his first goal was good, his second was even better, a sweet curling effort that left the goalie rooted to the spot. That's four goals in his first two Arsenal starts, which will certainly alleviate Emery's concerns on a backup striker to provide depth to Pierre-Emerick Aubameyang with Alexandre Lacazette currently injured.
Arsenal looked like they were going to score with pretty much every attack and they were three goals to the good in just 21 minutes when the ball ricocheted off a Standard Liege defender and fell kindly to Joe Willock whose first timed effort hit the bottom corner. That was his third goal this season and many Gooners will be proud to see how our Academy product has acquainted himself well with the big guns and has done really well in his fledgling career thus far. Ceballos put some gloss in the score line in the second half following some brilliant work from Martinelli on the touch line to crown an awesome display from the Gunners.
Sometimes you just gotta sit back and enjoy some brilliant football on display and these performances go a long way in giving the manager some selection headaches ahead of the grueling Premier League campaign. Emi Martinez may be our longest serving player but he has finally come of age after that impressive loan spell at Reading and he knows that he is capable of pushing Bernd Leno to his limits in his bid to make the #1 jersey is. Leno himself has been very impressive since taking over from Petr Cech but he knows he can't rest on his laurels.
Defense is one part of the team that needs to be sorted out as the Gunners have kept only one clean sheet in their first seven Premier League games, which is really disappointing. Sead Kolasinac has been decent thus far but with the way Kieran Tierney has been playing, I can't wait for him to switch roles with the Bosnian, as he'd be the star man in the Premier League while the Tank features in these sort of games. Right back has been a position we have struggled following Bellerin's long term injury, but Calum Chambers has done very well in the few games he has featured thus far. I really can't wait for Rob Holding to start featuring in the Premier League but it means that Unai Emery will need to make the hard choice to sending either Sokratis Papastathopoulos or the erratic David Luiz to the bench. Left for me, I'd choose the latter.
Joe Willock has been very decent and for some reason, I'm shocked to see that Ceballos has not yet nailed a place in the first team. That man reminds me of Santi Cazorla's graciousness on the pitch and his technical skills are up there with the very best in the game. I also love his unpredictability factor that makes him a thorn in the flesh of opposition defenders. With Granit Xhaka and Matteo Guendouzi pretty much locked as the double pivot in midfield, there are competition for places with the likes of Mesut Ozil and Torreira in the question.
I'd also want to touch on the performances of the wingers –  Nelson and Maitland-Niles. They played well as you'd expect in a game of this nature, but you can't help but think that they haven't still done enough to show that they are ready to nail a first team place, especially Nelson. I was surprised to see the club show some ruthlessness with the departures of Alex Iwobi and Henrikh Mkhitaryan but it clearly meant that their exits was to pave the way for Nelson to strut his stuff but he hasn't really impressed. His shortcomings saw Emery had a chance to Bukayo Saka, and for the winger to be rested against Standard Liege, it clearly means that he's in contention to earn another starting berth against Bournemouth in the Premier League.
In the end, it was a great game of football and I intend to revel in it for a while before switching focus to the rigors of the Premier League.
Sayonara.
Follow Gooner Daily on Twitter  @goonerdaily.
Visit Gooner Daily's  Facebook page.
Click on the "Follow button" to join Gooner Daily's Mailing List
Wingers. One of the most essential positions in modern day football, giving we the fans the viewing pleasure of seeing them make those mazy runs, breathtaking dribbles and of course, well taken goals.
When Arsenal signed Nicolas Pepe for the club record 72 million pounds, many of us didn't know much about him but the internet offers such a vast array of knowledge that enables us to do our own research to satisfy those curiosities and boy, was I satisfied! 23 goals and 12 assists for those statisticians, then there were the videos of his overall play and insane dribbling skills. I have to admit that I didn't really get a good glimpse of him for Ivory Coast in the African Cup of Nations, but I was still optimistic that he was going to be an awesome signing for us as he offered something that we lacked from an attacking perspective, and of course, the prospect of seeing him play alongside our deadly duo of Alexandre Lacazette and Pierre-Emerick Aubameyang was mouth watering to say the least.
Seven games into the new Premier League campaign, and there are some mixed feelings about Pepe's performances for the team. It's not like he has been a terrible signing per se, but like Spiderman's Uncle Ben famously said, "with great power comes great responsibility". Putting it in this context, we signed Pepe for 72m and we expect 72m kinda returns from him. Using Arsenal's alpha dog in attack, Aubameyang, as a case study, we signed him for 54m in January 2018. Since then he has scored 49 goals in 73 games (39 in the Premier League – joint most of any player in the division in that period with Mohamed Salah (39) and Sergio Aguero (33) coming close. Aubameyang has also had 11 assists in addition to his 49 Arsenal goals, which is 60 goal contributions in the 73 games, which totals 5728 minutes and if you convert it further, it's one goal contribution every 95 minutes. This clearly indicates that you'd expect Aubameyang to score or assist in pretty much every game he plays, a stat that he has amazingly achieved in the Premier League this season.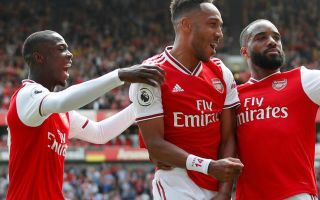 In Pepe's seven Premier League games so far, he has scored only one goal from a spot kick (gifted to him by the lovable Aubameyang) and he has created one assist as well. He has averaged three shots per game, with 1.4 outside the box and 1.3 in the penalty area, 1.6 key passes with a pass completion percentage of 79%, 3.3 successful dribbles (including one on Virgil van Dijk that has turned out to be a big deal in some parts of the world). The player himself is aware of his current situation and voiced his thoughts,
"It has not been easy, I must tell the truth. My stats have not been good enough or my usual performances, it is not the same as Lille or the Liverpool game earlier in the season.

My confidence must come back. I am not very worried. People may be worried about my statistics but I am not. I have to keep working as the level here is different, so is the language. It is a new league for me and I must adapt quickly. But it won't take very long."
I'd say it's not time to bring out the torches and pitchforks because the potential is out there for everyone to see. Pepe has been offered us that fear factor in attack and he does his bit to be creative for others. Yes, he had a stinker at Old Trafford only to be replaced by Reiss Nelson that wasn't any better to be honest but I'm confident that he would be a massive success at Arsenal.
At least, he will be given a chance to show his worth at Arsenal, unlike a certain Serge Gnabry that is lighting fireworks in Bayern Munich. I remember when he earned his Arsenal breakthrough in the 2013/14 season in that win against Swansea at the Liberty Stadium. It seemed like the star was going to be his limit but that gruesome knee injury happened and a certain Alex Oxlade-Chamberlain was in very good form. Following his rehabilitation and return from injury, he found things difficult in North London and things went from bad to worse when he was loaned to West Brom and Tony Pulis declared that he wasn't good enough to play Premier League football.
So the club opted not to renew his deal and shipped him off to Werder Bremen for a measly 5m quid, but the lad found a new lease of life after shining at the Olympics and ended up with 11 goals in 27 apps for the Bremen based outfit. Bayern Munich came calling and as you'd expect from any young German, the answer was certainly yes, but they shipped up off to Hoffenheim after snapping him up from Bremen and he acquainted himself well, scoring 10 goals in 26 games for the club. With legends like Arjen Robben and Franck Ribery gone, as well as the failed pursuit of Leroy Sane, Gnabry was given a chance to stake a claim for the Bayern jersey and he has been impressive for the German giants, scoring 13 goals in his debut campaign for them. When you consider that he's a young winger with potential, these are good numbers.
Fast forward to last night, Gnabry was on fire in North London, helping his team utterly destroy Tottenham in a 7-2 bashing, where he smashed in four amazing goals. It was highlight reel stuff, leaving defenders to eat his dust while he made mince meat of Hugo Lloris in goal. A good night for the humiliation of Spurs became even better when he went to his social media and stated that North London is Red. You can't help but love it when ex-Gunners do such stuff.
Well, all focus would move to playing Standard Liege on Thursday and I'd drop my thoughts on that as we draw closer.
Sayonara.
Follow Gooner Daily on Twitter  @goonerdaily.
Visit Gooner Daily's  Facebook page.
Click on the "Follow button" to join Gooner Daily's Mailing List
With the dust settling from the kid's Carabao Cup heroics, it was time to move to Premier League football with struggling Manchester United next on the Gunners' trails but there has been a niggling issue that hasn't been sorted out up until this point of the season – who will be the next Arsenal captain?
We will know how our former captain, Laurent Koscielny, bailed on us for pastures anew, activating his full pettiness to go on strike and boycott the US tour, earning some backlash from the fans and club alike, but with Kos out of the equation, as well as Petr Cech and Aaron Ramsey leaving the club as well, it clearly meant that Unai Emery had only two 'captains' left from his famous five.
Enter Granit Xhaka and Mesut Ozil, two players that have donned the armband on different occasions this season, but it was never made official, as everyone waited for the gaffer to make the announcement. I was quite surprised to read Rob Holding's comments after the 5-0 drubbing of Nottingham Forest, where he confirmed that the players had to vote over who would be their next captain,
"We had a vote the other week so we'll see what happens and see who gets named. We had to write names down and then give them to the manager. He will go through them obviously with his input and then we'll see what happens. I don't know. I think it will be in the next couple of days, or weeks. I have no idea. If I get it, then I'll be more than happy and honoured to do it."
It's kinda awkward but it's not that strange – that's players having a vote on who to be the captain rather than the manager just making his decision. I'd read that in Manchester City, the players unanimously voted David Silva to take over from Vincent Kompany as he reaches the September of his career with them, even though as vice captain, it seemed only natural for him to take over.
So those votes have been taken and a decision has been made to name Swiss international, Granit Xhaka, as the permanent captain of the club. (via BBC). It seemed like a reasonable decision because Xhaka has always been captain material, from his Borussia Monchengladbach days (we signed him while he was their captain) as well as the mere fact that he's also the current captain of his nation, Switzerland.
According to reports, the announcement for the vice-captain isn't known yet, but the whispers are edging toward one of the deadly striking duo, Alexandre Lacazette or Pierre-Emerick Aubameyang as leading contenders for that role.
With Xhaka named as club captain, we can move on from the drama not having a captain to this point had surfaced, and focus on more important things like preparing to defeat Manchester United. I just hope that we don't have to read an article where a player would say that he voted to Ozil to be captain but he saw Xhaka on his name as his nomination, then Emery screams, 'good ebening' and says that he signed in small letters.
Sayonara.
Follow Gooner Daily on Twitter  @goonerdaily.
Visit Gooner Daily's  Facebook page.
Click on the "Follow button" to join Gooner Daily's Mailing List