Category Archives:
Match Report
So we lost our fifth away game in a row and hold the unwanted record of being the only team that has failed to record a single point away from home in 2018 and we are four months into the year. Our first away game in 2018 was against Nottingham Forest in the FA Cup and we largely underperformed coming away from Forest Ground with our tails between our legs. Then we went to the Vitality Stadium and capitulated against a Bournemouth side that was struggling for form. As if that wasn't bad enough, we connived to lose to a Swansea side, despite scoring first, at the Liberty Stadium while they were at the foot of the table. I didn't expect any fireworks when we played Tottenham at Wembley, and even the whole 'we haven't lost in Wembley for a while' bullcrap didn't hold any water. Petr Cech was the only reason the scoreline remained respectable. Then there was the pathetic loss to Brighton & Hove Albion that was really shameful to say the least.
This essentially meant that the Gunners needed an improved performance against Newcastle to restore some pride in what has been a shambolic season. Yes, we can't finish in the top four and have laid all our eggs on a Europa League basket, but you still expect these lads to put up a performance deserving of the shirt they are donning. We even started well with 130 million pounds worth of strikers combining to give the Gunners but like it has been all season long, consistent defensive lapses and shabby goalkeeping from a once-respected custodian between the sticks gave the hosts their equalizer. When I remember how Valencia CF hamstrung us to get every penny out for Skhodran Mustafi, it really hurts. This guy is meant to be in the top five of our most expensive signings ever (only behind Pierre-Emerick Aubameyang, Alexandre Lacazette and Mesut Ozil) but he has been a massive disappointment this season. When you combine him with Laurent Koscielny that has suffered a terrible loss of form this season, it becomes a recipe for disaster.
Just a week ago, Mustafi lost all awareness of the opposition forward as Shane Long crept in to nick a goal in to give Southampton a shock lead. He didn't even learn from that mistake as Ayoze Perez reacted quickly to level the tie with a smart finish that went past Cech on his near post. I don't understand how a footballer would fall short on the same scenario with just one week apart. This is not Jean-Alain Boumsong or Titus Bramble we are discussing about! We all know Mustafi as that guy that would aggressively hit the ground with a sliding tackle first then ask questions later. In the past two league games, he has shown his zero awareness, concentration and lack of communication in the danger area and that can only put us in more problems in the coming weeks.
Then there's Petr Cech – the man who John Terry famously said that he would save us 12 to 15 points in a season. The legendary Czech goalie has been a shade of the goalie we used to know. Yes, he still pops up with the good save from time to time, but in a world where the Neuers, De Geas and Oblaks are raking in consistent performances week in week out, it's really sad to see how badly our goalie has regressed. It's even more depressing when you remember that he has David Ospina as his deputy – another erratic goalie with his own penchant for errors. It was really painful watching him concede such a goal in his near post, but even at 1-1, I expected the Gunners to launch an onslaught and take the game by the scruff of its neck. What we got afterwards was more comical defending with the usually reliable Nacho Monreal caught out of position, allowing Matt Ritchie to blast the ball past the hapless Cech to win the contest.
The defeat showed the immense lack of quality in the squad besides the starting XI. These are more or less the same set of lads that fluffed their lines so terribly at Nottingham and it's quite shameful when I think about the individual performances. In defense, we looked out of depth. Rob Holding was expecting a 'senior' player like Mustafi to lead the back line but such leadership was found wanting. I was in full support of giving Hector Bellerin a breather but Calum Chambers is no right back. He should channel his football education as a center back, which means that the club needs to invest in a new right back – someone to give Bellerin that kick up the arse because Matt Debuchy is gone and Carl Jenkinson isn't good enough for a team like Arsenal. I would have expected Monreal to get some minutes off but the manager clearly doesn't trust Sead Kolasinac enough.
Mohamed Elneny was a beast against CSKA but he had a very subdued performance alongside Granit Xhaka in the middle of the park. The youngster, Joe Willock, did the best he could but when you throw a lad into the deep end like we did, it would be somewhat unfair to expect fireworks from him, even though I would have preferred if he did better with that great chance Lacazette created for him. Alex Iwobi flattered to deceive again and proved why he can be nothing but a squad player at best. For a lad that has been exposed to so much football, you'd have expected him to show any signs of improvement but it was not to be as he continued to dally on the ball and offered no real threat from an attacking perspective. I'm pretty sure Lucas Perez or Joel Campbell would have offered a bit more this season from the flanks, especially with our second tier squad performing badly when they are expected to put on a shift. You could not doubt Perez's goal to game ratio and Campbell was one lad that sure knew how to put on a shift when he was selected.
I was somewhat surprised with the Aubameyang to the left flank situation to accommodate Lacazette. It remains one of the things that baffles me about Wenger. You sign a center forward for a record fee that hit the ground running immediately then you stifle his progress in your bid to make a case for another forward still working his way to form. With Aubameyang cup-tied, I expect him to start every game as our center forward while Lacazette gets his chance in Europe, but as always, Wenger really loves trying out square pegs in round holes. Some would say he's adept playing on the flanks but his best return for Dortmund, which is 141 goals in 212 games should I remind you, came when he was deployed as a center forward. He even showed great wing play to tee up a goal for Lacazette but as the game progressed, he was left isolated on the wing. Even when the manager brought on Danny Welbeck, Aubameyang still remained on the left wing.
I don't understand how we have let things get this bad at the club.
I know the Europa League was a priority, but that was a terrible performance.
Sayonara.
Follow Gooner Daily on Twitter  @goonerdaily.
Visit Gooner Daily's  Facebook page.
Click on the "Follow button" to join Gooner Daily's Mailing List
With an important player like Henrikh Mkhitaryan suffering that injury in the first leg against CSKA Moscow, an audition was in place between Danny Welbeck and Alex Iwobi for his slot in the team and it's fair to say they covered themselves in glory when Southampton came to town. Welbeck bagged himself two goals while Iwobi was Arsenal's creator-in-chief with two assists.
With Granit Xhaka suffering an injury, Mohamed Elneny was drafted into the squad to play alongside the rested Aaron Ramsey in the middle. There were also returns for captain, Laurent Koscielny, Nacho Monreal, Mesut Ozil and Alexandre Lacazette in attack. With a healthy 4-1 advantage, and the madness that has happened this week in European football, I was hoping that the players wouldn't brace themselves up for some embarrassment but my initial fears were realized when Chalov latched onto a loose ball to tap in a goal that sent the VEB Arena into raptures. The initial header from Nababkin was parried by Petr Cech but like many times in his Arsenal, Skhodran Mustafi lacked presence of mind as Chalov prowled on the loose ball like a predator and wasn't going to miss from that distance. Things got even more nervy when Cech parried a long range shot to Nababkin's path and the forward wasted no time in blasting the ball into the net. This essentially meant that with one more CSKA goal, Arsenal's European dreams were over.
Then Arsene Wenger made a tactical switch to substitute an ineffectual Jack Wilshere for Calum Chambers, changing the formation from 4-2-3-1 to 3-4-3. This move reaped dividends as Elneny teed up Welbeck and sent him clear on goal. A part of me expected Welbeck to you know, Welbeck it but that's the unpredictability you get with the lad – he showed good composure and curled it past Igor Akinfeev to bring the Gunners back into the contest. At 2-1, CSKA needed two goals to send the tie into extra time but Elneny was on hand to threaded a sweet pass to Ramsey that sumptuously dinked it over Akinfeev to put the game beyond doubt.
This win has sent Arsenal to the last four of the Europa League with Red Bull Salzburg, Atletico Madrid and Olympique Marseille fighting for Europe's second tier competition. The last time Arsenal featured in the semifinal of a European event was in 2009, but they were embarrassed by Manchester United. The Gunners would be foolish to underrate any team in the tournament but it's going to be interesting with the draws coming up.
This tournament has been great thus far and it would be nice to win it, but we have to ensure we maintain focus and prevent any more injuries. I'm also happy with the fact that the Gunners have some momentum going and confidence will continue to increase with each victory. All focus will move to Newcastle this weekend.
Sayonara
Follow Gooner Daily on Twitter  @goonerdaily.
Visit Gooner Daily's  Facebook page.
Click on the "Follow button" to join Gooner Daily's Mailing List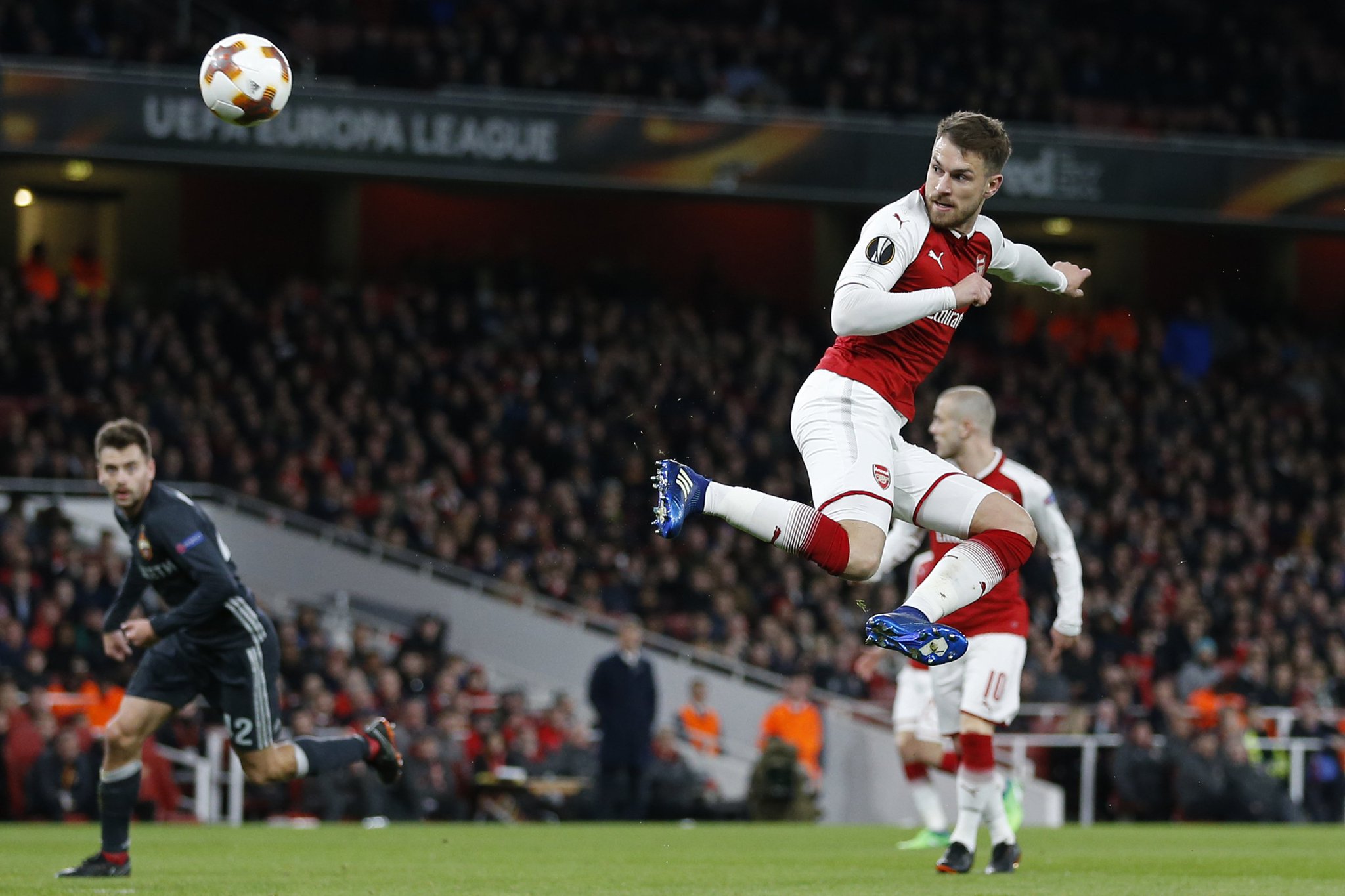 With the change in the fortunes of the Gunners winning four games on the trot and keeping three clean sheets, it was important to get a positive result against a CSKA Moscow side that denied Olympique Lyonnais a chance of a dream final in their home stadium. History was made as the CSKA stalwarts, Igor Akinfeev, Vasili Berezutkiy and Alexei Berezutkiy played against the Gunners again, 12 years after clashing with them in the Champions League. Of course, the Berezutkiy twins, 35, are approaching the twilight of their careers but pairing them with Sergiy Ignasevich, 38, meant that the CSKA defense had a combined age of 108 years. I guess Gianluigi Buffon, Giorgio Chiellini and Andrea Barzagli have nothing on these guys.
An early goal was important to calm the nerves of the home side and it was duly delivered when Hector Bellerin's drilled pass was dispatched with some aplomb by Aaron Ramsey. Despite his attacking prowess, Bellerin doesn't rake up much positive numbers in attack so it was good seeing the young Spaniard get on the back pages for the right reasons this time, in the wake of all that has happened with him in this tumultuous campaign. Arsenal were pegged back with a piece of individual brilliance from Golovin but it must be pointed out that the equalizer from CSKA came on the end of some terrible defending with a shambolic clearance from Skhodran Mustafi and an idiotic foul from Laurent Koscielny. Petr Cech was helpless in goal as Golovin swung his free kick over the wall and into the net.
That goal gave the visitors some form of confidence but Arsenal regained the lead when Mesut Ozil was scythed down in the box but Smonnilkov to give the Gunners their third penalty in two games. For a team that hardly wins spot kicks, I must say I'm very happy about it. Up stepped Alexandre Lacazette to take a higher pressure penalty than the one he dispatched on Sunday but the result was the same – an Arsenal goal and you could see the relief in his celebrations.
Then came the best goal of the night and possibly a contender for the Europa League goal of the tournament. After some intricate passing play, Ozil lofted a sumptuous ball over the CSKA defense for Aaron Ramsey. The Welsh Jesus noticed Akinfeev off his line and had the audacity to dink the ball over the Russian goalie with the sexiest of touches you'd ever see. The goal was better with each passing replay. The Gunners weren't done with their blitz as Lacazette latched onto another Ozil killer pass and smashed it past Akinfeev to make it four in just 35 minutes. The Emirates went into raptures on such show of amazing attacking display.
The Gunners kinda took their foot off the pedal in the second but they still had a host of chances to kill the contest off. Ozil's creative juices were on full flow all night as he swung in a pass that left the CSKA defense for dead and found Henrikh Mkhitaryan but his finish was poor to say the least. The Armenian suffered a blow on the knee and when he signaled to the bench that he wants to be changed, I feared the worst. Alex Iwobi came on in his stead and the manager confirmed after the game that he's out for Sunday's clash with Southampton. Iwobi found Lacazette on the far post but the Frenchman's attempted finish was way off the mark and even fell back to Iwobi embarrassingly.
In the end, it was a satisfying victory for the Gunners and they have a healthy advantage to take back to Moscow next week Thursday. Arsene Wenger's side have one foot on the semis and it would take a capitulation in grand style for the Gunners to miss out on the semis.
The mood is really good at the Emirates and with relegation-threatened Southampton coming to town, we can only lick our lips in anticipation of another victory.
Feels good to return to writing about Arsenal. I hope I can remain consistent this time.
Sayonara
Follow Gooner Daily on Twitter  @goonerdaily.
Visit Gooner Daily's  Facebook page.
Click on the "Follow button" to join Gooner Daily's Mailing List