Category Archives:
Premier League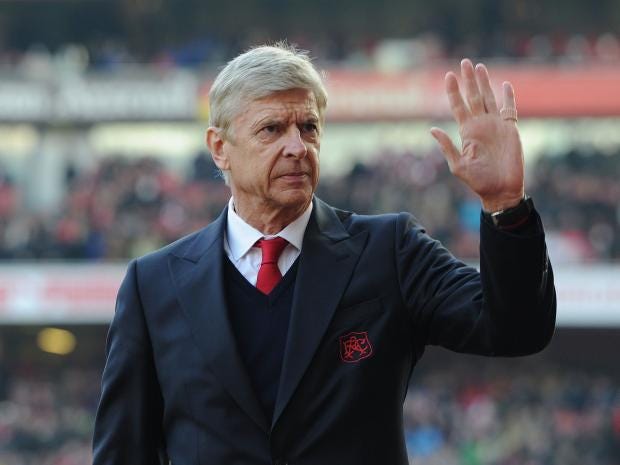 The only inevitable thing in life, they say, is change.
Unless you're living under a rock with no access to the internet, you must have finally heard the breaking news – Arsenal's longest serving manager, Arsene Wenger, has announced his resignation,
"After careful consideration and following discussions with the club, I feel it is the right time for me to step down at the end of the season.  I am grateful for having had the privilege to serve the club for so many memorable years.
 
"I managed the club with full commitment and integrity. I want to thank the staff, the players, the Directors and the fans who make this club so special."
 
"I urge our fans to stand behind the team to finish on a high. "To all the Arsenal lovers take care of the values of the club.
 
"My love and support for ever."
1,228 games, 704 wins, 279 draws and 245 losses – these numbers will change as the season progresses with the Gunners having only seven games left in the campaign – or potentially eight games, which is dependent on the two legged result against Atletico Madrid. This also means that the Europa League, Arsenal's first trophy in Europe for a long while, could potentially be Arsene Wenger's last piece of silverware with the club, after the three Premier League titles, seven FA Cups and seven Community Shields he won for us.
It has been one hell of a ride with Wenger, from being an unknown manager following his move from Nagoya Grampus Eight in Japan to being one of,  if not, the most powerful managers in world football. We know how he revolutionized the English game and came up with innovations that made Arsenal a dominant force in the English Premier League, locking horns with Sir Alex Ferguson's Manchester United for supremacy. The battles were so intense and the rest of England watched as Arsenal and Manchester United battled every season for the league's biggest prize.
Then there was the football – oh Lord, the mesmerizing and orgasmic style of play that could only be matched by the likes of Barcelona. Superstars rose to prominence and made themselves counted in the world stage, with the club's finest ambassador, Thierry Henry, earning himself a place in two FIFA World Player of the Year Silver Awards (03, 04), one Ballon D'Or  runner up award (03) and one Ballon D'Or bronze award (06), three EPL Footballer of the Year Awards. Then there were the consistent golden boot awards across several competitions and it all happened under Arsene Wenger's guidance and tutelage.
The transitioning from Highbury to the Emirates wasn't easy but it needed the right man to stir the ship and Wenger was there to make it work. Yes, there were challenges associated with that move – debts to pay, players sold without proper replacements and the whole nine yards, but we still tried to compete, even though we fell short on several occasions and none hurts more than the 2006 Champions League final but nine years of a trophy drought changed to sheer elation when the Gunners won the FA Cup in 2014. The trophy was retained in 2015 and the Gunners made history when they won the tournament last season, making Arsene Wenger the most successful manager in the competition.
They say if you love someone, sometimes you have to let them go. Arsene is a man of honor that stayed with the club against all odds and remained loyal to his contracts. You can tell that Arsenal was a big part of his life and he gave the best of his abilities to the team for 22 years. You can't fault that kind of commitment from an individual to his job.
In the end, all we will have are very fond memories of what Wenger did for us in his time with the club and at this point we can only wish our appreciation for his endless years of service to the very club we call our own. The onus will be on the players to end the season on a high and I pray they rally themselves up to beat Atletico Madrid over two legs as well as the winner of the RB Salzburg vs Marseille match to give the boss the closing ovation he wholeheartedly deserves. Returning us back to Champions League will be a massive way to end what has been a tumultuous campaign for Arsene Wenger and his team.
Here's to Arsene Wenger – an epitome of longevity, loyalty and class.
Sayonara.
Follow Gooner Daily on Twitter  @goonerdaily.
Visit Gooner Daily's  Facebook page.
Click on the "Follow button" to join Gooner Daily's Mailing List
So we lost our fifth away game in a row and hold the unwanted record of being the only team that has failed to record a single point away from home in 2018 and we are four months into the year. Our first away game in 2018 was against Nottingham Forest in the FA Cup and we largely underperformed coming away from Forest Ground with our tails between our legs. Then we went to the Vitality Stadium and capitulated against a Bournemouth side that was struggling for form. As if that wasn't bad enough, we connived to lose to a Swansea side, despite scoring first, at the Liberty Stadium while they were at the foot of the table. I didn't expect any fireworks when we played Tottenham at Wembley, and even the whole 'we haven't lost in Wembley for a while' bullcrap didn't hold any water. Petr Cech was the only reason the scoreline remained respectable. Then there was the pathetic loss to Brighton & Hove Albion that was really shameful to say the least.
This essentially meant that the Gunners needed an improved performance against Newcastle to restore some pride in what has been a shambolic season. Yes, we can't finish in the top four and have laid all our eggs on a Europa League basket, but you still expect these lads to put up a performance deserving of the shirt they are donning. We even started well with 130 million pounds worth of strikers combining to give the Gunners but like it has been all season long, consistent defensive lapses and shabby goalkeeping from a once-respected custodian between the sticks gave the hosts their equalizer. When I remember how Valencia CF hamstrung us to get every penny out for Skhodran Mustafi, it really hurts. This guy is meant to be in the top five of our most expensive signings ever (only behind Pierre-Emerick Aubameyang, Alexandre Lacazette and Mesut Ozil) but he has been a massive disappointment this season. When you combine him with Laurent Koscielny that has suffered a terrible loss of form this season, it becomes a recipe for disaster.
Just a week ago, Mustafi lost all awareness of the opposition forward as Shane Long crept in to nick a goal in to give Southampton a shock lead. He didn't even learn from that mistake as Ayoze Perez reacted quickly to level the tie with a smart finish that went past Cech on his near post. I don't understand how a footballer would fall short on the same scenario with just one week apart. This is not Jean-Alain Boumsong or Titus Bramble we are discussing about! We all know Mustafi as that guy that would aggressively hit the ground with a sliding tackle first then ask questions later. In the past two league games, he has shown his zero awareness, concentration and lack of communication in the danger area and that can only put us in more problems in the coming weeks.
Then there's Petr Cech – the man who John Terry famously said that he would save us 12 to 15 points in a season. The legendary Czech goalie has been a shade of the goalie we used to know. Yes, he still pops up with the good save from time to time, but in a world where the Neuers, De Geas and Oblaks are raking in consistent performances week in week out, it's really sad to see how badly our goalie has regressed. It's even more depressing when you remember that he has David Ospina as his deputy – another erratic goalie with his own penchant for errors. It was really painful watching him concede such a goal in his near post, but even at 1-1, I expected the Gunners to launch an onslaught and take the game by the scruff of its neck. What we got afterwards was more comical defending with the usually reliable Nacho Monreal caught out of position, allowing Matt Ritchie to blast the ball past the hapless Cech to win the contest.
The defeat showed the immense lack of quality in the squad besides the starting XI. These are more or less the same set of lads that fluffed their lines so terribly at Nottingham and it's quite shameful when I think about the individual performances. In defense, we looked out of depth. Rob Holding was expecting a 'senior' player like Mustafi to lead the back line but such leadership was found wanting. I was in full support of giving Hector Bellerin a breather but Calum Chambers is no right back. He should channel his football education as a center back, which means that the club needs to invest in a new right back – someone to give Bellerin that kick up the arse because Matt Debuchy is gone and Carl Jenkinson isn't good enough for a team like Arsenal. I would have expected Monreal to get some minutes off but the manager clearly doesn't trust Sead Kolasinac enough.
Mohamed Elneny was a beast against CSKA but he had a very subdued performance alongside Granit Xhaka in the middle of the park. The youngster, Joe Willock, did the best he could but when you throw a lad into the deep end like we did, it would be somewhat unfair to expect fireworks from him, even though I would have preferred if he did better with that great chance Lacazette created for him. Alex Iwobi flattered to deceive again and proved why he can be nothing but a squad player at best. For a lad that has been exposed to so much football, you'd have expected him to show any signs of improvement but it was not to be as he continued to dally on the ball and offered no real threat from an attacking perspective. I'm pretty sure Lucas Perez or Joel Campbell would have offered a bit more this season from the flanks, especially with our second tier squad performing badly when they are expected to put on a shift. You could not doubt Perez's goal to game ratio and Campbell was one lad that sure knew how to put on a shift when he was selected.
I was somewhat surprised with the Aubameyang to the left flank situation to accommodate Lacazette. It remains one of the things that baffles me about Wenger. You sign a center forward for a record fee that hit the ground running immediately then you stifle his progress in your bid to make a case for another forward still working his way to form. With Aubameyang cup-tied, I expect him to start every game as our center forward while Lacazette gets his chance in Europe, but as always, Wenger really loves trying out square pegs in round holes. Some would say he's adept playing on the flanks but his best return for Dortmund, which is 141 goals in 212 games should I remind you, came when he was deployed as a center forward. He even showed great wing play to tee up a goal for Lacazette but as the game progressed, he was left isolated on the wing. Even when the manager brought on Danny Welbeck, Aubameyang still remained on the left wing.
I don't understand how we have let things get this bad at the club.
I know the Europa League was a priority, but that was a terrible performance.
Sayonara.
Follow Gooner Daily on Twitter  @goonerdaily.
Visit Gooner Daily's  Facebook page.
Click on the "Follow button" to join Gooner Daily's Mailing List
Following the emphatic win over CSKA Moscow on Thursday, it's expected for the manager to field a side capable of getting the goods against a struggling Southampton side but I believe rotation is imminent to keep the squad fresh. There are some decisions that are quite easy for Arsene Wenger with David Ospina's groin injury ensuring that Petr Cech remains in goal today and certainly on Thursday.
I expect the boss to shake things up in defense. Sead Kolasinac is need of a game, and I believe Nacho Monreal deserves a breather today. With Laurent Koscielny still nursing his Achilles tendon injury, I'd expect him to sit today's game with the likes of Calum Chambers or Rob Holding pairing with Skhodran Mustafi. Hector Bellerin will probably retain his place in the right fullback position.
I'd expect some shuffles in midfield with the likes of Mo Elneny making another case to stake a claim for first team football. Aaron Ramsey had such an amazing outing on Thursday and he'd want to build on that performance, so Granit Xhaka might be rested. Henrikh Mkhitaryan's knee injury is likely to rule him out till the end of the season, so this offers the likes of Alex Iwobi and Danny Welbeck to feature consistently on one of the flanks, as well as showing the boss what they are capable of, so it would be a nice audition nonetheless.
With Arsenal's Europa League slots more or less assured, a victory will be good for momentum as the Gunners have picked up a rich vein of form which is a stark contrast from how they started 2018 with a series of horrible losses that made everyone request for Arsene Wenger's head on a plate. Let's just hope the good form continues.
Sayonara
Follow Gooner Daily on Twitter  @goonerdaily.
Visit Gooner Daily's  Facebook page.
Click on the "Follow button" to join Gooner Daily's Mailing List