Category Archives:
Premier League
With the dust settling from the kid's Carabao Cup heroics, it was time to move to Premier League football with struggling Manchester United next on the Gunners' trails but there has been a niggling issue that hasn't been sorted out up until this point of the season – who will be the next Arsenal captain?
We will know how our former captain, Laurent Koscielny, bailed on us for pastures anew, activating his full pettiness to go on strike and boycott the US tour, earning some backlash from the fans and club alike, but with Kos out of the equation, as well as Petr Cech and Aaron Ramsey leaving the club as well, it clearly meant that Unai Emery had only two 'captains' left from his famous five.
Enter Granit Xhaka and Mesut Ozil, two players that have donned the armband on different occasions this season, but it was never made official, as everyone waited for the gaffer to make the announcement. I was quite surprised to read Rob Holding's comments after the 5-0 drubbing of Nottingham Forest, where he confirmed that the players had to vote over who would be their next captain,
"We had a vote the other week so we'll see what happens and see who gets named. We had to write names down and then give them to the manager. He will go through them obviously with his input and then we'll see what happens. I don't know. I think it will be in the next couple of days, or weeks. I have no idea. If I get it, then I'll be more than happy and honoured to do it."
It's kinda awkward but it's not that strange – that's players having a vote on who to be the captain rather than the manager just making his decision. I'd read that in Manchester City, the players unanimously voted David Silva to take over from Vincent Kompany as he reaches the September of his career with them, even though as vice captain, it seemed only natural for him to take over.
So those votes have been taken and a decision has been made to name Swiss international, Granit Xhaka, as the permanent captain of the club. (via BBC). It seemed like a reasonable decision because Xhaka has always been captain material, from his Borussia Monchengladbach days (we signed him while he was their captain) as well as the mere fact that he's also the current captain of his nation, Switzerland.
According to reports, the announcement for the vice-captain isn't known yet, but the whispers are edging toward one of the deadly striking duo, Alexandre Lacazette or Pierre-Emerick Aubameyang as leading contenders for that role.
With Xhaka named as club captain, we can move on from the drama not having a captain to this point had surfaced, and focus on more important things like preparing to defeat Manchester United. I just hope that we don't have to read an article where a player would say that he voted to Ozil to be captain but he saw Xhaka on his name as his nomination, then Emery screams, 'good ebening' and says that he signed in small letters.
Sayonara.
Follow Gooner Daily on Twitter  @goonerdaily.
Visit Gooner Daily's  Facebook page.
Click on the "Follow button" to join Gooner Daily's Mailing List
For some reason I failed to rant like crazy following the capitulation at Brighton and thankfully, I'm happy I didn't because it would probably had been a venomous affair, but with Arsenal frustrating me and other supporters out there, we turned into neutrals to watch the semifinal match between Liverpool and Barcelona. It was certainly an insurmountable task coming back from three goals down, and the fact that they were without Mohamed Salah and Roberto Firmino made things more difficult.
I'm certainly not going to give the commentary about the game here but after 90 minutes, they achieved the impossible, winning with four unreplied goals, which made me think – would my beloved Arsenal win Barcelona after conceding three goals away?
Sometimes, you gotta tell yourself the truth – Arsenal has devolved to a Europa League outfit at best. I remember when we were so spoiled into believing that finishing in the top four was our birthright but in the past two seasons, things have gotten really bad to the stage where it looked like Thanos snapped his fingers and our top four ambitions faded into space. It's not like we are asking for too much as fans – just play well enough, as it should give you that edge when playing against perceived weaker opposition. But with Arsenal, it's the opposite – if we are not wasting chances, we are gifting the opposition the ball to hurt us, or conceding needless penalties or just playing so badly.
Even with the likes of lethal forwards like Alex Lacazette and Pierre-Emerick Aubameyang in our ranks, the Gunners continue to struggle to kill off games, or convert clear cut chances. I don't wanna talk about what's going on that the back – yes, Brend Leno has been an inspiration since he took over from Petr Cech but he has had his shaky moments which can only help him to improve in the future, but when you have a certain Skhodran Mustafi making calamitous errors with such consistency at the back, it makes you wonder whether Unai Emery doesn't see these things as well.
I remember when Jurgen Klopp went to the final last season and his goalie from former club, Mainz, had such a shocker, allowing Real Madrid to waltz into their three Champions League in a row, he wasted no time in signing Alisson Becker from Roma, and he, alongside the imperial Virgil van Dijk of course, have contributed massively to Liverpool's defense. Meanwhile, we continue to struggle with whoever Emery decides to field in his back line. Imagine a player as important as Laurent Koscielny watching as Kasper Schmeichel lofts a punted effort from his box straight to Jamie Vardy, or Stephan Lichtsteiner heading the ball to Jurgen Locadia when a throw in would have been a better option.
The season is over but the Europa League still offers a silver lining ending so we can only wait and hope that the lads don't mess things up at Mestalla tomorrow.
Sayonara
Follow Gooner Daily on Twitter  @goonerdaily.
Visit Gooner Daily's  Facebook page.
Click on the "Follow button" to join Gooner Daily's Mailing List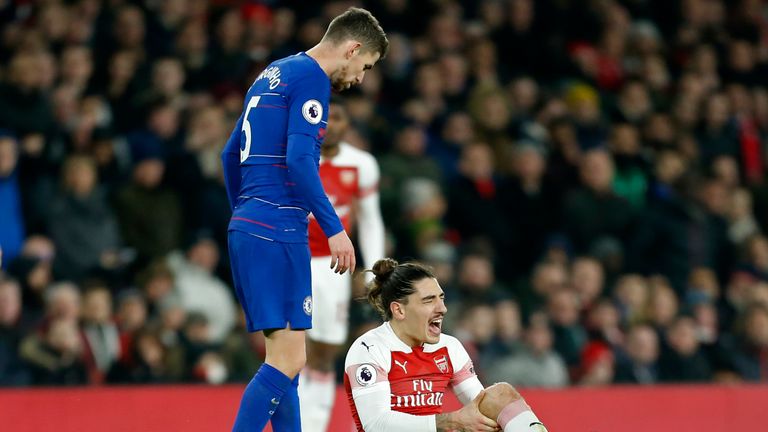 *removes cobwebs*
*evicts Spiderman – his rent was overdue anyways*
So I haven't published a post on this blog in four months…
For a guy that has written over 1,500 posts in nine years, it's simply not good enough, and for that I apologize. I've always longed for someone to hold the fort while I am away but that didn't happen, but it's not enough not to write in four months. But it's cool – I'm back like Hector Bellerin would be after six to nine months.
It's really sad to see our best right back suffer such an injury that could be career threatening, but I take some solace in the fact that he would be given the best medical assistance required for a speedy recovery. His surgery is scheduled to take place in Spain while he would return to London to start the grueling rehabilitation process.
Hector Bellerin had regressed as a footballer in recent seasons but he picked up some form under the tutelage of Unai Emery. With five assists to his name, he beefed up his creative numbers and you can't underestimate his importance to the way we play our football under the new gaffer. After hitting a good streak of form, he suffered a setback with a calf injury that sidelined him for a while and he was eased into action by the manager, only to sustain this latest injury that would rule him out for the rest of the season, as well as some chunk of the 2019/20 campaign.
So where do we go from here? With Bellerin no longer available for selection, Emery has only two options – work with the other lads at his disposal or delve into the transfer market to probably get a short term mitigation. A loan deal for Nathaniel Clyne some right back.
Let's explore Option 1 – using the lads at our disposal. In the hierarchy of right backs in the club, Emery has Stephan Lichtsteiner, Ainsley Maitland-Niles and Carl Jenkinson as able deputies for Hector Bellerin.
Lichtsteiner, that just turned 35 recently by the way, has seen that life in the Premier League can be a struggle, even if you're Methusalah's age mate and have won a truckload of titles in the Serie A. I was one of those fans that had a poker face when he was the first signing in the Emery era and to be honest, I didn't expect him to light any fireworks, but from what I knew about him, I expected him to put a shift in the games he gets selected. Early on in his Arsenal career, he had it all peachy and creamy, scoring against some farmers in the Europa League and having fun with some lower league folks in the Carabao Cup but Bellerin got injured and he was selected to play with the big boys in the EPL. We all know how that panned out – there were the shite fests away to Liverpool and Manchester United then that header to Brighton's Jurgen Locadia that cost us three points. As an elder statesman, I didn't expect him to get that much minutes at the Premier League and with Bellerin injured, he could become a liability in an already shaking backline.
Verdict – I hope he features in only FA Cup and Europa League games.
Then there's Carl Jenkinson, the forgotten true and true Gooner that has plied his trade in several clubs but still finds himself with us. He's certainly not a world beater by his fair standards but Jenks gives you 100% commitment and heart, which compensates for his lack of ability. He possesses a nice cross on him though, with his assist in the Blackpool game a reminder of what he can do when selected. What I do love about him is the fact that he doesn't whine about not playing consistently, and will do his bit when selected, but there's a reason he's our fourth choice right back. With his contract expiring this summer, Jenks will certainly try pastures anew but he still has a role to play for us between now and the end of the campaign.
Verdict – He will only remain a last gasp option when the injury crisis deepens
AMN – one of the nicest acronyms you'd ever see till you find out what it means and then you'd wish you didn't like the acronym initially, as you expected a bit more. That's how I can relate to his footballing ability as well. With Maitland-Niles, you have to first of all commend him for playing out of his comfort zone to help his team – he's not a full back by trade (had a strong midfield showing for England in the triumphant U20 World Cup campaign) but he has been deployed as a left back, right back and even right winger, like your modern day John O'Shea. However, the only challenge of being a jack-of-all-trades has the potential to make you a master of none. AMN has the physical qualities that can make him a decent full back, but he still needs to do some work on his defensive side, as there's room for improvement.
Verdict – Deploy as Arsenal's make-shift right back and hope he builds some consistency
Now we are at Option 2 – signing a player, or maybe securing a loan deal, from the transfer market. Well, this is not Football Manager 2019, where you have the luxury of clicking on a tab and all the right back options appear for you. In real life, it's a lot complex. For starters, the manager has already mentioned that there are no funds to sign players in this transfer window, so this already limits our options to loan deals, which it's not as easy as going over the counter to get an item. In the Premier League, I can think about maybe Matteo Darmian, Victor Moses and Nathaniel Clyne that would be the noteworthy options, but everyone isn't like Arsenal that enjoys strengthening their rivals.
In conclusion, the onus is on Unai Emery to make the best decision for his team and as an Arsenal supporter, I'd give my err, support, to the option he decides to take.
Sayonara.
Bonus Reading: https://arseblog.com/2019/01/bellerins-injury-could-be-an-opportunity-for-maitland-niles/
Follow Gooner Daily on Twitter  @goonerdaily.
Visit Gooner Daily's  Facebook page.
Click on the "Follow button" to join Gooner Daily's Mailing List