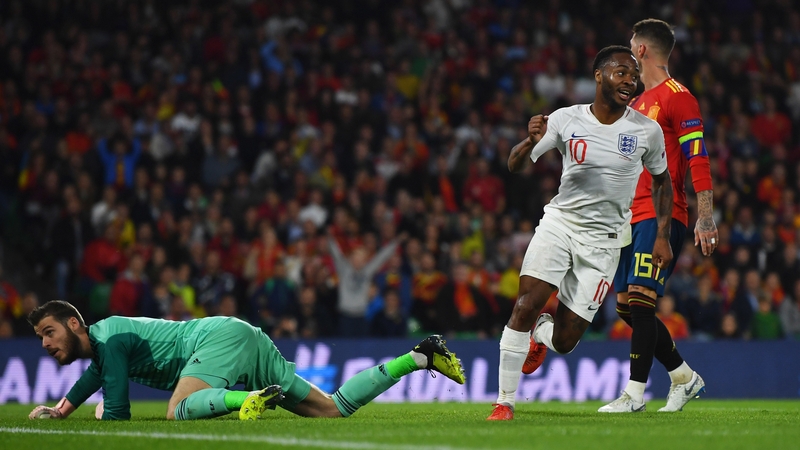 Just like me, many folks haven't gotten the full hang of this UEFA Nations League tournament but I use it as a good opportunity to watch some quality international football, as European nations field their best sides with the aim of qualifying and avoiding relegation (yes, I'm still confused on how it works but bleh).
Ok, there's Wikipedia right. Aha! It says that there are four leagues (A – D) which are assigned based on the UEFA national teams coefficients but from this tournament, things are going to change. "League A" serves as the elite league in the competition with each league having four groups of three teams each. The winners of each of the groups in League A qualify to the Nations League finals, which is a semifinal clash between the four group winners of League A, while the last placed teams in League A are relegated to League B, with their places taken by the four group winners in League B. Same way there are promotions and relegations in League C and League D.
Germany for instance, were the highest ranked team in the competition with a coefficient of 40,747, so they were the seeded team in Group 1. The other seeded teams in League A were Portugal (38,655), Belgium (38,123) and Spain (37,311). This meant that they were going to be paired with Pot 2 League A teams like France (36,617), England (36,231), Switzerland (34,986) and Italy (34,426). The teams in the League Pot 3 were Poland (32,982), Iceland (31,155), Croatia (31,139) and the Netherlands (29,866). From these 12 teams, four groups of three teams were formed.
Thanks to Germany's recent shitty form, they are currently last in their group behind France and the Netherlands which essentially means that they can be potentially relegated to League B, even though they still have a home clash with Holland and an away clash with France to go. Two League A teams have confirmed their relegations to League B, with Iceland suffering three defeats and a whopping -10 goal difference from their clashes with Belgium and Switzerland as well as Poland, whose last gasp defeat to Italy in their home turf sealed their fate. So this essentially means that we will not see the Viking clappers and Robert Lewandowski's cohorts till they get promotion from League B in the 2020/21 season.
Now that you've gotten the drift of how the UEFA Nations League works, let's talk about last night. Or wait, let's step back a bit – remember when Spain made a 1,000 passes against Russia and still crashed out on penalties at the World Cup? Or when their then manager, Julen Lopetegui, wanted to literally eat his cake and have it? The nation that has given so much to the beautiful game was a far cry of the dominant force they used to be. Suffering elimination at the Round of 16 stage of both the World Cup and European Championship was not something you'd associate with Spain but the appointment of Luis Enrique as the head coach was certainly a step in the right direction.
In his first two matches of the Nations League, he defeated England in their coveted Wembley ground and made light work of the World Cup finalists, Croatia, so when the Three Lions arrived in Seville for their second leg clash with Spain, confidence was certainly high from the home team.
What we witnessed, in the first 45 minutes at least, was a masterclass from England that coincided with a shitefest from Spain. Marcus Rashford found Raheem Sterling at the edge of the area with only David de Gea to beat and the Manchester City forward finished aplomb with a belter that left the Manchester United goalie flat footed. This was followed by a lovely Rashford goal that came to fruition from a lovely Harry Kane pass. De Gea again was found wanting as his Man Utd teammate dispatched the ball past him with consummate ease. Two goals became three when Ross Barkley's dink over the top to Kane was laid on a platter for Sterling to allow him score his second of the night and put England three goals up in Andalusia. The home crowd were certainly stunned as you'd expect but I can't take anything from what was a brilliant England team performance.
The second half saw Spain go for broke and who would blame them? Losing 3-0 at home wasn't going to go down well with the Spanish faithful, so the boss summoned the red hot Paco Alcacer and Dani Ceballos to contribute to an attack that was barraging England. Gareth Southgate's response was to bring on Kyle Walker and switch to a back three. I wasn't really convinced by Walker playing as a center back in the World Cup but my only managerial experience is at Football Manager level, so I can't really question a man that finished in fourth place in the World Cup, can I?
Anyways, Alcacer reacted well to a beautiful Marco Asensio inswinger and Jordan Pickford couldn't do anything to save such a lovely header. It was just 3-1 and certainly not enough. The onslaught from the home side continued that English lads put up a valiant show at the back. Finally, they cracked in the 97th minute from a Sergio Ramos header, but it was also the last moment of the game as the Polish ref blew his whistle afterwards. A largely entertaining game in every sense of the word.
This result put England with two points behind Spain, and it's now evident that Croatia holds the key to the destiny of that group. Luka Modric's army have two games left – against Spain and England, and if they win both, they will finish the group in an astonishing seven points, above Spain that has six and England with four. However, if Spain manages to get a draw against Croatia, they will relegate them to League B and earn a place in the semifinals.
No pressure lads.
Follow Gooner Daily on Twitter  @goonerdaily. I'll follow back
Visit Gooner Daily's  Facebook page.
Click on the "Follow button" to join Gooner Daily's Mailing List
So after two long months, I'm back to writing about the club I love so much. As you'd expect from the international break, nothing much has been happening, except Germany and their continues woes post- Ozil. The Netherlands has been a nation on the decline, since they reached the World Cup final in 2010, but Ronald Koeman's side put the Germans to the sword with three unreplied goals. Even that former Manchester United wasteman, Memphis Depay, was on peek Cristiano Ronaldo mode or something.
The biggest news from an Arsenal perspective is the retirement of club captain, Laurent Koscielny, from international football. Koscielny served his country 51 times, featuring in two European Championships (2012 & 2016) and the 2014 FIFA World Cup. A nasty injury suffered in May cost Koscielny his place in the 2018 FIFA World Cup and it must have hurt a lot, watching his countrymen lift the trophy.
He even admitted that it hurt him a lot missing on the mundial, and while a part of him was happy to see them win football's biggest prize, his more evil side hoped they were eliminated. Typically, you would expect that retiring from his country clearly means that he wants to concentrate on playing regular club football, but it's not so surprising to know that our captain is itching for a move back to Ligue 1 to as his career reaches its twilight. With the likes of Mustafi, Holding, Chambers, Mavropanos and this season's new addition, Sokratis, in our ranks, we are quite stacked up with our fair share of centerbacks, but none can make up Koscielny's experience and leadership.
He is expected to resume action some time in late November / early December and I'm pretty sure that Unai Emery has major plans for his captain this season. In recent seasons, Arsenal captains turned out to be bench warmers as they reached the ends of their careers with the club but I'm certain that such a fate will not befall Koscielny.
I wish him the best as he continues with his long recovery from injury.
Sayonara.
Follow Gooner Daily on Twitter  @goonerdaily. I'll follow back
Visit Gooner Daily's  Facebook page.
Click on the "Follow button" to join Gooner Daily's Mailing List
For many years in the latter part of Arsene Wenger's reign as manager of Arsenal, there was a mismatch of players at the club. It was either there too many average players or too many young players. This trend ensured that the North London outfit struggled to compete for the title, as the players available didn't have the talent, quality and winning mentality on a large scale to see the team over the line.
After Arsenal lost the Champions League Final in 2006, which represented the end of that glorious team of the Invincibles, Arsene Wenger changed the playing philosophy and personnel. He turned to playing young players, but at that time those players matured enough to lead the team to titles, they were sold for a profit. It is not surprising and coincidental that when Arsenal started spending money to buy top quality players, and it ended in ending their trophy drought in 2014 with FA Cup triumph. The building of the Emirates Stadium meant that Wenger didn't have the funds available to compete with the likes of Chelsea, Manchester United and latterly, Manchester City.
It's been 15 years now since Arsenal last won the title, a damning verdict for a team of its stature. Unai Emery has identified major problems and has addressed the issue in the transfer window. He has signed players that will improve the first team, add quality, infuse leadership and most importantly trophy-winning experience. His acquisitions have added balance to the team that needed these personalities after a few years of obscurity.
In the latter stages of the Wenger era, the players just drifted through matches; they were not held accountable for bad results, didn't have the mental strength needed to win the major trophies and didn't have a manager that could push them to new levels of play they never thought possible. There are so many young players that need experienced players to guide them. The likes of Cech, Lichtsteiner, Koscielny, Papastathopoulos and Monreal are players that have seen it and done that.
A team needs these blend of old and young players to lead the team to new heights: these old players have one final swansong in their careers while the young ones have the needed experience to become established players. It establishes a cycle of winning at the club. It is what the big teams do to continue winning and challenging for trophies.
The start of the new campaign saw the Gunners take on Manchester City and even though the result was hard to take, the like of Matteo Guendouzi impressed, as we also saw debuts for Sokratis Papathathopoulos, Stephan Lichtsteiner and maverick, Lucas Torreira. A perfect blend of youth and experience to add to a vastly talented squad.
Guest post by Live Arsenal, an Arsenal dedicated website that gives you update about latest news coming from The Emirates Stadium.