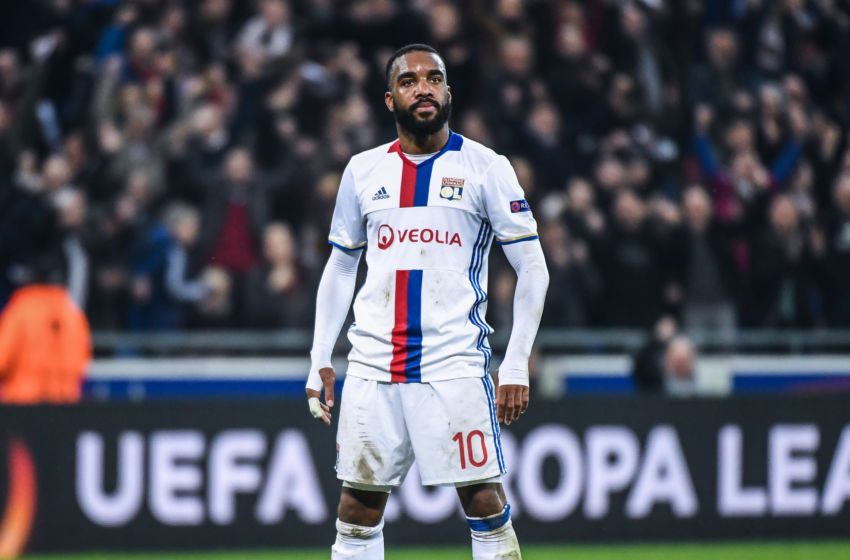 After quite a protracted saga, it seems like Alexandre Lacazette is finally in the bag.
He was believed to arrive at London yesterday for a medical with Arsenal which was completed as well, according to the Guardian. The French forward is set to be Arsenal's record signing with a deal believed to have cost £52.7m, surpassing what the Gunners paid for Mesut Ozil in 2013. I'm very certain that the 888sport free betting offer for Alex Lacazette to finish as the highest goal scorer in the league would be high, but you'd have to visit the site out and check for the odds,
Lacazette would say goodbye to the club he served with distinction for eight years, scoring 129 goals in 275 appearances. His last four seasons with Olympique Lyonnais have been very prolific with the Frenchman hitting the target an astonishing 37 times, including that this awesome strike against Roma that was followed with a stone cold celebration…
Lacazette would know that there would be high expectations of him and in a club like Arsenal, he's sure to receive a boatload of passes from one of the most creative midfields in the Premier League. His move has been met with mixed emotions but avid watchers of the game would know that Arsenal have landed a very good forward that would lead the line for years to come. He would also want to join the League ofEextraordinary French Forwards like Nicolas Anelka, Thierry Henry and Slyvain Wiltord that etched their names in Arsenal folklore for their performances on the pitch.
I'm also very elated with the fact that we will no longer get any updates from Lyon's chairman, Jean-Michel Aulas. That bloke turned to some really annoying Lacazette live commentary expert, feeding the world with all sorts of news that in come cases were relevant, and in others, pretty not,
Monday: 'Lacazette wants to leave Lyon'
Tuesday: 'I had dinner with Arsene Wenger and Ivan Gazidis. The steak at the diner in London was superb'
Wednesday: 'I have told Arsenal that Atletico paid a gazillion pounds for Lacazette. That transfer ban on them was a real bitch'
Thursday: 'Have I told you guys that Lacazette wants to leave? Oh wait, I think I need a swap deal for Olivier Giroud'
Friday: 'Bleeeeeh, Arsenal has told me that they can't match what Atletico offered and they want to keep Giroud too'
Saturday: 'I should travel to Russia ahead of the Confederations Cup final. Maybe I can use the money Arsenal offered me for Lacazette to sign Alexis Sanchez.'
Sunday: 'The cat is out of the bag guys. I mummified Lacazette and sent him on a plane to London. Don't worry, birds would not attack the plane like Princess Ahmanet'.
All we can do is wait for the imminent announcement on Arsenal's official website, then Lacazette would come out to say that the LITTLE BOY INSIDE HIM wanted him to come to Arsenal.
Sayonara
Follow Gooner Daily on Twitter  @goonerdaily. I'll follow back
Visit Gooner Daily's  Facebook page.
Click on the "Follow button" to join Gooner Daily's Mailing List
It all started with a post, or maybe two, from Sead Kolasinac's teammate, Max Meyer, on Instagram LIVE.
#YaGunnersYa, a hashtag used by Mesut Ozil on Twitter, more times than the amount of goals Yaya Sanogo scored in his entire career.
Many speculated, the media vultures did their bit and after a number of reliable sources published pretty much the same news, it was simply a case of waiting for Arsenal to confirm the signing of their new Bosnian left back, Sead Kolasinac. I'm not an avid fan of the Bundesliga but I learned that he was in the Team of the Year last season with three goals and seven assists to his name in the campaign. The YouTube video below offers some insight on what to expect from the lad.
At 23, he's certainly one for the future but his arrival has more or less confirmed the end of the road for Kieran Gibbs with Nacho Monreal stating that he wants to spend three more years with the club,
"I am very happy at Arsenal and I feel important because Wenger has shown me confidence.

"I have two years left to contract, an optional third, and the idea is to stay there. I am aware that football can change, but I'm playing and in my head, the idea is to stay."
Monreal has been a symbol of consistency at the club and he has proven himself well as a left back, left wing back and in some cases, as an adept center back. In Kolasinac, Arsenal has a full back at the right age that can understudy and challenge Monreal for his place in the squad and as we know, competition brings out the best in footballers.
The lad had some nice things to say as he confirmed his move to North London,
"It feels really good and I'm pleased to be here. I'm happy to have signed at Arsenal for five years and I'm really pleased. Arsenal has a huge tradition and I followed the club as a young boy, in the days of Jens Lehmann and Thierry Henry. Arsenal has always been a club that is well recognised in Europe and I'm pleased to be here."
One thing I noticed about Kolasinac is how bulky he is, and in a division like the Premier League, his strength can come in handy as he shove right wingers off the ball with consummate ease. Good stuff. The lad also stated that his greatest strength is his 'mentality' and we would get a glimpse of that in the 2017/18 season.
With Kolasinac in the bag, let's remain hopeful that there would be more quality additions to the squad. You can watch his first interview with the club (via Arsenal.com) to get a feel of our shiny new toy.
Sayonara.
Follow Gooner Daily on Twitter  @goonerdaily. I'll follow back
Visit Gooner Daily's  Facebook page.
Click on the "Follow button" to join Gooner Daily's Mailing List
After seven seasons and 153 games for Arsenal, which included a Golden Glove, Wojciech Szczesny fell out of favor following the arrival of legendary goalie, Petr Cech, from Chelsea and he was farmed out to AS Roma to continue his footballing education. After amassing 81 games in two full seasons with the Italian giants, which also included a Serie A Golden Glove, Szczesny time in Rome was up and he was one of those players that needed to get his future sorted out with the club this summer.
The Polish shot stopper has just one year on his contract, and that's the point where players have better bargaining power on their futures when it comes to transfers and contract negotiations. With Cech, David Ospina and Emiliano Martinez still in Arsenal's ranks, it was evident that Arsene Wenger would be the person to make the final decision in that department, as the Gunners are fully stocked.
Sky Sports has reported that Juventus has reached a deal with Arsenal to sign Szczesny for about £14m. Apparently, the initial fee is £12.2m but there are some add-ons to the deal that makes it £14m in total. Juventus have also agreed personal terms with the player, which is believed to be about £3.5m a year. With the iconic goalie, Gianluigi Buffon, 39, having one more year left on his deal before he retires, Szczesny will be his understudy for one season before he hangs his boots in 2018.
I feel it's definitely a good deal for the player and the club but it's really sad to see how Szczesny fell from grace at Arsenal. This was a keeper that successfully saw out the threats of Manuel Almunia and Lukasz Fabianski but his shortcomings became glaring, probably due to cockiness and he lost his place in the team to David Ospina. The signing of Petr Cech was a rather opportunistic one, as the Czech goalie didn't want to play second fiddle to the emerging Thibaut Courtois, and it was evident that he was going to be Arsenal's first choice goalie when he arrived.
Many thought that Ospina was going to be shipped out to accommodate Cech and Szczesny but football is a surprising sport, and a goalie with so much potential and who was also loved by the fans was shipped away with minimal fuss by the club. I watched him closely in the Serie A and I must say he really impressed with Roma, raking in those clean sheets and putting up great performances, that has certainly caught the eyes of Max Allegri and Juventus, to the point they have made things official.
I really liked Szczesny and thought he would be our #1 for many years to come, but the reality of the situation is that he's moving on to a really good side and I can only wish him the very best in his future endeavors. With Juventus, Szczesny will add more trophies to his current cabinet that has two FA Cups (2013/14, 2104/15) and one Community Shield (2014).
Sayonara.
Follow Gooner Daily on Twitter  @goonerdaily. I'll follow back
Visit Gooner Daily's  Facebook page.
Click on the "Follow button" to join Gooner Daily's Mailing List