Category Archives:
Transfer Gossip
While Arsenal fans have been basking in the euphoria of the Alexandre Lacazette announcement, there is still much work to be done in the team, with more signings expected as well as the important part of sorting out the futures of some of the club's star players with a year left on their respective contracts.
To be honest, it's rather unfortunate to see how we got to this situation with Mesut Ozil, Alexis Sanchez, Jack Wilshere, Alex Oxlade-Chamberlain, Kieran Gibbs, Wojciech Szczesny and Matt Debuchy all left with only one year left on their contract with the club. There are certainly some players on the aforementioned list that have no futures with the club, while there are others that are regarded as indispensable to the team.
Alexis Sanchez certainly falls into the latter category and with 72 goals in 145 appearances for the club, he has risen to talismanic status in the team, especially after hitting the 30-goal mark that was a norm for the likes of goalscoring legends Ian Wright, Thierry Henry and Robin van Persie before him. A player like Sanchez was expected to be in high demand and the wolves came sniffing with Bayern Munich and Manchester City reportedly interested in his services.
With Alexis contracted to the club, his primary obligation will be to honor his contract, which could make him a free agent next summer, but that leaves the club in a dilemma,
Does Arsenal follow the Robin van Persie route and sell Sanchez to a fellow Premier League rival like Man City? or
Will the club play hard ball and allow the lad leave on a Bosman?
The ideal scenario would have been to tied Sanchez down with a juicy new contract, but with the Metro reporting that the Chilean hotshot wants an astonishing £400,000-per-week contract to remain with the team, the situation becomes very difficult. Normally, I would take this sort of news with a pinch of salt, as the media always circulate all sorts of bullcrap to sell their content but what if it's actually true? Why would a £140,000-per-week earner request for such a mammoth sum to hamstring the club?
If this is what is really happening, then I hope Arsenal keep him at the club for his final year of his contract, then send him packing at the summer, so that he can find his £400,000 elsewhere. It would some financial sense to take the £50m or whatever from Man City, but the backlash would be terrible from the fans and media alike. Arsenal is meant to be challenging for the Premier League this season and they stand a better chance of doing it if Sanchez remains with the club.
Like Hell, they can follow the Robert Lewandowski route and use him in the final year of his contract before allowing him go to wherever he wants. Alexis doesn't strike me like the type that would be sulking on the pitch because he wasn't allowed to leave to Man City. He is a professional and will be expected to do his job, which is play football for Arsenal.
I will follow this development closely and see how it pans out.
Sayonara
Follow Gooner Daily on Twitter  @goonerdaily. I'll follow back
Visit Gooner Daily's  Facebook page.
Click on the "Follow button" to join Gooner Daily's Mailing List
The Arsenal blogosphere was on fire as fans celebrated the arrival of the club's record signing, Alexandre Lacazette, from Olympique Lyonnais.
Arsene Wenger had some nice words to say about his new recruit,
"We are very happy to have Alexandre join our group. He has shown over a number of years that he can score goals and that he is a very efficient finisher. As well, he has very interesting technical qualities and a strong character. So he is a guy who is a great addition for us, and someone who will help us challenge at the top level this season."
The player went on to say the basics you'd from any new signing, about how he always dreamt of playing for the club,
"I am, of course, delighted and very proud too because Arsenal is a legendary club. Throughout my childhood, thanks to Thierry Henry and other French players, I always dreamed of playing for this club so today that dream has been fulfilled."
Footballers and their dreams. At least, he didn't get any message from the little boy inside him. Maybe he did and chose not to talk about it. Signing a player of Lacazette's caliber speaks a lot about Arsenal's aspirations this season, and it seems like Wenger isn't done, with the Express reporting that the Gunners are interested in signing Riyad Mahrez from Leicester City. There's also the business of sorting out the contracts for Alexis Sanchez and Mesut Ozil among others but the progress being made this summer can be measured considerably.
With Sead Kolasinac coming in early, as well as some changes in the backroom staff, which includes Jens Lehmann, Arsenal has plans for big things this season, and we the fans are elated with the capture of our shiny new toy, Alex Lacazette. He will join the lads in training and will travel for some preseason action.
He's set to make his unofficial home debut towards the end of the month when the Gunners host their Emirates Cup tournament. He would have memories of playing at the Emirates, as he was part of the Lyon team that got spanked 5-0 by the Gunners a couple of seasons ago.
I wish Lacazette the very best and I hope the goals flow in for him.
Here's a highlight reel of his 37 goals for Lyon last season
Sayonara
Follow Gooner Daily on Twitter  @goonerdaily. I'll follow back
Visit Gooner Daily's  Facebook page.
Click on the "Follow button" to join Gooner Daily's Mailing List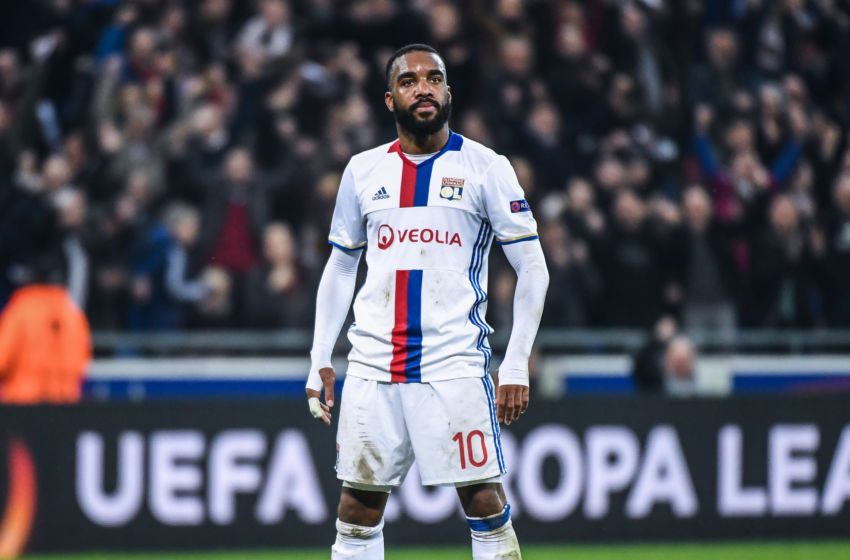 After quite a protracted saga, it seems like Alexandre Lacazette is finally in the bag.
He was believed to arrive at London yesterday for a medical with Arsenal which was completed as well, according to the Guardian. The French forward is set to be Arsenal's record signing with a deal believed to have cost £52.7m, surpassing what the Gunners paid for Mesut Ozil in 2013. I'm very certain that the 888sport free betting offer for Alex Lacazette to finish as the highest goal scorer in the league would be high, but you'd have to visit the site out and check for the odds,
Lacazette would say goodbye to the club he served with distinction for eight years, scoring 129 goals in 275 appearances. His last four seasons with Olympique Lyonnais have been very prolific with the Frenchman hitting the target an astonishing 37 times, including that this awesome strike against Roma that was followed with a stone cold celebration…
Lacazette would know that there would be high expectations of him and in a club like Arsenal, he's sure to receive a boatload of passes from one of the most creative midfields in the Premier League. His move has been met with mixed emotions but avid watchers of the game would know that Arsenal have landed a very good forward that would lead the line for years to come. He would also want to join the League ofEextraordinary French Forwards like Nicolas Anelka, Thierry Henry and Slyvain Wiltord that etched their names in Arsenal folklore for their performances on the pitch.
I'm also very elated with the fact that we will no longer get any updates from Lyon's chairman, Jean-Michel Aulas. That bloke turned to some really annoying Lacazette live commentary expert, feeding the world with all sorts of news that in come cases were relevant, and in others, pretty not,
Monday: 'Lacazette wants to leave Lyon'
Tuesday: 'I had dinner with Arsene Wenger and Ivan Gazidis. The steak at the diner in London was superb'
Wednesday: 'I have told Arsenal that Atletico paid a gazillion pounds for Lacazette. That transfer ban on them was a real bitch'
Thursday: 'Have I told you guys that Lacazette wants to leave? Oh wait, I think I need a swap deal for Olivier Giroud'
Friday: 'Bleeeeeh, Arsenal has told me that they can't match what Atletico offered and they want to keep Giroud too'
Saturday: 'I should travel to Russia ahead of the Confederations Cup final. Maybe I can use the money Arsenal offered me for Lacazette to sign Alexis Sanchez.'
Sunday: 'The cat is out of the bag guys. I mummified Lacazette and sent him on a plane to London. Don't worry, birds would not attack the plane like Princess Ahmanet'.
All we can do is wait for the imminent announcement on Arsenal's official website, then Lacazette would come out to say that the LITTLE BOY INSIDE HIM wanted him to come to Arsenal.
Sayonara
Follow Gooner Daily on Twitter  @goonerdaily. I'll follow back
Visit Gooner Daily's  Facebook page.
Click on the "Follow button" to join Gooner Daily's Mailing List