There's still a lot to fight for this season with a top four place and the Europa League still in the mix, but the 3-1 first leg loss to Rennes last week Thursday was a bitter pill to swallow to say the least. It was expected that the Gunners would use their home advantage to good effect, but anything less than a 2-0 win for the home side would have been a disaster.
In a classic case of 'If it ain't broken, don't fix it', Unai Emery stuck to the same formation that was so successful against the high-flying Manchester United, but Bernd Leno had to make do with a place on the bench as the Europa League is Petr Cech's tournament. Shkodran Mustafi filled in for the suspended Sokratis Papathathopoulos, alongside captain Laurent Koscielny and Nacho Monreal.
Arsenal came off the blocks really fast with Pierre-Emerick Aubameyang showing his predatory skills in the box to nick home Aaron Ramsey's hopeful punt into the danger area. The forward turned from scorer to provider when he lofted a ball into the six yard box that was headed aplomb by Ainsley Maitland-Niles. Auba was clearly offside but I'd let you know when I care. It feels kinda sinister when these decisions go for you, but hey, that's football.
It's not like it was all Arsenal all the way, the away side had their moments and almost earned themselves an away goal when a snap shot from some bloke clipped Cech's post and returned to the fray. Mustafi was in his usual careless self and one wonders what can be done to take away this erratic behavior from him.
The Gunners sealed the game when substitute Henrikh Mkhitaryan teed up Sead Kolasinac on the byline that drilled the ball for Aubameyang to poke it home. Instead of the usual somersaults, Auba revealed and donned a Black Panther mask much to the delight of his fans. I clearly remember crossing my arms on my chest in response to his Wakanda Forever expression. He earned a yellow card for his troubles but that didn't matter – Arsenal are in the last eight of the Europa League and are set for a double date with Italian side, Napoli.
When that bridge comes, we would cross it but its nice going into the international break with such a great result and feeling to match, all thanks to our Gabonese Black Panther that came through for Arsenakanda.
Sayonara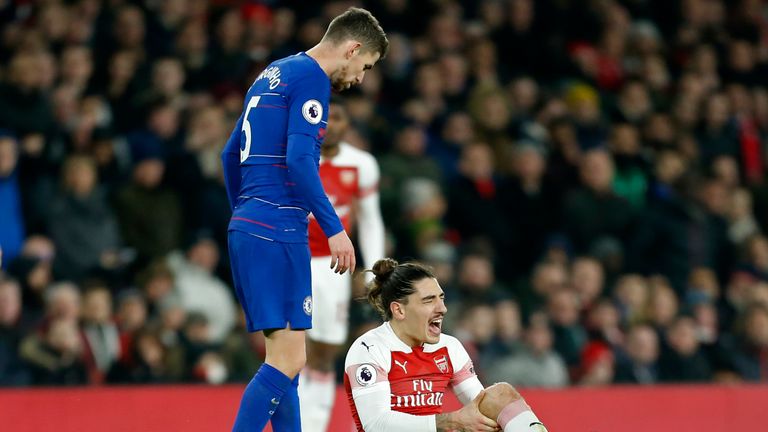 *removes cobwebs*
*evicts Spiderman – his rent was overdue anyways*
So I haven't published a post on this blog in four months…
For a guy that has written over 1,500 posts in nine years, it's simply not good enough, and for that I apologize. I've always longed for someone to hold the fort while I am away but that didn't happen, but it's not enough not to write in four months. But it's cool – I'm back like Hector Bellerin would be after six to nine months.
It's really sad to see our best right back suffer such an injury that could be career threatening, but I take some solace in the fact that he would be given the best medical assistance required for a speedy recovery. His surgery is scheduled to take place in Spain while he would return to London to start the grueling rehabilitation process.
Hector Bellerin had regressed as a footballer in recent seasons but he picked up some form under the tutelage of Unai Emery. With five assists to his name, he beefed up his creative numbers and you can't underestimate his importance to the way we play our football under the new gaffer. After hitting a good streak of form, he suffered a setback with a calf injury that sidelined him for a while and he was eased into action by the manager, only to sustain this latest injury that would rule him out for the rest of the season, as well as some chunk of the 2019/20 campaign.
So where do we go from here? With Bellerin no longer available for selection, Emery has only two options – work with the other lads at his disposal or delve into the transfer market to probably get a short term mitigation. A loan deal for Nathaniel Clyne some right back.
Let's explore Option 1 – using the lads at our disposal. In the hierarchy of right backs in the club, Emery has Stephan Lichtsteiner, Ainsley Maitland-Niles and Carl Jenkinson as able deputies for Hector Bellerin.
Lichtsteiner, that just turned 35 recently by the way, has seen that life in the Premier League can be a struggle, even if you're Methusalah's age mate and have won a truckload of titles in the Serie A. I was one of those fans that had a poker face when he was the first signing in the Emery era and to be honest, I didn't expect him to light any fireworks, but from what I knew about him, I expected him to put a shift in the games he gets selected. Early on in his Arsenal career, he had it all peachy and creamy, scoring against some farmers in the Europa League and having fun with some lower league folks in the Carabao Cup but Bellerin got injured and he was selected to play with the big boys in the EPL. We all know how that panned out – there were the shite fests away to Liverpool and Manchester United then that header to Brighton's Jurgen Locadia that cost us three points. As an elder statesman, I didn't expect him to get that much minutes at the Premier League and with Bellerin injured, he could become a liability in an already shaking backline.
Verdict – I hope he features in only FA Cup and Europa League games.
Then there's Carl Jenkinson, the forgotten true and true Gooner that has plied his trade in several clubs but still finds himself with us. He's certainly not a world beater by his fair standards but Jenks gives you 100% commitment and heart, which compensates for his lack of ability. He possesses a nice cross on him though, with his assist in the Blackpool game a reminder of what he can do when selected. What I do love about him is the fact that he doesn't whine about not playing consistently, and will do his bit when selected, but there's a reason he's our fourth choice right back. With his contract expiring this summer, Jenks will certainly try pastures anew but he still has a role to play for us between now and the end of the campaign.
Verdict – He will only remain a last gasp option when the injury crisis deepens
AMN – one of the nicest acronyms you'd ever see till you find out what it means and then you'd wish you didn't like the acronym initially, as you expected a bit more. That's how I can relate to his footballing ability as well. With Maitland-Niles, you have to first of all commend him for playing out of his comfort zone to help his team – he's not a full back by trade (had a strong midfield showing for England in the triumphant U20 World Cup campaign) but he has been deployed as a left back, right back and even right winger, like your modern day John O'Shea. However, the only challenge of being a jack-of-all-trades has the potential to make you a master of none. AMN has the physical qualities that can make him a decent full back, but he still needs to do some work on his defensive side, as there's room for improvement.
Verdict – Deploy as Arsenal's make-shift right back and hope he builds some consistency
Now we are at Option 2 – signing a player, or maybe securing a loan deal, from the transfer market. Well, this is not Football Manager 2019, where you have the luxury of clicking on a tab and all the right back options appear for you. In real life, it's a lot complex. For starters, the manager has already mentioned that there are no funds to sign players in this transfer window, so this already limits our options to loan deals, which it's not as easy as going over the counter to get an item. In the Premier League, I can think about maybe Matteo Darmian, Victor Moses and Nathaniel Clyne that would be the noteworthy options, but everyone isn't like Arsenal that enjoys strengthening their rivals.
In conclusion, the onus is on Unai Emery to make the best decision for his team and as an Arsenal supporter, I'd give my err, support, to the option he decides to take.
Sayonara.
Bonus Reading: https://arseblog.com/2019/01/bellerins-injury-could-be-an-opportunity-for-maitland-niles/
Follow Gooner Daily on Twitter  @goonerdaily.
Visit Gooner Daily's  Facebook page.
Click on the "Follow button" to join Gooner Daily's Mailing List
The thing about international football is that you can choose to really concentrate on watching each game, or you can do something else and just listen to the commentary in the background. I never pass on a chance to play my beloved Football Manager 2018 (can't wait for FM 19 to come out next month) or more recently, Uncharted: Lost Legacy on my PS4, but I looked at the fixture list and decided to focus on two games – Libya vs my Nigeria and of course, France vs Germany.
With the Libya vs Nigeria game starting by 7.00pm local time and the France vs Germany starting by 7.45pm, I figured I'd combined both games while enjoying some of that FM goodness. Just before I could get settled into the Libya vs Nigeria game, the red hot Odion Ighalo stepped up again with another well taken goal following some good passing interplay from Alex Iwobi and team skipper, Ahmed Musa. That was Ighalo's sixth goal in his qualifying fixtures – a brace away at Seychelles, a hat-trick at home to Libya and of course, the match opener in Sfax, Tunisia, against the same side.
Ighalo turned from scorer to provider when he teed up Musa at the edge of the area, but the Saudi-based winger still had a lot to do as he danced his way past some Libyan defenders before scoring the most scrappy finish you'd ever see. Knowing fully well that South Africa were playing a Seychelles side they spanked 6-0 over the weekend, Nigeria sure needed every kind of goal they could get. Taking a 2-0 lead into halftime would have been very ideal in the grand scale of things but knowing African football, there were more surprises around the corner, and that happened when Libya pulled two back but Ighalo was on hand to score his sixth goal in three matches to give Nigeria all three points.
Elsewhere, Joachim Low and Germany are still struggling and one must wonder how they can get out of this slump. Following a disastrous World Cup, Germany was still the top seed for the UEFA Nations League and were paired with France and the Netherlands, but it has turned out to be a disaster as Low's side has lost two games in the group, as well as a poor draw at home to France.
They sure managed to end the rot of not scoring in three games with Toni Kroos penalty but it wasn't enough as Antoine Griezmann stepped up the plate to put the Germans to the sword.
I hope they can come out of their current predicament as they are still regarded as one of the best footballing nations but things aren't just working out for them at the mo. Really Sad
Follow Gooner Daily on Twitter  @goonerdaily. I'll follow back
Visit Gooner Daily's  Facebook page.
Click on the "Follow button" to join Gooner Daily's Mailing List