Blog Archives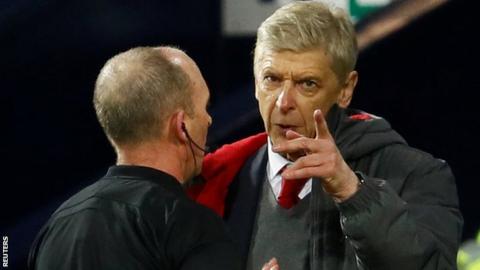 There are some things that are normal in life – England losing on penalty shootouts, Petr Cech failing to save a penalty, Harry Kane always opening his mouth during a game, Carlo Ancelotti raising his eyebrow during an interview. I guess you can add a Premier League manager earning himself a touchline ban following a rant about referees to this list. Arsene Wenger has been given a three match touchline ban as well as a fine for 'abusive behavior and questioning the integrity of Mike Dean' following his shitefest at the Hawthorns last week.
I don't want to re-visit the incident as I touched on it a few days ago, but I feel that something needs to be done about these referees and their terrible officiating in the Premier League. I went on Squawka the other day and was glancing through the 15 Worst Premier League Refereeing Decisions in 2016 and I wasn't surprised one bit. In the Manchester City vs Everton game, Raheem Sterling was clearly scythed down by John Stones in stoppage time but Roger East waved the City penalty appeals away. There were many other incidents that turned out to be the difference between a victory and a draw but as always, the FA tends to turn a blind eye to referees incapable of handling their duties adequately.
Watching the Tottenham vs West Ham game showed how Mike Dean was under pressure not to make any more high profile decisions as he has been under the spotlight in recent weeks. Yes, he's the experienced ref from the lot but that doesn't exempt him from their usual 'demotion to the Championship' following a poor outing. I even feel it's totally unfair to the second division having a Premier League ref that is handling a match in their league because he performed poorly in the elite league. I'd prefer if that ref sits out a few games for a week or two, so that he can reflect on what he has done.
The idea of having VAR in the Carabao Cup semifinals will be welcome. In the recently concluded pulsating encounter between Arsenal and Chelsea, Eden Hazard, hit the deck after Hector Bellerin clipped his heel but he held his shin like he'd been gunned down with a sawn-off shotgun. This is the kinda cheating VAR can easily spot and he'd be made to look like the fool for the remainder of the game, with the shame so much he would require a nun to follow him around the pitch and ring a bell Game of Thrones style. But no, we had to watch Anthony Taylor make a very poor refereeing decision to award a penalty to Chelsea, bring them back into the game. Hello VAR, where have you been all my life?
Wenger would be unavailable for the FA Cup tie with Nottingham Forest, the Carabao Cup semifinal against Chelsea and the Premier League encounter against Bournemouth, but with the improvements in communication, I'm pretty sure he'd be able to communicate with Steve Bould to pass instructions accordingly. At least, Bouldy will do something more than just chewing his gum. Arsenal's FA Cup opponents have wasted no time in offering him a cheeky hospitality invitation, to make his touchline ban a little more worthwhile.
Maybe he'd stick to his word and attend George Weah's inauguration ceremony or something.
Sayonara.
Follow Gooner Daily on Twitter  @goonerdaily. I'll follow back
Visit Gooner Daily's  Facebook page.
Click on the "Follow button" to join Gooner Daily's Mailing List
There have been banners, planes flying with messages, fans have aired their opinions, pundits and journos alike have shared their thoughts, even the players have said a thing or two but it's down to the folks that can actually do something about it – Stan Kroenke and the Arsenal Board of Directors.
It has been labelled as Arsene Wenger's worst season in his 21-year stint with the club. He crashed out of the EFL Cup to eventual finalist, Southampton, but that competition isn't high on Arsenal's priority list, so the home defeat didn't matter. Then there was the embarrassing elimination from the Champions League in the hands of Bayern Munich. Losing yet again in the Round of 16 for the seventh season in a row wasn't news, but the manner at which the team crumbled against Bayern was a real cause for concern. For the first time in 20 ish years, Arsenal finished below fierce rivals, Tottenham, in the Premier League and failed to qualify for the Champions League for the first time under Wenger's reign. However, the FA Cup triumph added some gloss to what was really a torrid campaign.
There were several factors that led to the team's poor campaign this season, which I really don't want to dwell on, but I must admit that Wenger's future played a role too. It was the discussion of the Press almost every other week even to the point where the manager stated that they lack creativity. The uncertainty surrounding his future was quite tiresome, but now that football is out of the way, it's time to sort it out once and for all.
The Board has to let everyone know their stance on the issue. If Wenger is staying, let them be clear on their expectations for the team and provide the funds he would need to buy world class talent. If he's not staying, let them announce a succession plan, which would include the new manager and their aspirations for him. 
It was believed that there was a board meeting yesterday on this matter and I'm guessing we will get feedback in the coming days.
Time for some closure on Arsene Wenger's future.
Sayonara
Follow Gooner Daily on Twitter  @goonerdaily. I'll follow back
Visit Gooner Daily's  Facebook page.
Click on the "Follow button" to join Gooner Daily's Mailing List
Friday – the day of the week we workers look forward to for more reasons than one. The best part of this Friday is that there's some Arsenal football tomorrow after the club's ambassadors had quite a productive window. There were goals for Alexis Sanchez, Olivier Giroud, Santi Cazorla, Theo Walcott, Alex Oxlade-Chamberlain, Aaron Ramsey, Chuba Akpom, Serge Gnabry and even Joel Campbell. As for Mesut Ozil, he assists when he wants.
The best part of the international window was that there were no fresh injury concerns to contend with. However, the manager has shed some light on the current situation of the club's injured lot. Laurent Koscielny would face a fitness test to confirm his availability for the Watford game but I'd prefer him to be rested for the all-important clash against Bayern Munich on Tuesday. Besides, Gabriel has been playing well and he needs more games under his belt. As for the English duo of Danny Welbeck and Jack Wilshere, Wenger confirmed that the most optimistic time of seeing Welbz will be January 2016. Knee injuries are nothing to be joked with… you can look no further than the likes of Liverpool's Joe Gomez and Danny Ings that are now out for the rest of the campaign.
Wenger spoke about Alexis Sanchez red-hot form and he hopes it continues. The Chilean has scored nine goals in his last five games for club and country and like a juggernaut, it would take some stuffing to bring him down. Alexis is such an infectious character that rubs off his influence on his teammates and we would be hoping for another class act at Vicarage Road. The boss also talked up Ozil's performance against Manchester United and he expects the German schemer to get more goals under his belt as the campaign progresses. Ozil is the kinda guy that would rather find a pass for a teammate instead of putting the ball at the back of the net but at Real Madrid, he scored 10 goals on two occasions in the 10/11 and 12/13 seasons.
Wenger is also hopeful for the lads to reconnect quickly against Watford because it has become a norm for players to have rather disjointed performances after an international break. There is the issue of jet lag due to travelling and just that general tired feel but I expect the lads to be buzzing after such an important psychological victory against one of the teams they usually get poor results against a fortnight ago. Players like Per Mertesacker, Francis Coqulein and Nacho Monreal would be refreshed because they spent the break at home watching their teammates score goals here and there.
Wenger was asked a couple of questions about his thoughts on the Premier League title race this season. Arsenal is currently two points behind Manchester City and even though its 'early days' in the campaign, staying close to the top gives you a realistic chance of winning the title. The defending champions, Chelsea, have lost three of their last five games (only Aston Villa, Newcastle and Sunderland have worse forms) and they are currently eight points behind the league leaders, Manchester City. That's three games they need to win and hope the Citizens lose if they wanna catch up. Things are pretty tight up there with the likes of Manchester United (level on points with Arsenal at 16 points) staking a claim for the title, Crystal palace and Leicester locked at 15 points each, and West Ham, Tottenham, Southampton and Liverpool not far off.
Wenger was asked about Chelsea and as you'd expect from the classy man, he maintained focus on his own team. If it was the other Portuguese bloke he would have been running his mouth like a leaking faucet. What really interested me was when Wenger was asked if this is the best chance for the Gunners to win their first league title in 11 years (damn., that's quite some time),
"At the moment we are in the fight and that's what you want. I believe we have the potential to do it and that's what we want to show now in the coming games. I've been here for 19 years and we had some turning points in the history.

When I arrived we had the financial potential to fight for the titles. After, when we moved into the new stadium, there was a period where we did not have the opportunity to fight for the title but we had to work very hard to stay at the top.

In the last two, maybe two-and-a-half years, we are back in the fight because we have the financial potential again to get the best players. When you look well at the last two years, we've brought in Ozil, Alexis, Petr Cech. That shows that we are back and are capable to fight to get the best players."
It's agreeable that money plays a huge role in winning titles and Manchester City has proved this fact, even though they have splurged quite exorbitantly. However, if you use good money to sign quality players, their quality will obviously shine through in the club. You can look no further than the two players Wenger mentioned in his response – Ozil and Sanchez. These two have galvanized the team and Alexis has risen to a talismanic status on the end of his brilliant debut campaign. It's heartwarming to know that he has picked up where he left off.
It's going to be a long campaign but the Gunners are on the right path at the moment.
Thanks to Arsene Wenger.
Sayonara
Download the Gooner Daily  BlackBerry App to receive notifications on your Smart Phone when a post is published.
Follow Gooner Daily on Twitter  @goonerdaily. I'll follow back
Visit Gooner Daily's  Facebook page.
Click on the "Follow button" to join Gooner Daily's Mailing List.