Blog Archives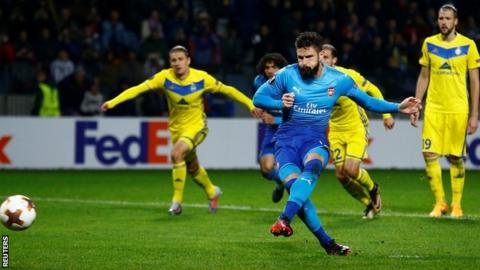 So the Champions League group stage fixtures are over and this time, we will not be scared about playing Bayern Munich or Barcelona for a change. However, we would have to be mindful of the eight teams that have gotten a second chance in Europe via the Europa League. CSKA Moscow, Celtic, Atletico Madrid, Sporting CP, Spartak Moscow, Napoli, RB Leipzig and Borussia Dortmund failed to qualify from their respective groups and would have a keen eye on the draws for the latter stages of the competition.
Arsenal on the other hand had done enough to finish as group winners, despite the fact that they put up a putrid performance against FC Cologne, and that feel-good factor has somewhat faded since that disappointing defeat to Manchester United last weekend but that's football for you – the games can't come soon enough.
Wenger would have half an eye on the Southampton game for the weekend, so ideally, he'd want to rest his big guns, allowing the fringe players and youngsters to get another run out in front of the home crowd. I'd expect to see David Ospina again in goal with Petr Cech getting a breather. The Colombian goalie hasn't covered himself in glory this season, and he has certainly put up some questionable performances this season, but that's what being a second fiddle goalie gets you these days. With club captain, Per Mertesacker, fit, he'd want to get a run out while the likes of Rob Holding and Calum Chambers would be looking for more chances to impress. I'd be hoping to see Reiss Nelson in a more advanced position than right wing back, and I'm sure that's not going to happen, with Ainsley Maitland-Niles getting a run out in the unfamiliar left wing back position.
I guess I'd have to brace my eyes for another shite fest from Francis Coquelin and Mohamed Elneny, but with Theo Walcott still 'ill', Alex Iwobi and Danny Welbeck should flank Olivier Giroud. After the run of games we had of recent, the loss to Man Utd was like a reality check but the lads actually worked their skins off but couldn't get past the impressive David de Gea. I don't expect BATE's goalie to have that kind of quality.
This is a dead rubber fixture for us in all sense of the word but it's always nice to get a win under the belt. Let's hope for a better performance that what we have been witnessing in recent Europe League matches from the Gunners.
Sayonara.
Follow Gooner Daily on Twitter  @goonerdaily. I'll follow back
Visit Gooner Daily's  Facebook page.
Click on the "Follow button" to join Gooner Daily's Mailing List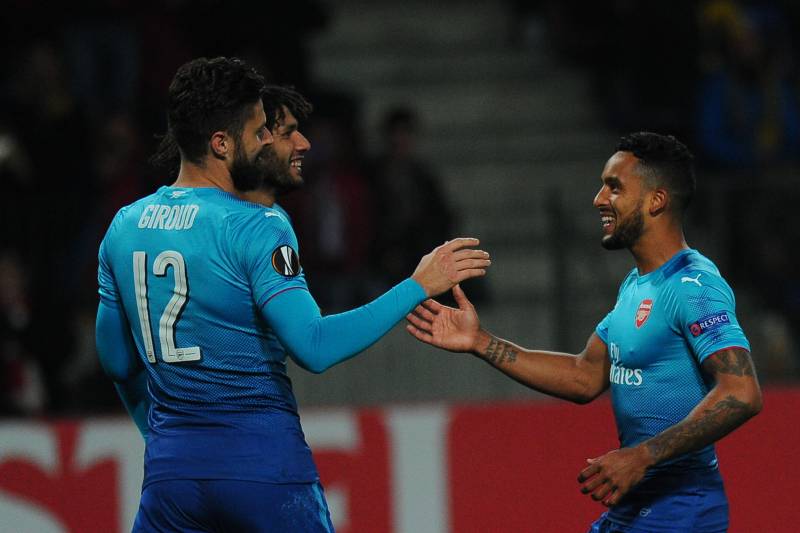 The thing I love about football is that you're only as good as your next game. When the Gunners went on that seven game winning streak that panned across three different competitions, everything seemed right in the world of Arsenal and we were hoping to capitalize on the failings of Liverpool and Chelsea to stake a claim for a top four berth, but we all know how that worked out in Vicarage Road last Saturday.
Watford beat the Gunners, fingers were pointed at the penalty and what have you, and the Arsenal universe went into doom and gloom mode. "Mesut Ozil is lazy!" (wow! like we didn't know before), "Granit Xhaka picked his nose and didn't close down Tom Cleverley". "Alexandre Lacazette doesn't play the entire 90 minutes". Loads and loads of analysis, with expert fans giving their Football Manager opinions, like they know better than a man that has been in real football management since the 1980's. Not like I'm discrediting those fans that feel they can manage the club better than Wenger, just support your club in the good times and of course, bad times, because they will always be there.
After witnessing the Champions League fixtures on Tuesday and Wednesday, I am having some excitement on tonight's game against Red Star Belgrade. Face it, my club has struggled for quite some time in the Champions League, finishing in second place only to face a Barcelona or Bayern Munich and face elimination in the Round of 16. Even when we managed to win our group last season, Bayern still managed to finish in second place, just to add more humiliation to us. 15-3 in the last three games against the Bavarians hurts a lot.
So here we are, in the Europa League, playing against farmers and randomites from countries I only see on atlases or hear in the news for one thing or the other. Did I tell you that my spelling and pronunciation has been improved since we started playing in the Europa League? C'mon we are going to the Crvena Zvezda Stadium in Belgrade. Can you pronounce the 'Z' bit without twisting your tongue? That's the freshness I'm talking about. A new adventure I've not experienced as an Arsenal fan. Yes, I was a fan when we lost to Galatasaray in the 2000 UEFA Cup final, but since Arsene Wenger took over some umpteen years ago, we have never played in Europe's second tier competition till this season.
This tournament also offers us the chance to see some youngsters and fringe players that are desperate to impress and stake a claim for a first team berth. By default, David Ospina is our Cup keeper, so his position is usually uncontested bar injuries or terrible loss of form. Forgotten man, Matt Debuchy will be in contention to play tonight, as Hector Bellerin could do with a breather. I'm pretty sure his psyche is all fucked up, missing a goalscoring chance on one end and conceding the penalty that led to Watford's equalizer on the other end. The impressive Rob Holding will have another chance to err, impress. There's a rusty captain, Per Mertesacker, that's in need of game time and the list continues.
With Debuchy's presence in right back, maybe Reiss Nelson can deputize as a right winger but with Wenger probably willing to give some game time to Theo Walcott (yeah, he still exists), Debuchy might be drafted to center back, to accommodate Walcott and Nelson on that right flank. Francis Coquelin is back from his long term injury layoff and will probably feature in central midfield alongside Mohamed Elneny. We could see Ainsley Maitland-Niles play in that unfamiliar left wing back role. Jack Wilshere is also itching for a chance to impress as well. Then there's the Handsome Bearded Frenchie, Olivier Giroud, that would certainly be favored ahead of his fellow Frenchman, Lacazette, in these sort of games.
I don't know much of our hosts, but they are sitting pretty at the top of the Serbian Super Liga, with 31 points from 12 games. They enjoyed an emphatic 4-0 victory against Macva Sabac over the weekend, so they come into the game in good form. The Gunners need to be mindful of their dangerous forward, Alesandr Pesic, who bagged his sixth goal of the season in the weekend fixture.
Team Form
Red Star Belgrade Form
Last Five Games: W W L W W
Last Result: Red Star Belgrade 4-0 Macva Sabac
Leading Goalscorer: Alesandr Pesic (6)
Arsenal Form
Last Five Games: W W W W L
Last Result: Watford 2-1 Arsenal
Leading Goalscorer: Alexandre Lacazette (4)
Predicted lineup
The potential starting XI would look like this
Bar Mertesacker, this squad is devoid of those players that had a rough night in Watford. It also offers Wenger the opportunity to access some playing positions in the team, ahead of the all-important clash against fellow strugglers, Everton, this weekend.
Till then, let's enjoy some red star freshness in Belgrade.
Sayonara.
Follow Gooner Daily on Twitter  @goonerdaily. I'll follow back
Visit Gooner Daily's  Facebook page.
Click on the "Follow button" to join Gooner Daily's Mailing List
BATE Borisov 2-4 Arsenal
Match Report – Match Highlights – Post-Match Press Conference
The start to the new campaign was quite tumultuous but Arsene Wenger has done his bit to steady the ship with two wins and a creditable draw at Stamford Bridge in the last three Premier League games. With half an eye on Sunday's lunch time kickoff against Brighton Hove and Albion, it was evident that he was going to rest a host of players ahead of the Europa League tie against BATE Borisov.
There were pictures that surfaced online before the game, showing ex-BATE and Arsenal player, Aliaksandr Hleb, catching up with the squad and taking a selfie with his former boss. Hleb was one of those players that made a great impact in the squad, being an integral part of that fantastic four midfield that challenged for the league in the 2007/08 season. Many would regard his departure to Barcelona as a terrible mistake as his career went downhill, but these things happen.
David Ospina rightly took his place in goal and with Calum Chambers still injured, Skhodran Mustafi retained his place in the defense alongside club captain, Per Mertesacker and upcoming youngster, Rob Holding completing the back three. The midfield quarter was made up of youngsters like Joe Willock, Ainsley Maitland-Niles and Reiss Nelson, with Mo Elneny providing the much-needed experience. Hector Bellerin was badly in need of a breather and with Alex Oxlade-Chamberlain gone to Liverpool's bench, Carl Jenkinson out on loan and Matt Debuchy clearly out of favor, it seems like the way has been paved for Reiss Nelson to deputize in Bellerin's stead. Jack Wilshere and Theo Walcott played behind Olivier Giroud that was still in search of his century of goals at the club.
The Gunners started the game on the front foot and finally got the lead their play deserved when Wilshere connected with Giroud before cutting the ball back from the byline. The lofted ball was headed goalwards by Walcott but Scherbitski made a superb save. Fortunately for the English winger, he was on hand to tap in the rebound. If there was some difficulty about the game's opener, there were no problems with Arsenal's second goal as a defensive error from the BATE Borisov defense left Walcott clear on goal with the goalie and he wasted no time in smashing in his second of the night.
The game was turning into a rout for Arsenal as Holding reacted fast to Mertesacker's knockdown from a corner kick to score his first Arsenal goal. Three goals up and the Gunners were cruising but BATE got a goal back through their star attacking midfielder, Ivanic. Arsenal extended their lead from the penalty spot through Giroud, and it turned out to be an emotional moment for him as he joined the elite league of Arsenal forwards to score 100 goals for the club.
Say what you want about Giroud, but he has matured a lot from that young forward in Montpellier to his bearded bloke that has popped up with really important goals for his team. A defensive error from Holding saw Gordeichuk pull one back for BATE but Arsenal had Ospina to thank for keeping the scoreline at bay as the Colombian shot stopper worked overtime with a plethora of important saves.
In the end if was a satisfying result against a team the Gunners had never played before and with many star names rested, the Gunners will be fresh for their encounter against Brighton on Sunday.
Sayonara
Follow Gooner Daily on Twitter  @goonerdaily. I'll follow back
Visit Gooner Daily's  Facebook page.
Click on the "Follow button" to join Gooner Daily's Mailing List