Blog Archives
The thing about international football is that you can choose to really concentrate on watching each game, or you can do something else and just listen to the commentary in the background. I never pass on a chance to play my beloved Football Manager 2018 (can't wait for FM 19 to come out next month) or more recently, Uncharted: Lost Legacy on my PS4, but I looked at the fixture list and decided to focus on two games – Libya vs my Nigeria and of course, France vs Germany.
With the Libya vs Nigeria game starting by 7.00pm local time and the France vs Germany starting by 7.45pm, I figured I'd combined both games while enjoying some of that FM goodness. Just before I could get settled into the Libya vs Nigeria game, the red hot Odion Ighalo stepped up again with another well taken goal following some good passing interplay from Alex Iwobi and team skipper, Ahmed Musa. That was Ighalo's sixth goal in his qualifying fixtures – a brace away at Seychelles, a hat-trick at home to Libya and of course, the match opener in Sfax, Tunisia, against the same side.
Ighalo turned from scorer to provider when he teed up Musa at the edge of the area, but the Saudi-based winger still had a lot to do as he danced his way past some Libyan defenders before scoring the most scrappy finish you'd ever see. Knowing fully well that South Africa were playing a Seychelles side they spanked 6-0 over the weekend, Nigeria sure needed every kind of goal they could get. Taking a 2-0 lead into halftime would have been very ideal in the grand scale of things but knowing African football, there were more surprises around the corner, and that happened when Libya pulled two back but Ighalo was on hand to score his sixth goal in three matches to give Nigeria all three points.
Elsewhere, Joachim Low and Germany are still struggling and one must wonder how they can get out of this slump. Following a disastrous World Cup, Germany was still the top seed for the UEFA Nations League and were paired with France and the Netherlands, but it has turned out to be a disaster as Low's side has lost two games in the group, as well as a poor draw at home to France.
They sure managed to end the rot of not scoring in three games with Toni Kroos penalty but it wasn't enough as Antoine Griezmann stepped up the plate to put the Germans to the sword.
I hope they can come out of their current predicament as they are still regarded as one of the best footballing nations but things aren't just working out for them at the mo. Really Sad
Follow Gooner Daily on Twitter  @goonerdaily. I'll follow back
Visit Gooner Daily's  Facebook page.
Click on the "Follow button" to join Gooner Daily's Mailing List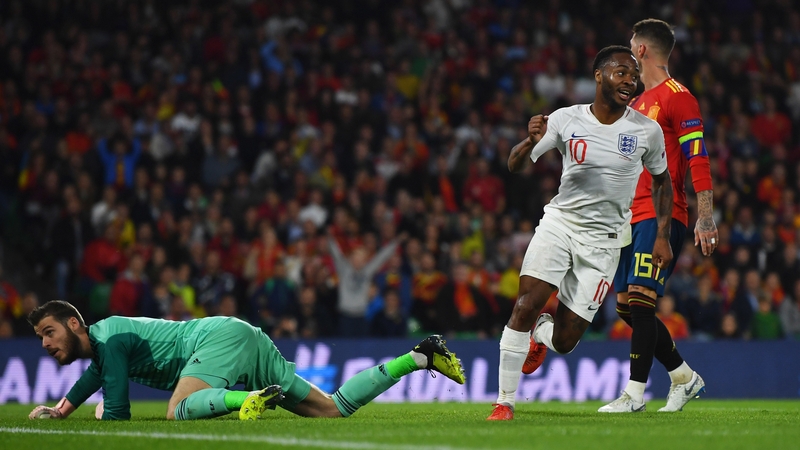 Just like me, many folks haven't gotten the full hang of this UEFA Nations League tournament but I use it as a good opportunity to watch some quality international football, as European nations field their best sides with the aim of qualifying and avoiding relegation (yes, I'm still confused on how it works but bleh).
Ok, there's Wikipedia right. Aha! It says that there are four leagues (A – D) which are assigned based on the UEFA national teams coefficients but from this tournament, things are going to change. "League A" serves as the elite league in the competition with each league having four groups of three teams each. The winners of each of the groups in League A qualify to the Nations League finals, which is a semifinal clash between the four group winners of League A, while the last placed teams in League A are relegated to League B, with their places taken by the four group winners in League B. Same way there are promotions and relegations in League C and League D.
Germany for instance, were the highest ranked team in the competition with a coefficient of 40,747, so they were the seeded team in Group 1. The other seeded teams in League A were Portugal (38,655), Belgium (38,123) and Spain (37,311). This meant that they were going to be paired with Pot 2 League A teams like France (36,617), England (36,231), Switzerland (34,986) and Italy (34,426). The teams in the League Pot 3 were Poland (32,982), Iceland (31,155), Croatia (31,139) and the Netherlands (29,866). From these 12 teams, four groups of three teams were formed.
Thanks to Germany's recent shitty form, they are currently last in their group behind France and the Netherlands which essentially means that they can be potentially relegated to League B, even though they still have a home clash with Holland and an away clash with France to go. Two League A teams have confirmed their relegations to League B, with Iceland suffering three defeats and a whopping -10 goal difference from their clashes with Belgium and Switzerland as well as Poland, whose last gasp defeat to Italy in their home turf sealed their fate. So this essentially means that we will not see the Viking clappers and Robert Lewandowski's cohorts till they get promotion from League B in the 2020/21 season.
Now that you've gotten the drift of how the UEFA Nations League works, let's talk about last night. Or wait, let's step back a bit – remember when Spain made a 1,000 passes against Russia and still crashed out on penalties at the World Cup? Or when their then manager, Julen Lopetegui, wanted to literally eat his cake and have it? The nation that has given so much to the beautiful game was a far cry of the dominant force they used to be. Suffering elimination at the Round of 16 stage of both the World Cup and European Championship was not something you'd associate with Spain but the appointment of Luis Enrique as the head coach was certainly a step in the right direction.
In his first two matches of the Nations League, he defeated England in their coveted Wembley ground and made light work of the World Cup finalists, Croatia, so when the Three Lions arrived in Seville for their second leg clash with Spain, confidence was certainly high from the home team.
What we witnessed, in the first 45 minutes at least, was a masterclass from England that coincided with a shitefest from Spain. Marcus Rashford found Raheem Sterling at the edge of the area with only David de Gea to beat and the Manchester City forward finished aplomb with a belter that left the Manchester United goalie flat footed. This was followed by a lovely Rashford goal that came to fruition from a lovely Harry Kane pass. De Gea again was found wanting as his Man Utd teammate dispatched the ball past him with consummate ease. Two goals became three when Ross Barkley's dink over the top to Kane was laid on a platter for Sterling to allow him score his second of the night and put England three goals up in Andalusia. The home crowd were certainly stunned as you'd expect but I can't take anything from what was a brilliant England team performance.
The second half saw Spain go for broke and who would blame them? Losing 3-0 at home wasn't going to go down well with the Spanish faithful, so the boss summoned the red hot Paco Alcacer and Dani Ceballos to contribute to an attack that was barraging England. Gareth Southgate's response was to bring on Kyle Walker and switch to a back three. I wasn't really convinced by Walker playing as a center back in the World Cup but my only managerial experience is at Football Manager level, so I can't really question a man that finished in fourth place in the World Cup, can I?
Anyways, Alcacer reacted well to a beautiful Marco Asensio inswinger and Jordan Pickford couldn't do anything to save such a lovely header. It was just 3-1 and certainly not enough. The onslaught from the home side continued that English lads put up a valiant show at the back. Finally, they cracked in the 97th minute from a Sergio Ramos header, but it was also the last moment of the game as the Polish ref blew his whistle afterwards. A largely entertaining game in every sense of the word.
This result put England with two points behind Spain, and it's now evident that Croatia holds the key to the destiny of that group. Luka Modric's army have two games left – against Spain and England, and if they win both, they will finish the group in an astonishing seven points, above Spain that has six and England with four. However, if Spain manages to get a draw against Croatia, they will relegate them to League B and earn a place in the semifinals.
No pressure lads.
Follow Gooner Daily on Twitter  @goonerdaily. I'll follow back
Visit Gooner Daily's  Facebook page.
Click on the "Follow button" to join Gooner Daily's Mailing List
When the draws for the World Cup were made in December, I had my reservations about my country paired in the same group with Argentina (yet again), Croatia and Iceland. For some reason, these folks at FIFA always find a way to pair my nation with the Argentines and we've always had bad sets of results against them. All I could do was to remain hopeful when it was time for the World Cup proper.
The warm up friendlies didn't inspire any confidence with losses to England, Serbia and Czech Republic but the first game of the World Cup was really poor as the Nigerians put up a torrid show against Croatia. Luca Modric and Ivan Rakitic ran the show expectedly but losing to an own goal and a penalty didn't inspire any confidence.
Then there was the second game against Iceland that came with a change in formation, which also changed the teams fortunes for the better. Two goals from Ahmed Musa put those Vikings to the sword and with Argentina suffering an embarrassing loss to Croatia, the stage was set for an all or nothing encounter when Nigeria locked horns with Argentina. I had a hunch that Croatia will be too much for Iceland, despite their comfortable position in the group, so the Croat manager opted to rest a host of his key players, giving the second string side a shot at a World Cup finals game.
To Nigeria, the mission was straightforward – avoid defeat from an Argentina side bereft of confidence and a date with France beckoned in the Round of 16. Not too hard a task, so we hoped.
Early on, a sensational pass from Ever Banega (I hope you're watching Unai) set Lionel Messi through on goal and he had a lot to do, controlling the ball to perfection before slotting it past our young goalie with his right foot. Kenneth Omeruo's defending was questionable but hey it's Omeruo of Kasimpasa, not the Varanes or Thiago Silvas of this world. Francis Uzoho had to make himself big to deny the big game bottler, Gonzalo Higuain, and received a whack on the head for his troubles.
The wind sailed to the Super Eagles side when VAR was used to determine that Javier Mascherano scythed Leon Balogun in the box. Victor Moses stepped up and dispatched the spot kick brilliantly and the momentum was with Nigeria. Football, as we all know is a game of taking chances when you get them – that's why many Nigerians are very disgusted and disappointed with Odion Ighalo at the moment. He had such a shocker in the opening game against Croatia that cost him his place in the second game. However, Kelechi Iheanacho's shite fest in the first half allowed the manager, Gernot Rohr, to draft Ighalo in his stead. The China based striker had two glorious opportunities to put his name on the back pages of every sports column today but he fluffed his chances, turning himself into a petulant baby that required bis captain to calm him down.
Late on, Marcos Rojo drifted forward and latched onto a Mercedo cross to place the ball past Uzoho and take his country into the knockout round, breaking Nigerian hearts.
But that's football for you.
Sayonara