Blog Archives
Mesut Ozil dominated the back pages for his sensational hat-trick against Ludogorets at home but the game would also be remembered for that injury sustained by Santi Cazorla to his Achilles. This had been a niggling problem for the Spaniard but we hoped it was going to be a minor issue. The days turned into weeks as the diminutive midfielder required surgery to rectify the issue and it was expected that he was going to be out of action going into the new year.
We are approaching the third month of the year, with the Gunners out of the Premier League title racer and more or less out of Europe, with the FA Cup offering some hope of silverware this season. But it's likely that the lads will have to soldier on without Cazorla as he would be out for the rest of the season, courtesy of that Achilles problem and is now scheduled to return in August.
Just like Abou Diaby and Mikel Arteta before him, Cazorla has now taken the mantle as the injury torch bearer for the club. It seems easy to forget that he had such a lengthy injury layoff last season as well, following a nasty tackle in the draw against Norwich City at Carrow Road. He was out from November till May, before making a comeback in the final game of the campaign against already-relegated Aston Villa.
This is a real cause for concern, as the midfielder has shown that he can't be relied upon to stay fit, and with Aaron Ramsey and more recently, Mohamed Elneny still having fitness issues, Wenger can only call on the erratic Granit Xhaka, Francis Coquelin and our newest central midfield option, Alex Oxalde-Chamberlain.
Nonetheless, the club has explored the option of extending the 32-year-old's contract by an additional year, which is a huge show of faith from the Arsenal staff. Santi Cazorla is such an important asset to the team but with his continued absence, the club may have to move on without him.
I wish him a speedy recovery in his bid to gain full fitness.
Sayonara
Follow Gooner Daily on Twitter  @goonerdaily. I'll follow back
Visit Gooner Daily's  Facebook page.
Click on the "Follow button" to join Gooner Daily's Mailing List
The ball is in the air and it reaches Nacho Monreal's path… The fullback sees Santi Cazorla and decides to nod the ball to his teammate's direction. It looks simple enough, all Cazorla has to do is to pluck the ball from the air and get on with things. There's Alexis Sanchez just ahead of him and Mathieu Flamini just a couple of meters away on the right. Simple enough yeah?
Then there's Norwich's captain, Gary O'Neil. A decent bloke that can never hurt a fly. As a combative midfielder, he has only one thing on his mind – to win the ball and maybe to instigate an attack. It's going to be a '50-50′ challenge as it's called in this part of the world.
Both players go for the ball and bam! Poor ol' Santi gets a whack on his knee. As you would expect, the diminutive midfielder hits the deck and he's clearly in pain. Our lead physio, Colin Lewin, rushes onto the pitch to do his thang'. Arsene Wenger doesn't say that he's obstructing the game or the kinda rubbish you'd hear from that bloke whose team gives more three points to away teams than the amount of times Luis Suarez scores.
Lewin isn't Clark Kent and he can't see that Cazorla has ruptured some ligaments but he gives the midfielder the go-ahead to continue the game. Remember that we had already lost Laurent Koscielny to what seemed to be like a hip injury during the game. Aaron Ramsey was still on the pitch so if Lewin had declared that Cazorla wasn't fit to continue the game, we would have seen a tactical shift with Ramsey deployed in the middle and either Joel Campbell or Alex Oxlade-Chamberlain coming into the pitch.
Shortly afterwards, our talisman, Alexis Sanchez aggravates his hamstring injury and Campbell comes on. Cazorla is still on the pitch. The player doesn't make things better for himself. All he had to do was to do an Arteta, you know, sit his ass on the turf and signal to the bench that he's done with things on the pitch. But like Alexis the Lion, Cazorla continues to play through the pain barrier as the game progressed.
Ramsey was having a shitefest on the right wing and Wenger decided that he had seen enough, so he removes the Welshman and brings on the Ox. All three subs used with 18 minutes plus stoppage time to spare. Cazorla is set to finish the game with a potential knee injury. It's not as if he was looking in any form of discomfort, and to me, that's the scary part.
In Arsene Wenger's post-match press conference, he was obviously asked about the injury situation of his squad,
"In the first half he [Cazorla] got a kick on the knee and it got worse. I don't know if he has jaded his knee ligament or he it was just a kick on the nerve but the worrying thing was it got worse during the game"
Oh! So he noticed!
The media started carrying all sorts of info about Cazorla's injury and we as fans didn't know what to believe again. We all knew one thing – Cazorla was not going to play against Sunderland and when Arsene Wenger was asked again in the pre-match press conference for the Sunderland game,
"As for Cazorla we don't know until he sees a specialist. There is no news on that."
Thankfully, Arsenal saw out the threat of Sunderland in Cazorla's absence as Ramsey played in the deep-lying midfield role and he scored a goal and created an assist.
Up until his injury at Norwich, Cazorla was ever-present in the Arsenal squad, making 18 appearances this season. He has missed only one game this season, which was the game after the loss to Chelsea where he earned his first red card in Arsenal colors for two bookable offences. In his first season at Arsenal, he played 49 games, amassed 46 games in his second season, his growing importance and good fitness saw him play 53 games last season which essentially means that he has played 165 games in just four seasons for Arsenal – 15 games short of all Abou Diaby's appearances in 10 seasons with the Gunners.
Accordingly to Sky Sports, Santi Cazorla has undergone surgery on his knee and he's set to be out for at least four months. Wenger revealed that the player made the decision himself to go under the knife to fix his knee,
"Santi wanted to have a chance to come back quickly so he didn't want to last too long for 25 opinions and he decided to go straight away. The guy said, 'look it's a clear case, it's a rupture of the external knee ligament'. And he said 'Okay, let's do it straight away'."
With Cazorla out for a long while, Ramsey will get an extended run at his favored central midfield role and he's relishing the opportunity,
"I'm still a bit short of fitness and it will take me a few games to get back into it but I'm pleased today with my overall contribution. I prefer to be back in the middle of the pitch, that is where I feel more comfortable and feel like I play my best football – to grab a goal and get an assist was good for me as well.

"I wish Santi a speedy recovery, and Francis as well, we have been hit hard by injuries this season but it gives players the opportunities to take.

"I have made no secret that I prefer to play in the middle and hopefully now I can stay there. My performance today was good and hopefully I can keep building on that now to play where I prefer to play."
Competition for places is stiff at Arsenal and Ramsey knows that he needs to build on what was a good performance against Sunderland.
I wish Cazorla a speedy recovery but we will have to soldier on in his absence.
Sayonara
Download the Gooner Daily  BlackBerry App to receive notifications on your Smart Phone when a post is published.
Follow Gooner Daily on Twitter  @goonerdaily. I'll follow back
Visit Gooner Daily's  Facebook page.
Click on the "Follow button" to join Gooner Daily's Mailing List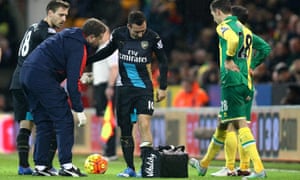 Just when things looked to be improving on the injury front with Aaron Ramsey and Alex Oxlade-Chamberlain returning to full fitness, the injury gods struck Arsenal again as the Gunners are set to lose a very vital cog in their midfield engine. Arsenal supremo, Santi Cazorla, has been a revelation in the tail end of last season, curbing his attacking instincts to let Mesut Ozil shine in the attacking midfield role, as he listened to Arsene Wenger's instructions (like Mikel Arteta) to play in a deeper midfield role alongside Francis Coquelin.
Since he made that move, Ozil has excelled in the advanced playmaker role but Cazorla has made the team tick, working hard with Coquelin to retain possession and make those killer passes in the final third. He hasn't had much joy in front of goal and his drought in the Premier League is well publicized. When the Gunners won a penalty late on against West Brom, Cazorla had gone 30+ games without getting on the scoresheet and to add to his misery, he ballooned the ball over the bar.
When the Gunners visited Carrow Road to take on a Norwich side in a poor run of form, Ozil continued his hot streak with a lovely goal but Lewis Grabban's effort before the stroke of half time leveled the contest for the home side. Sadly, those turned out to be the goals of the game as it ended in a stalemate but Arsenal suffered far more consequences as Laurent Koscielny suffered what seemed to be like a hip injury, Alexis Sanchez aggravated his hamstring strain and Santi Cazorla suffered a knee injury after a clash with Gary O' Neil. While Alexis and Koscielny had the 'luxury' of being substituted in the game with Gabriel Paulista and Joel Campbell coming on as replacements, Cazorla played the entire game with the injury and probably added to his woes.
Now Arsenal will be without its first choice central midfield pairing for quite some time as Cazorla will join Coquelin in the treatment table for three months. The Gunners are already without Jack Wilshere (ankle), Tomas Rosicky (knee), Danny Welbeck (knee), Theo Walcott (calf), Francis Coquelin (knee), Mikel Arteta (calf) and Alexis Sanchez (hamstring).
For the second season in a row, the Gunners would be without so many midfielders and one must wonder what Arsene Wenger would do in the wake of yet another injury plague. As it stands, Arsene Wenger can select only Aaron Ramsey and Mathieu Flamini as his first choice central midfield pairing and the 'educated' Calum Chambers would serve as backup to the Flam in the holding role.
I only hope that the Gunners can avoid any more injuries because we are walking on a very tight rope now.
Sayonara.
Download the Gooner Daily  BlackBerry App to receive notifications on your Smart Phone when a post is published.
Follow Gooner Daily on Twitter  @goonerdaily. I'll follow back
Visit Gooner Daily's  Facebook page.
Click on the "Follow button" to join Gooner Daily's Mailing List