Blog Archives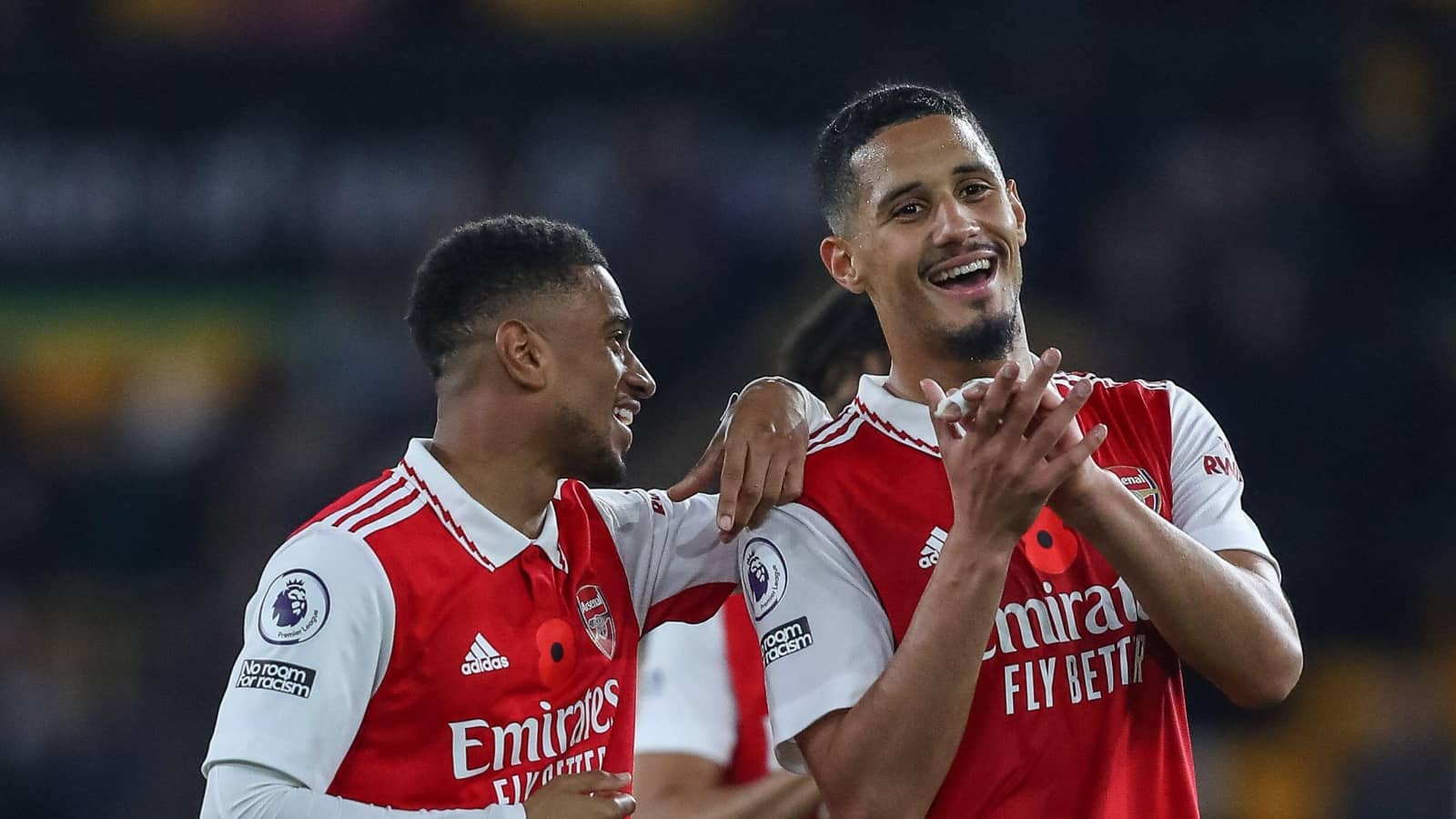 After three campaigns in the French trenches, William Saliba made his breakthrough last season, forging a telepathic partnership with Gabriel to form one of the best defenses in the Premier League. Saliba's performances were so good that he earned a place in the French 2022 FIFA World Cup squad and he grew in influence with each passing game. Goals were also added to his repertoire and when he finally suffered a back injury in the business end of the campaign, Arsenal suffered terribly for it, with Rob Holding coming into the fray and unleashed the inner Harry Maguire in Gabriel.
Arteta was hopeful that Saliba's back injury would eventually be healed, and was relieved when he was told that the defender wouldn't require any surgery, but inevitably, Saliba could not feature anymore for the remainder of the campaign, and Arsenal had to soldier on without him. One can assume that Saliba's injury issue in his first full season, in addition to Takehiro Tomiyasu's consistent injury layoffs prompted Arsenal to go all out for Jurrien Timber, who provides very good depth and quality in the center back and right back.
With Saliba signing a five-year deal when he joined the club in 2019, there was the looming issue of his contract extension, as he had grown to become one of the best defenders in Europe, especially at such a young age. Arteta and Edu Gaspar had done very well to secure deals for Gabriel, Gabriel Martinelli, Aaron Ramsdale and Bukayo Saka last season, so it was evident that these guys were onboard with the project and it was a matter of time before Saliba followed suit. It has been reported that Saliba has signed a new contract extension with the club, which is very amazing news. Saliba is one of the best defenders in the Premier League and there is so much room for improvement.
Arteta and Edu are obviously happy that their man has renewed his deal with the club,
"We are so happy to have signed a new deal with William Saliba. William is part of our vision to keep our talented young players, who will hopefully be successful with us for many years to come, so that we can grow and progress together. I know the supporters will be just as happy as we are to see William continue with us in the future."
Mikel Arteta added,
"To have William extend his contract with us was something we have wanted to do for a long time. William proved last season just how good and how important he is to our squad."
The contract extension also saw the Frenchman change his jersey number to #2, the same number he wore for Olympique Marseille in his pivotal loan stint with them. The number had been vacated since Hector Bellerin left the club for pastures anew in his native homeland of Spain. In his post-contract signing interview, Saliba has declared his ambitions, stating that he wants to win everything at Arsenal. The club is certainly in the right direction and Saliba has a big role to play in it.
In addition to Saliba, the last minute goalscoring hero against Bournemouth, Reiss Nelson, has also signed a contract extension with the club. Nelson's situation was a bit scary because he had officially gone beyond the June 30th mark and actually a free agent eligible to get a new contract with any other club that wanted his services. There was some talk of Brighton interested in his services, but it's evident that he loves Arsenal through and through and from all indications, he will be Bukayo Saka's backup, putting him ahead of Nicolas Pepe in the pecking order. Nelson is a very attacking player that hasn't truly lived up to the potential we know he has, but staying with the lads will give him the opportunity to continue to improve, as his play needs some much needed upgrade.
Nelson and Saliba extending their contracts is awesome news, especially with he fact that Arsenal has been on a very positive trend this summer, securing deals for Kai Havertz, Declan Rice and Timber.
Edu Gaspar will need to change his focus on trimming the squad, as the lads have returned from their holidays and will be making plans to travel to Germany to take on Nuremberg.
Sayonara.
Follow Gooner Daily on Twitter  @goonerdaily.
Visit Gooner Daily's  Facebook page.
Click on the "Follow button" to join Gooner Daily's Mailing List
Saliba has been one of the revelations of the season following a breakthrough campaign after three loan spells in the French Ligue Un. His numbers for the team this season, up until his injury at Fulham which was aggravated in the Round of 16 Europa League loss to Sporting CP were quite staggering.
Key Stats: 
Games Played – 27
Clean Sheets – 12
Discipline – Four Yellow Cards
Attacking Output – Two goals, One Assist
Tackles Per Game: 1.3
Interceptions Per Game: 0.7
Aerial Duels Won Per Game: 2.0
Clearances Per Game: 3.0
Dribbled Past Per Game: 0.1
Blocks Made Per Game: 0.4
Average Passes Per Game: 69
Long Balls Per Game: 2.4
Key Passes Per Game: 0.2
Pass Completion Percentage: 91%
While it has undoubtedly been a standout campaign for Saliba, it is also worth noting that he's in his fourth year of the five year contract he signed with the club, which brings us to the precarious situation of a player going into the summer with only a year left on his contract. He can sign a new bumper deal that will tie him for five more years, or nine years, if you're Chelsea, see out his contract and leave on a free transfer next season, or gets sold to the highest bidder as the club doesn't wish to lose out. With Saliba, we hope it's the first criteria on the list.
He's just 21 and has his best years ahead of him. In the 27 Premier League games he played, his quality shone through and he formed quite a partnership with Gabriel, which was one of the best in the Premier League. In terms of his connection with the fans, Saliba has no issues there. They already have his song and he clearly loves it at North London, so all that is required at this point is for his representatives to reach an agreement with the Arsenal hierarchy to extend his stay at the club.
Saka recently signed a new deal with the club in a season where the futures of Gabriel, Gabriel Martinelli and Aaron Ramsdale have been secured. Arsenal are also making plans to extend the contract of Reiss Nelson and Martin Odegaard, so it is evident that Mikel Arteta wants to keep the core of the team that was outstanding in the Premier League this season. 
It has been reported that Saliba's reps have rejected Arsenal contract offer and are pushing for higher wage demands. For a player of his ability and bludgeoning reputation, there is a certain expectation that comes with it, and I am hopeful that both parties can reach a common ground and conclude this affair, so that it doesn't become a protracted saga. 
Sayonara.
Follow Gooner Daily on Twitter  @goonerdaily.
Visit Gooner Daily's  Facebook page.
Click on the "Follow button" to join Gooner Daily's Mailing List
With the first set of European club football semifinals out of the way, English teams like Manchester City and West Ham will have to return to the business of the Premier League this weekend, before locking horns with their opponents a second time in midweek. Arsenal had an opportunity to go far in the Europa League but were halted in the Round of 16 when 120 minutes of football couldn't settle the contest against Sporting CP. Penalty shootouts ensued and the Gunners crashed out when Gabriel Martinelli missed the critical kick. 
As if losing to Sporting CP wasn't bad enough, Arsenal also suffered major setbacks with William Saliba and Takehiro Tomiyasu got struck with injuries that kept them out of the side. Tomiyasu required surgery straight away to mitigate the knee injury and was scheduled to be out for months. Saliba, on the other hand, was monitored for his back injury, and while he stayed on the sidelines, while the likes of Rob Holding, and more recently, Jakub Kiwior, took his place in the side, playing alongside Gabriel in the heart of the Arsenal defense. 
After several weeks of hoping for Saliba to make his comeback at some point in the campaign, all hopes have been dashed as it has been confirmed that the French defender will be out for the rest of the season. One can only hope that Saliba will recover in time to feature in pre-season for the 2023/24 campaign, but it has been one hell of a year for the center back in his first full season as an Arsenal player. When he was signed as an 18-year-old with the usual 'huge potential' tag on his shoulders, we had to wait for three full seasons as he refined himself in the French Ligue Un, featuring for AS Saint Etienne, OGC Nice and Olympique Marseille, before Mikel Arteta felt that it was time for him to make the setup, and he wasted no time in shunting his 50 million quid man, Ben White, to the right back spot to accommodate Saliba.
Saliba's performances earned him a place in the Premier League Team of the Season, despite the fact that he played only 27 games. Arsenal currently has Rob Holding, Jakub Kiwior and the returning Auston Trusty in the side, but it's believed that the Gunners might still go into the transfer window to sign a center back, with names like Marc Guehi of Crystal Palace mentioned. It's sad to lose Saliba for the remainder of the campaign, but we have to soldier on without him, as the Gunners continue to push Manchester City to the limit in the title chase. 
In more unfortunate injury-related news, it has been reported that Oleksandr Zinchenko has suffered a recurrence of his calf strain that will rule him out for the remaining games of the season. Since his arrival in the team this season, Zinchenko has revolutionized our attacking play with his style of play, doubling up as a left back and a central midfielder, enhancing the way the team approaches the attacking play. Zinchenko, like Saliba, earned a place in the Premier League Team of the Season, and it was rightly deserved. His performances also kept an established player like Kieran Tierney out of the team.
Tierney will clearly be the beneficiary of Zinchenko's unfortunate absence in the side, but it will be interesting to see if Tierney would take the 'Zinchenko' role, or just strut his stuff as a traditional left back, bombing that flank while supporting Gabriel Martinelli or Leandro Trossard. 
Sayonara.
Follow Gooner Daily on Twitter  @goonerdaily.
Visit Gooner Daily's  Facebook page.
Click on the "Follow button" to join Gooner Daily's Mailing List