Kim Kallstrom: 10 Things You Need to Know About Arsenal's New Signing
Arsene Wenger is an enigmatic and unpredictable manager.
While the fans waited anxiously for that big-name marquee signing, the Gunners launched a shock transfer deadline day loan move for experienced Swedish midfielder, Kim Kallstrom.
This move comes as a big surprise to the fans and media, as many had expected some major fireworks and like the Nacho Monreal signing on the winter transfer deadline day last season, Arsene Wenger's hand was forced by the injury suffered to a key player like Aaron Ramsey coupled with Mathieu Flamini's suspension after his moment of sheer stupidity in St. Mary's.
Without further ado, here are 10 things you need to know about Arsenal's latest signing.
He Has a Cultured Left Foot
Kim Kallstrom ranks high up with the most cultured left footers in the business. His passing stats might not tickle your fantasy, but it's worth noting that Kallstrom is one of the best long ball passers in the beautiful game. According to WhoScored, Kallstrom averages 8.7 accurate long balls per game – 11th most in Europe for outfield players and 4.0 more than any England midfielder.
He's also renowned for his free kick taking ability which could come in handy in a club like Arsenal that has players that could win fouls in dangerous areas. Feel free to feast your eyes on his delightful free kicks and other goals in this YouTube compilation below.
He Has Over a Century Appearances for the Swedish National Team
Kallstrom made his international debut as far back as 2001 in a Scandinavian derby against Finland. Since then, he has featured for his nation a staggering 108 times, scoring 16 goals.
In Euro 2004, Kallstrom was part of the Sweden side that topped their group featuring Bulgaria, Italy and fellow Scandinavians, Denmark. However, they were knocked out on penalties by Holland in the quarterfinals on penalties after a goalless stalemate. In the 2006 FIFA World Cup, Kallstrom was part of the 23-man squad that traveled to Germany and the Swedes qualified to the Round of 16 behind England. Unfortunately, two goals from Germany's Lukas Podolski was enough to send the Swedes packing.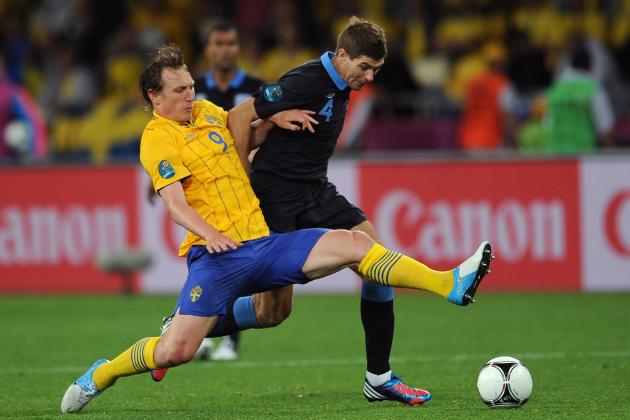 Kallstrom was part of the Swedish squad that played in Euro 2008 but they didn't go beyond the group stages as they were paired in the same group with Russia and the eventual winners, Spain. The Swedes also suffered the ignominy of failing to qualify from the group stages in Euro 2012 as they finished bottom of their group.
One of Kallstorm's fondest memories on the international stage will probably this stunning free kick against Holland.
He Won Some Trophies at Olympique Lyonnais
At Arsenal, many players haven't gotten that feeling of winning any silverware of any sort, but Kallstrom had some trophy-laden years in his six-year stint with French juggernauts, Olympique Lyonnais. Kallstrom was part of the Lyon that was a dominant force in Ligue 1, and in the 2006/07 season, Lyon won the Ligue 1 with 81 points, while second-placed Marseille were 17 points behind them with 64 points.
Fred led the goalscoring charts for Lyon that season with 11 goals, while the legendary free kick specialist, Juninho Pernambucano scored 10 goals (probably all free kicks) and Florent Malouda scored 10 goals as well.
In the 2007/08 season, Lyon retained their title and Kallstrom was still part of that team but unlike the previous campaign where Lyon ran away with the Ligue 1, it was a close shave as they ended the campaign with 79 points while Bordeaux finished as runners up with 75 points. Karim Benzema was the top scorer with 20 goals but he was poached by Real Madrid for big bucks that summer.
Kallstrom has also won the Coupe de France (French version of the FA Cup) on two occasions and the Trophee des Champions (French "Community Shield") on two occasions as well.
A player with this kind of title-winning mentality can rub off on the other lads that having never had the feeling of standing on a podium.
He Has Had His "Moment of Madness"
When you think of Mario Balotelli's antics in England or more recently, Pablo Osvaldo's shenanigans at Southampton, you'd know that footballers could have fits of madness on a couple of occasions in their career. Kim Kallstrom, despite renowned for being a level-headed player, earned himself a red card when he spat on the linesman in Lyon's defeat to Toulouse FC in 2007.
He apologized to his teammates after the game but he still served that suspension. Even if they lost three points on he night, it didn't really matter because they won the league title anyway.
He's a Very Versatile Player
As an Arsenal fan, it's very interesting to know that Arsene Wenger tends to favor midfielders that can play a couple of positions on the pitch and this has been a major highlight of Arsenal's campaign this season. Despite the fact that they learned their trades while playing through the middle, Aaron Ramsey and Jack Wilshere have played on the flanks as well.
Kallstrom is a versatile midfielder capable of playing in a defensive holding role or even attacking further up the pitch. In his Lyon days, he even played on the left wing to provide cover during an injury crisis. At Arsenal, his versatility would definitely come in handy.
He's a Force to be Reckoned With in the Air
In Sweden's run to the Euro 2012 finals in Poland and Ukraine, the Swedish national team were ranked as the eighth side in terms of headed duels won (57.7%). Sweden also had a couple of headed goals as well in the qualifiers, ranking them among the best headers in Europe.
In 10 games for Spartak Moscow this season, Kallstrom has amassed at least 1.1 aerial duels won per game and at 6′ 1″, he could contribute to Arsenal's cause aerially, both offensively and defensively, like the superb Olivier Giroud.
He Has Showed Off His "Soft Side" When He Comforted a Mascot Suffering From Autism
Sweden's World Cup qualifier with Germany will always be remembered as the game the usually efficient German machines threw away a four-goal lead, but before kick off, the media ran out of superlatives for Kallstrom when he was pictured comforting an eight-year-old Max, who was suffering from Williams Syndrome, a form of autism.
Max was sensitive to noise and in a stadium filled up with 49,251 fans, the noise levels were incessant. Kallstrom helped the lad through his big moment and the boy's dad waxed lyrical about Kallstrom's actions afterwards,
"Because of your actions, Kim, my son could experience precisely the same emotions as everyone else who has been a mascot: pride, a sense of being special, 'I did it' and an immense joy"
He's a Tenacious and Combative Defensive Midfielder
In the yesteryear, Roy Keane and Patrick Vieira stood out as the leading tenacious and combative midfielders in the Premier League but as the years advanced, players like Chelsea's Claude Makelele, Bolton's Ivan Campo, Everton's bald combo of Lee Carsley and Thomas Gravesen graced the league but in recent times, these sort of players aren't in every team.
Leading Premier League clubs like Chelsea can boast of John Obi Mikel for such a category, Liverpool has Lucas Leiva, Manchester City have Fernandinho and Yaya Toure and while Michael Carrick remains the alpha-dog in Manchester United's defensive midfield, he isn't the exact definition of the words "tenacious" and "combative".
At Arsenal, there's a certain Flanimal that has graced his second coming with some inspiring performances, a goal against Cardiff and most recently, a suspension, but it's heartwarming to know that he'd joined by another midfielder in that class, Kim Kallstrom.
According to WhoScored, Kallstrom has amassed a total of 15 tackles, nine interceptions, committed 17 fouls and three clearances in the 10 games he played for Spartak Moscow this season.
He Has Played at the Emirates Already 
Kim Kallstrom may be in line to make his Arsenal debut against Crystal Palace on Sunday but this is a football ground he's all too familiar with – having played in his Swedish national team colors in a friendly against Brazil at the Emirates.
He has also played for Lyon in the preseason summer tournament, the Emirates Cup, so he may be feeling nostalgic when he takes onto the Emirates Stadium for his first stint in England.
He Will Add Depth to the Squad
I don't expect Kallstrom to walk straight into the team with the abundance of talent available at Arsene Wenger's disposal but his quality would be welcomed as he'd add some depth to Arsenal's heavily-stacked midfield. With Ramsey injured, Flamini suspended, Wilshere recuperating from an ankle knock and Arteta still in conditioning phase, Kallstrom has the golden opportunity to strut his stuff in front of an expectant home fans.
Conclusion
I firmly believe that Kallstrom was a good addition to the team and as the injuries keep rampin up, Arsene Wenger can rest assured that he has adequate cover. One of those men is Kim Kallstrom.
Sayonara.
You can download the Gooner Daily  BlackBerry App to receive notifications on your Smart Phone when a post is published.
You can follow Gooner Daily on Twitter  @goonerdaily. I'll follow back
Feel free to visit Gooner Daily's  Facebook page and click on the like button.
You can also join Gooner Daily's Mailing List to get notifications of new posts by email by clicking on the Follow button