Blog Archives
Edward Keddar Nketiah is an English professional footballer that currently plays as a forward for Arsenal London. At only 18 years-old, he managed to score in what was his first kick ever in Arsenal's jersey and helped the gunners win their cup contest against Norwich.
He made his debut with Arsenal in the Europa league against Bate Borisov, replacing Joe Willock in the 72nd minute in what was a great 4-2 victory for the gunners.  If you're interested in learning more about this 18-years-old striker that may just be the future for Arsenal's attack, keep reading this article.
Started Football at Chelsea
Eddie first got into the world of professional football at Chelsea, the life-long London rivals of Arsenal. He progressed through Chelsea's ranks step by step and everything seemed to work out just fine for the youngster, however, in 2015 he was told that he won't continue his career there. This was the cue for Arsenal that immediately invited Eddie for a trial and only a week later he was signed by them on scholarship forms.
Climbing the Ladder
Now playing for the team he was a fan of ever since he was a little kid, Nketiah started to climb the ladder and after a short period, he earned his spot in the U18 Arsenal team. His talent was quickly catching the eye of Arsenal bosses and the fact that he started to score in almost every game also helped his ascension towards the first team. His stats were remarkable for the U18 team, Eddie scoring 24 goals in the 28 matches he played for the Gunners.
His impressive form during the U18 season made him the perfect candidate for the jump to the U23 for the 2016-217 campaign. Again, he kept his form and scored more than 20 goals, a performance that won him a spot in the team that went to play for the pre-season tour in Australia and China. There Eddie made his appearance in matches against Sydney FC, Bayern Munchen or even his former team, Chelsea.
It was only natural that, after such a good run in his first years with Arsenal, Eddie was rewarded with his first professional contract that he signed in September 2016. As if it wasn't already very clear, this is the moment when he officially committed to Arsenal on long-term. Totally aware of the importance of signing this contract, Nketiah declared that he signed it by working hard and always trying to improve. He also said that he'll keep doing the same thing since the goal is to become a regular in the first team and really make an impact on Arsenal's play.
What Does the Future Hold?
Since he is already training with the first team on a regular basis, the questions about his future at the club are just a natural follow-up. Having already scored two goals for Arsenal's main team after coming from the bench, Eddie seems like the perfect solution for Wenger in times of need. But even so, the club must surely have a well-devised plan for his future since you can't just let a diamond like that fade away.
The usual approach in situations like this one is to keep playing him in the first team as a substitute and, when the time comes, going for a loan so that he can gather more minutes in the first eleven of another Premier League team. This seems like the best move for Arsenal in the development of what could be their next big star, Eddie Nketiah.
Support from Thierry Henry
Even former Arsenal legend, Thierry Henry is totally ready to make a bet regarding the strength and future of Eddie Nketiah. The Frenchman that worked with Eddie at the U18 team had enough time to observe the development and sheer talent of the youngster and stated that he is certain Nketiah will be able to score goals even when he will turn 60. Henry continued the praises towards the youngster and said that Eddie is a great kid with awesome skills. He was always on time, hard-working and always eager to learn and improve.
When you get so much praise from a player like Henry, you really must be doing something right. And if you thought that's already a lot of recognition, you might want to wait and hear what else the Frenchman had to say about Eddie. In an interview he said that even though Nketiah isn't a fancy player, he is very efficient and lethal in front of goal and it just seems that every time he gets on the field, he will definitely score.
So, it seems that the world of football just got another rising star in the person of Eddie Nketiah and only time will tell what his mark on international football will be. Either if Arsenal decides to give him a shot in the first team or decides to continue with a loan to another Premier League team where the youngster can gain some more experience, one thing is certain: we are witnessing the birth of what can be the biggest star of English football. It's only up to him to stay focused and avoid being pulled-aside by all the media attention he is now receiving.
This brilliant article was written by Alex Norwood, a huge football faN
Follow Gooner Daily on Twitter  @goonerdaily. I'll follow back
Visit Gooner Daily's  Facebook page.
Click on the "Follow button" to join Gooner Daily's Mailing List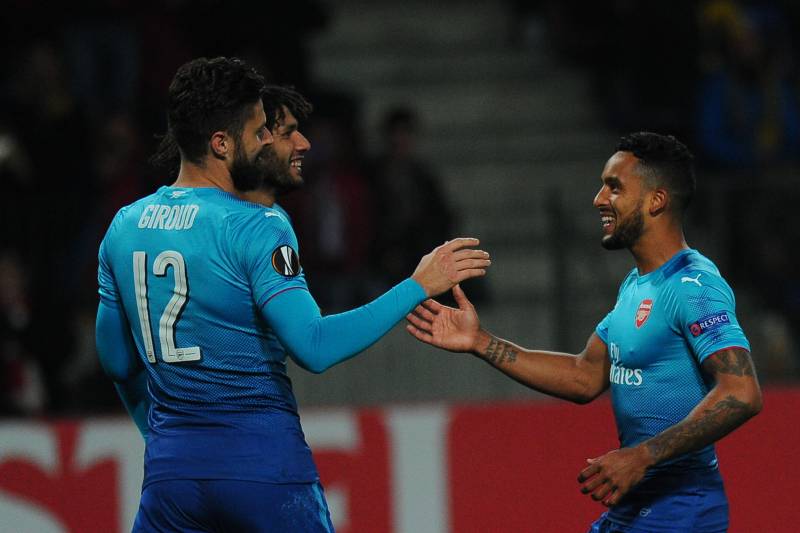 The thing I love about football is that you're only as good as your next game. When the Gunners went on that seven game winning streak that panned across three different competitions, everything seemed right in the world of Arsenal and we were hoping to capitalize on the failings of Liverpool and Chelsea to stake a claim for a top four berth, but we all know how that worked out in Vicarage Road last Saturday.
Watford beat the Gunners, fingers were pointed at the penalty and what have you, and the Arsenal universe went into doom and gloom mode. "Mesut Ozil is lazy!" (wow! like we didn't know before), "Granit Xhaka picked his nose and didn't close down Tom Cleverley". "Alexandre Lacazette doesn't play the entire 90 minutes". Loads and loads of analysis, with expert fans giving their Football Manager opinions, like they know better than a man that has been in real football management since the 1980's. Not like I'm discrediting those fans that feel they can manage the club better than Wenger, just support your club in the good times and of course, bad times, because they will always be there.
After witnessing the Champions League fixtures on Tuesday and Wednesday, I am having some excitement on tonight's game against Red Star Belgrade. Face it, my club has struggled for quite some time in the Champions League, finishing in second place only to face a Barcelona or Bayern Munich and face elimination in the Round of 16. Even when we managed to win our group last season, Bayern still managed to finish in second place, just to add more humiliation to us. 15-3 in the last three games against the Bavarians hurts a lot.
So here we are, in the Europa League, playing against farmers and randomites from countries I only see on atlases or hear in the news for one thing or the other. Did I tell you that my spelling and pronunciation has been improved since we started playing in the Europa League? C'mon we are going to the Crvena Zvezda Stadium in Belgrade. Can you pronounce the 'Z' bit without twisting your tongue? That's the freshness I'm talking about. A new adventure I've not experienced as an Arsenal fan. Yes, I was a fan when we lost to Galatasaray in the 2000 UEFA Cup final, but since Arsene Wenger took over some umpteen years ago, we have never played in Europe's second tier competition till this season.
This tournament also offers us the chance to see some youngsters and fringe players that are desperate to impress and stake a claim for a first team berth. By default, David Ospina is our Cup keeper, so his position is usually uncontested bar injuries or terrible loss of form. Forgotten man, Matt Debuchy will be in contention to play tonight, as Hector Bellerin could do with a breather. I'm pretty sure his psyche is all fucked up, missing a goalscoring chance on one end and conceding the penalty that led to Watford's equalizer on the other end. The impressive Rob Holding will have another chance to err, impress. There's a rusty captain, Per Mertesacker, that's in need of game time and the list continues.
With Debuchy's presence in right back, maybe Reiss Nelson can deputize as a right winger but with Wenger probably willing to give some game time to Theo Walcott (yeah, he still exists), Debuchy might be drafted to center back, to accommodate Walcott and Nelson on that right flank. Francis Coquelin is back from his long term injury layoff and will probably feature in central midfield alongside Mohamed Elneny. We could see Ainsley Maitland-Niles play in that unfamiliar left wing back role. Jack Wilshere is also itching for a chance to impress as well. Then there's the Handsome Bearded Frenchie, Olivier Giroud, that would certainly be favored ahead of his fellow Frenchman, Lacazette, in these sort of games.
I don't know much of our hosts, but they are sitting pretty at the top of the Serbian Super Liga, with 31 points from 12 games. They enjoyed an emphatic 4-0 victory against Macva Sabac over the weekend, so they come into the game in good form. The Gunners need to be mindful of their dangerous forward, Alesandr Pesic, who bagged his sixth goal of the season in the weekend fixture.
Team Form
Red Star Belgrade Form
Last Five Games: W W L W W
Last Result: Red Star Belgrade 4-0 Macva Sabac
Leading Goalscorer: Alesandr Pesic (6)
Arsenal Form
Last Five Games: W W W W L
Last Result: Watford 2-1 Arsenal
Leading Goalscorer: Alexandre Lacazette (4)
Predicted lineup
The potential starting XI would look like this
Bar Mertesacker, this squad is devoid of those players that had a rough night in Watford. It also offers Wenger the opportunity to access some playing positions in the team, ahead of the all-important clash against fellow strugglers, Everton, this weekend.
Till then, let's enjoy some red star freshness in Belgrade.
Sayonara.
Follow Gooner Daily on Twitter  @goonerdaily. I'll follow back
Visit Gooner Daily's  Facebook page.
Click on the "Follow button" to join Gooner Daily's Mailing List
Hindsight, they say, is usually crystal clear. We as football fans want the very best for Arsenal football club, and that includes the players, the manager and everything in general. But with this club, you don't even know what to expect. One minute, the club is going on a four game winning streak in the league, next minute, they are struggling to break down a Watford side and eventually get beaten.
I used to really love writing about Arsenal everyday. Heck, I even called my blog 'Gooner Daily'. I've ran the blog for seven years and I've published over 1,600 articles on this site, but in recent times the zeal to write about the club I love so much has somewhat diminished. Maybe it's because of work, because that takes a lot from me, maybe it's because I don't have a deputy to hold the fort for me when I'm not available for one thing or the other. But it's fine. I'm back now and I hope I'd be consistent enough.
There's no point opening up wounds from the Watford loss over the weekend, so we can only look forward to the Europa League tie, the weekend fixture against Everton and hope to build another consistent run of results. Hey, since losing 4-0 to Liverpool in August, we hit great strides, four wins on the bounce in the Premier League, two wins in our maiden Europa League competition and a comfortable win in the Carabao Cup, but I'm here to talk about Wojciech Szczesny, our ex-Gunner that currently plies his trade in Juventus and is certainly the heir apparent to the legendary Gianluigi Buffon.
This summer, I wrote an article about Szczesny's potential move to Juventus and I was in crossroads on this issue. In my honest opinion, I felt the manager knew his squad enough to see that he couldn't accommodate Szczesny in it anymore and as opportunistic as the signing of Petr Cech may seem, his arrival certainly meant that Wenger had to make a big decision between Szczesny and David Ospina and even though his initial move to AS Roma was on loan, I was certainly sure that he was on his way out of the club.
The Polish goalie returned from his first spell with the Italian outfit, and Arsene Wenger clearly had no plans for him last season, so he was shipped to the same club where he continued his footballing education and added a Golden Glove to his individual collection of accolades. With Szczesny having just a year left on his deal, the Gunners cashed in on him, and Juventus got their man for €12.2 million.
So we as Arsenal fans had 'moved on' from the Szczesny issue. There were a lot of arguments in several forums like my Arsenal BlackBerry group, Gooner Daily, where some fans believed it was a grave mistake to offload him the way we did, leaving a shaky goalie like Ospina for another season. Ospina has already showed his frailties this season in the Europa League and fans of international football can attest to the fact that he had moments of horror for his nation, Colombia.
We certainly trust Cech enough to use him in the Premier League while Ospina manages the Cup games and we were okay with our goalkeeping situation at the moment, but Szczesny speaks to some folks at the Independent about his life at Arsenal and his new adventure with Juventus and you can't help but feel some type of way after reading the article.
I'm in no mood to quote some of the words Szczesny stated in the interview, hey, there's a link, so you could check it out yourself but he mentioned stuff about improving after he left Arsenal as well as the difference in approach from his days at Arsenal to his time in the Serie A, which he attests to the fact that they are more analytical in the Serie A than in his time at London Colney. He was also specific about the impact the coaches had at Roma, compared to Arsenal, which was an eye opener for me.
I started asking myself questions like, 'why did we have goalkeepers that showed the same traits for that odd error in them consistently?'. C'mon, Manuel Almunia, Jens Lehmann, Lukasz Fabianski, Szczesny, Ospina and even Cech have dropped clangers and made high-profile mistakes while guarding between the sticks at the club. I'm not saying no goalie isn't capable of committing a blunder every now and then, but some goalies were ticking time bombs at the club.
Does this have to do with the kind of goalkeeping coaching they receive? I like Gerry Peyton and I feel he's a living legend, but I thought we were going to shake things up at the backroom staff level, and with Lehmann joining the coaching ranks, I was hopeful he'd supplement the goalkeeping department, but word on the street is that Lehmann isn't specifically working with just the goalies. We had a good goalkeeping coach in Tony Roberts but he moved to Wales with Lukasz Fabianski. I was hoping Christophe Lollichon would join Cech when he moved from Chelsea but that never came into fruition.
Cech is reaching his twilight years and I expect him to give us maybe 2 more seasons but in Szczesny we would have had a good succession plan, but that's no longer possible with the goalie now convinced in his heart that Juventus is the place for him.
I always get chills when watching Ospina between the sticks because I just feel he's one mistake away from costing us, irrespective of the opposition, so I'm just hoping that when Wenger decides to leave in 2019, the new manager would come in to shake things up and will probably sign a new goalie. We know the current manager is quite sentimental in his decision making because I don't see how a manager would favor Ospina ahead of Szczesny in this modern time and age.
Sayonara.
Follow Gooner Daily on Twitter  @goonerdaily. I'll follow back
Visit Gooner Daily's  Facebook page.
Click on the "Follow button" to join Gooner Daily's Mailing List