Category Archives:
Injury News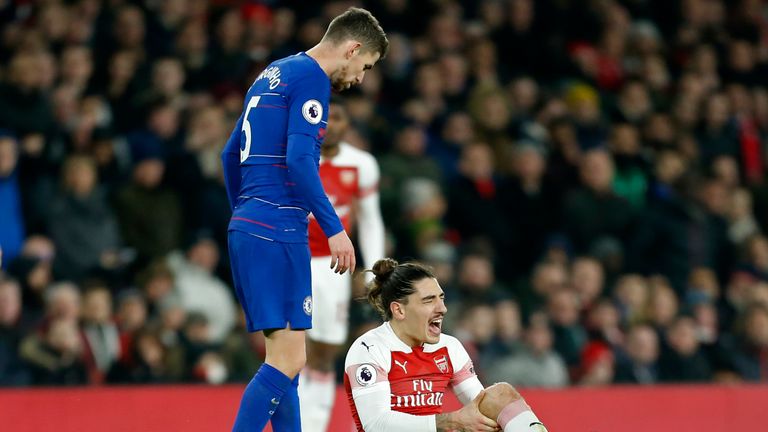 *removes cobwebs*
*evicts Spiderman – his rent was overdue anyways*
So I haven't published a post on this blog in four months…
For a guy that has written over 1,500 posts in nine years, it's simply not good enough, and for that I apologize. I've always longed for someone to hold the fort while I am away but that didn't happen, but it's not enough not to write in four months. But it's cool – I'm back like Hector Bellerin would be after six to nine months.
It's really sad to see our best right back suffer such an injury that could be career threatening, but I take some solace in the fact that he would be given the best medical assistance required for a speedy recovery. His surgery is scheduled to take place in Spain while he would return to London to start the grueling rehabilitation process.
Hector Bellerin had regressed as a footballer in recent seasons but he picked up some form under the tutelage of Unai Emery. With five assists to his name, he beefed up his creative numbers and you can't underestimate his importance to the way we play our football under the new gaffer. After hitting a good streak of form, he suffered a setback with a calf injury that sidelined him for a while and he was eased into action by the manager, only to sustain this latest injury that would rule him out for the rest of the season, as well as some chunk of the 2019/20 campaign.
So where do we go from here? With Bellerin no longer available for selection, Emery has only two options – work with the other lads at his disposal or delve into the transfer market to probably get a short term mitigation. A loan deal for Nathaniel Clyne some right back.
Let's explore Option 1 – using the lads at our disposal. In the hierarchy of right backs in the club, Emery has Stephan Lichtsteiner, Ainsley Maitland-Niles and Carl Jenkinson as able deputies for Hector Bellerin.
Lichtsteiner, that just turned 35 recently by the way, has seen that life in the Premier League can be a struggle, even if you're Methusalah's age mate and have won a truckload of titles in the Serie A. I was one of those fans that had a poker face when he was the first signing in the Emery era and to be honest, I didn't expect him to light any fireworks, but from what I knew about him, I expected him to put a shift in the games he gets selected. Early on in his Arsenal career, he had it all peachy and creamy, scoring against some farmers in the Europa League and having fun with some lower league folks in the Carabao Cup but Bellerin got injured and he was selected to play with the big boys in the EPL. We all know how that panned out – there were the shite fests away to Liverpool and Manchester United then that header to Brighton's Jurgen Locadia that cost us three points. As an elder statesman, I didn't expect him to get that much minutes at the Premier League and with Bellerin injured, he could become a liability in an already shaking backline.
Verdict – I hope he features in only FA Cup and Europa League games.
Then there's Carl Jenkinson, the forgotten true and true Gooner that has plied his trade in several clubs but still finds himself with us. He's certainly not a world beater by his fair standards but Jenks gives you 100% commitment and heart, which compensates for his lack of ability. He possesses a nice cross on him though, with his assist in the Blackpool game a reminder of what he can do when selected. What I do love about him is the fact that he doesn't whine about not playing consistently, and will do his bit when selected, but there's a reason he's our fourth choice right back. With his contract expiring this summer, Jenks will certainly try pastures anew but he still has a role to play for us between now and the end of the campaign.
Verdict – He will only remain a last gasp option when the injury crisis deepens
AMN – one of the nicest acronyms you'd ever see till you find out what it means and then you'd wish you didn't like the acronym initially, as you expected a bit more. That's how I can relate to his footballing ability as well. With Maitland-Niles, you have to first of all commend him for playing out of his comfort zone to help his team – he's not a full back by trade (had a strong midfield showing for England in the triumphant U20 World Cup campaign) but he has been deployed as a left back, right back and even right winger, like your modern day John O'Shea. However, the only challenge of being a jack-of-all-trades has the potential to make you a master of none. AMN has the physical qualities that can make him a decent full back, but he still needs to do some work on his defensive side, as there's room for improvement.
Verdict – Deploy as Arsenal's make-shift right back and hope he builds some consistency
Now we are at Option 2 – signing a player, or maybe securing a loan deal, from the transfer market. Well, this is not Football Manager 2019, where you have the luxury of clicking on a tab and all the right back options appear for you. In real life, it's a lot complex. For starters, the manager has already mentioned that there are no funds to sign players in this transfer window, so this already limits our options to loan deals, which it's not as easy as going over the counter to get an item. In the Premier League, I can think about maybe Matteo Darmian, Victor Moses and Nathaniel Clyne that would be the noteworthy options, but everyone isn't like Arsenal that enjoys strengthening their rivals.
In conclusion, the onus is on Unai Emery to make the best decision for his team and as an Arsenal supporter, I'd give my err, support, to the option he decides to take.
Sayonara.
Bonus Reading: https://arseblog.com/2019/01/bellerins-injury-could-be-an-opportunity-for-maitland-niles/
Follow Gooner Daily on Twitter  @goonerdaily.
Visit Gooner Daily's  Facebook page.
Click on the "Follow button" to join Gooner Daily's Mailing List
Confidence has been restored to the Arsenal camp following their impressive wins on the trot but there was a dark cloud over our silver lining when new signing, Henrikh Mkhitaryan, was forced off following a clash of knees with some Russian bloke with vodka in his blood with our dear Armenian coming out second best. It's never good when a player indicates to the bench to substitute him because it clearly shows that he can't take any part of that game and that was the case on Thursday evening with Mkhi.
Alex Iwobi came on in his stead and had a good game by his modest standards but we needed to hear the manager's assessment (via Arsenal.com) of the situation after the game,
"Micki came off and he will be out for Sunday. He has a scan and the fear is that his medial knee ligament has been touched. We'll know more about that soon. For how long he will be out, I don't know."
When the manager says 'he doesn't know', he throws things into limbo and as expected, some other sports websites have been quick to give their own assessment of the injury because, you know, they seem to work hand in hand with the club's physio, Colin Lewin. The Telegraph has reported that Mkhitaryan could miss the rest of the season and with the campaign having just a month left, they might just be correct.
That being said, I'd like to take some time out to reflect on Mkhitaryan's fledgling career with the Gunners following his swap from a disastrous spell at Manchester United in January. 12 games, two goals and six assists has been a very good return from the attacking midfielder and the Gunners are right to expect more from him as he's a player of immense quality.
Having Mkhitaryan in the side also relieved the creative stress off Mesut Ozil as the Gunners could also boast of another attacking midfielder that has a penchant for creating chances for others and it was good seeing him connect with his long time friend, Pierre-Emerick Aubameyang with their collective performance against Watford showing the world that that bromance still exists. I'm quite happy we got a player like Mkhi for free bearing in mind that we wanted him a few seasons ago when he won the Bundesliga Player of the Year award scoring 25 goals and notching up 26 assists.
I wish Mkhi a speedy recovery and hope to see him on the pitch.
Follow Gooner Daily on Twitter  @goonerdaily.
Visit Gooner Daily's  Facebook page.
Click on the "Follow button" to join Gooner Daily's Mailing List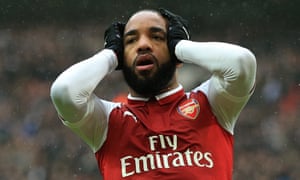 Can you actually believe that we have just 11 games left in the Premier League this season? It's amazing how time flies in this division, and I must say, it has been yet another frustrating campaign for Arsenal. The fans were used to finishing in the top four all these years and it became a bare minimum in terms of expectations but after finishing in fifth place last season, one must have thought that the Gunners would do enough to at least challenge for the title or something, but shamefully, the Gunners are a whopping 27 points behind Manchester City and eight points behind fourth placed Chelsea.
The potential for yet another campaign outside the top four is looming but the team's cause isn't helped with the recent update that top scorer (yes, with nine goals), Alexandre Lacazette will be out for four to six weeks due to an ongoing knee problem that required him to go under the knife. The club's website released an official statement,
"The minor procedure was a success and he will now undergo a period of rehabilitation. It is envisaged that he will return to the squad within four to six weeks."
With the likes of Olivier Giroud and Theo Walcott shipped out to other Premier League clubs, Arsenal is left with their new record signing, Pierre-Emerick Aubameyang and Danny Welbeck as the only senior center forwards in the team. The likes of Eddie Nketiah and Chuba Akpom are still waiting in the ranks to stake a claim for first team action but they are far from ready.
Lacazette's time in the club has been bittersweet so far with the initial buzz surrounding his arrival and his debut goal after 94 seconds against Leicester City. He had such a good start to his Arsenal career and I strongly believe that the constant substitutions for Olivier Giroud didn't help his cause. With Giroud suffering an injury layoff, Lacazette managed to play for 90 minutes but he failed to influence most of his games. I will still need to cut him some slack as he's playing in a different league and that requires some adapting to do, but many expected better from the French forward.
I'm quite unhappy about the timing of Lacazette's injury, as it has come at a time when he needed some goals to improve his confidence, falling his horror show at Wembley as well as Arsene Wenger's comments about how Aubameyang's arrival affected his confidence. With Lacazette injured, Arsenal will need Danny Welbeck to come up with the goods in the Europa League, while Aubameyang would lead the charge for the fourth place finish we remain hopeful for.
I wish Lacazette the very best and hope he recovers swiftly as we need his services for the remainder of what's left of the season.
Sayonara.
Follow Gooner Daily on Twitter  @goonerdaily.
Visit Gooner Daily's  Facebook page.
Click on the "Follow button" to join Gooner Daily's Mailing List