Category Archives:
Injury News
Confidence has been restored to the Arsenal camp following their impressive wins on the trot but there was a dark cloud over our silver lining when new signing, Henrikh Mkhitaryan, was forced off following a clash of knees with some Russian bloke with vodka in his blood with our dear Armenian coming out second best. It's never good when a player indicates to the bench to substitute him because it clearly shows that he can't take any part of that game and that was the case on Thursday evening with Mkhi.
Alex Iwobi came on in his stead and had a good game by his modest standards but we needed to hear the manager's assessment (via Arsenal.com) of the situation after the game,
"Micki came off and he will be out for Sunday. He has a scan and the fear is that his medial knee ligament has been touched. We'll know more about that soon. For how long he will be out, I don't know."
When the manager says 'he doesn't know', he throws things into limbo and as expected, some other sports websites have been quick to give their own assessment of the injury because, you know, they seem to work hand in hand with the club's physio, Colin Lewin. The Telegraph has reported that Mkhitaryan could miss the rest of the season and with the campaign having just a month left, they might just be correct.
That being said, I'd like to take some time out to reflect on Mkhitaryan's fledgling career with the Gunners following his swap from a disastrous spell at Manchester United in January. 12 games, two goals and six assists has been a very good return from the attacking midfielder and the Gunners are right to expect more from him as he's a player of immense quality.
Having Mkhitaryan in the side also relieved the creative stress off Mesut Ozil as the Gunners could also boast of another attacking midfielder that has a penchant for creating chances for others and it was good seeing him connect with his long time friend, Pierre-Emerick Aubameyang with their collective performance against Watford showing the world that that bromance still exists. I'm quite happy we got a player like Mkhi for free bearing in mind that we wanted him a few seasons ago when he won the Bundesliga Player of the Year award scoring 25 goals and notching up 26 assists.
I wish Mkhi a speedy recovery and hope to see him on the pitch.
Follow Gooner Daily on Twitter  @goonerdaily.
Visit Gooner Daily's  Facebook page.
Click on the "Follow button" to join Gooner Daily's Mailing List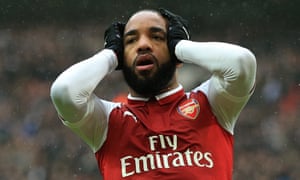 Can you actually believe that we have just 11 games left in the Premier League this season? It's amazing how time flies in this division, and I must say, it has been yet another frustrating campaign for Arsenal. The fans were used to finishing in the top four all these years and it became a bare minimum in terms of expectations but after finishing in fifth place last season, one must have thought that the Gunners would do enough to at least challenge for the title or something, but shamefully, the Gunners are a whopping 27 points behind Manchester City and eight points behind fourth placed Chelsea.
The potential for yet another campaign outside the top four is looming but the team's cause isn't helped with the recent update that top scorer (yes, with nine goals), Alexandre Lacazette will be out for four to six weeks due to an ongoing knee problem that required him to go under the knife. The club's website released an official statement,
"The minor procedure was a success and he will now undergo a period of rehabilitation. It is envisaged that he will return to the squad within four to six weeks."
With the likes of Olivier Giroud and Theo Walcott shipped out to other Premier League clubs, Arsenal is left with their new record signing, Pierre-Emerick Aubameyang and Danny Welbeck as the only senior center forwards in the team. The likes of Eddie Nketiah and Chuba Akpom are still waiting in the ranks to stake a claim for first team action but they are far from ready.
Lacazette's time in the club has been bittersweet so far with the initial buzz surrounding his arrival and his debut goal after 94 seconds against Leicester City. He had such a good start to his Arsenal career and I strongly believe that the constant substitutions for Olivier Giroud didn't help his cause. With Giroud suffering an injury layoff, Lacazette managed to play for 90 minutes but he failed to influence most of his games. I will still need to cut him some slack as he's playing in a different league and that requires some adapting to do, but many expected better from the French forward.
I'm quite unhappy about the timing of Lacazette's injury, as it has come at a time when he needed some goals to improve his confidence, falling his horror show at Wembley as well as Arsene Wenger's comments about how Aubameyang's arrival affected his confidence. With Lacazette injured, Arsenal will need Danny Welbeck to come up with the goods in the Europa League, while Aubameyang would lead the charge for the fourth place finish we remain hopeful for.
I wish Lacazette the very best and hope he recovers swiftly as we need his services for the remainder of what's left of the season.
Sayonara.
Follow Gooner Daily on Twitter  @goonerdaily.
Visit Gooner Daily's  Facebook page.
Click on the "Follow button" to join Gooner Daily's Mailing List
It is hard to see a player fall time and time again into the depressing cycle of injury, rehabilitation, depression and injury once again. For 32 year old Spanish international, Santi Cazorla, the year 2017 would be one he will never want to remember as it was the beginning of potentially, the end of his footballing career.
The former Malaga man has been out injured since October 2016 as he has suffered a series of nasty injuries. Cazorla is a player that is much loved at the club and even fans if other clubs as his ability, cheerful nature and overall commitment to the cause of the Arsenal project.
News emerged that the player has undergone his 10th surgery on his ankle, that may probably mean he will also miss the whole of this year due to injury. On his day, Cazorla is one of the best central midfielders in the world as his skill set of vision, creativity, passing and finishing are up there with the very best. He has had to graft skin from his arm to add to his feet, as he lost 8cm due to a gangrene infection, but his spirit is what is keeping hope alive that one day, we would still see this brilliant footballer play the football in the way only he can do.
The ambidextrous footballer is one of the players that makes Arsenal tick, as he offers balance to the middle of the park that has been missing since his absence. While the club has since moved on in his absence, what he brings to the pitch is one that the club can still benefit from as his leadership, experience and ability are needed to lead the current crop of players to a new era.
The player was emotional in an interview he had last year, as he spoke of the torment of not playing, the agony of rehabilitation and the feeling that everything he does to get back to the pitch will still end up on the treatment table. Arsenal have not been overly blessed with the avoidance of these kind of scenarios which has led to questions about the club's medical department.
The likes of Wilshere and Abou Diaby at one point or the other have always struggled to maintain permanent fitness, which fans hope don't happen to Cazorla. Arsenal fans have taken to the player who joined in the summer of 2012, as his displays were unexpected of a player that was not on the radar of the big clubs.
His contract at Arsenal expires this summer, but one can't begrudge the Arsenal hierarchy if they don't want to offer him new terms. Afterall, the club have paid his wages despite not playing for about 15 months, which in itself is a commendable fact in this world of impatient club owners and administrators. If he leaves Arsenal, he will leave as a player that gave so much, but was betrayed by his own body.
If his latest return doesn't happen and he suffers a setback, he should be thinking of retirement. He will be missed, but as a wise man once said, "The best things in life are on the other side of fear". It would be sad to see him go out like that.
Guest post by Mark Weasley from Retro Football News