Category Archives:
International Football
As expected from every tournament, which includes the World Cup of course, there will be some routine results, some nerve racking one and everyone's favorite, the upsets.
This World Cup has had its fair share of upsets with Mexico defeating world champions, Germany, that sent shock waves around the world. With Argentina drawing their first game against Iceland, it was going to be an interesting encounter against a Croatia side that had three points in the bag following their victory over my Nigeria, so it was an all-or-nothing for both sides.
The eyes of the world were on Lionel Messi and we expected him to come to the party following his sub standard showing against Iceland. Croatia actually matched them pound for pound but unlike IR Iran that rolled over and played dead for Spain, Croatia played their football and got rewarded for their efforts when Argentina's Willy Caballero fluffed his clearance to allow Rebic smash the net to put Croatia ahead. At this level, it was quite embarrassing.
At one down, I expected the Argentines to push forward and take the game by the scruff of its neck but the better chances still went to Croatia. The second goal from their captain, Luka Modric, was quite magical. He whizzed his way past a couple of markers before blasting a piledriver past the hapless Caballero in goal. Ivan Rakitic almost added insult to injury when his free kick clipped the cross bar but Croatia got their third goal of the night when a defensive lapse allowed Mateo Kovacic to tee Rakitic who guided the ball into the net to make it 3-0.
With this result, Argentina will be hoping for Nigeria to do them a favor against Iceland, as a win for the Super Eagles will but the group in the balance for the last match day. With two wins from two, Croatia is assured of qualification so their manager can afford to take his foot off the pedal in the last game against Iceland.
That's the World Cup for you, but hey, don't cry 3 me Argentina.
Sayonara
As a Nigerian, I support the National Football Team at every level, which sometimes has made me do things I'm not going to mention on this post. With club football out of the way for a while, it was only normal for a Nigerian Gooner to brace himself up for what proved to be a very crucial World Cup qualifier against the current African champions, the Indomitable Lions of Cameroon.
For those that don't know, there are some similarities between Nigeria and Arsenal. For starters, they are very good bottlers. C'mon, how many defending AFCON champions fail to qualify for the next two editions of the tournament? Following our poor showing against South Africa, we stand a chance of missing the tournament three times in a row bar some sort of miracle in Johannesburg for the second leg.
However, our road to Russia has been a smooth ride with wins against Zambia and Algeria in our first two games. Yesterday, Cameroon, fresh of their AFCON triumph and Confederations Cup campaign, arrived in Uyo knowing that they needed a victory on the ground of one of their fierce rivals, as they had struggled to draw their first two games against Algeria and Zambia.
The home side featured a very strong lineup, as the manager learned from the lessons of the South Africa debacle and they opened the scoring with some quick thinking from John Mikel Obi and some improvised attacking play from ex-Watford striker, Odion Ighalo. There was a sour feel to the goal as the striker was booked for revealing the message on his inner shirt. Shitty rules if you ask me. He didn't even remove his jersey. The Super Eagles doubled their money when Ighalo dummied two defenders to allow Victor Moses' corner get to Mikel's path. The Nigeria captain still had to reacted quicker than his marker to smash the ball into the roof of Ondoa's net.
Going into the break with 2-0 lead was welcome, but Nigeria still had to keep their foot on the pedal. Cameroon were on the ascendancy after the break but it took a well-deserved Moses goal to put the game beyond doubt. The buildup was from lovely counter attacking football and when he got on the end of that Simon Moses cutback, the writing was on the wall. I loved the soaring Eagles celebration more though. An injury concern for Odion Ighalo saw Kelechi Iheanacho join the fray to put the icing on the cake for Nigeria with his seventh goal in 11 games for his nation.
Three games, nine points in the bag and qualification to next year's World Cup within sights. The Super Eagles will be heading to Yaounde to finish the job and they should be spurred with the fact that Cameroon's manager, Broos, has resigned from position following their poor qualification campaign that has seen them amass just two points from a possible nine.
I guess the Lions of Cameroon aren't indomitable after all.
Follow Gooner Daily on Twitter  @goonerdaily. I'll follow back
Visit Gooner Daily's  Facebook page.
Click on the "Follow button" to join Gooner Daily's Mailing List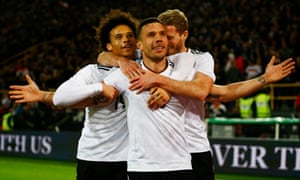 There has been so much negativity around the club in recent weeks amidst the bad run of results, so I decided to take a little break from writing about the club I love more than anything in this world – Arsenal. However, the international break is upon us and we 'neutral' football prefer to watch the games that have connections to Arsenal, like the Germany vs England game last night. These are two countries that have had their fair share of Arsenal contingent and they also have a lot of quality players on display but the night was about a former Gunner, Lukas Podolski, that was bowing out, after 129 games for his nation in 13 great years.
It's funny how Podolski was ignored by Poland in 2004, then 19-years-old, playing in second division FC Cologne. Poland's manager at that time, Pawel Janas, had really harsh quotes when he deflected the Polish media campaign for Podolski to get a call up to the national team,
"As for today we have much better strikers in Poland and I don't see a reason to call up a player just because he played one or two good matches in the Bundesliga. He's not even a regular starter at his club."
Poland's loss was Germany's gain as Rudi Voeller gave the 19-year-old his debut against Hungary, making him the first second division player since 1975 to break into the first team. From that moment, the fairy tale for young Podolski began. He featured in the 2004, 2008, 2012 and 2016 European Championships as well as the 2006, 2010 and 2014 FIFA World Cups, scoring 48 goals in 129 games before last night's friendly with England.
Podolski had already announced after Euro 2016 that he was going to retire from international football in March 2017, so everybody prepared for yesterday because they knew it was going to be the last time they were going to see their star don the German jersey and it turned out to be a great occasion.
There was a presentation to the 2016 German Player of the Year, Mesut Ozil, ahead of the game, and the maestro had already stated that he was going to inherit Podolski's #10 jersey after he retires. The game itself was a great spectacle with both sides giving their best to make a friendly game look competitive and I liked England's kit, but it was only written in the stars when the game was settled by a Lukas Podolski trademark piledriver.
We have seen Podolski do that times without number in the past but the English defenders chose to afford him some free space and paid dearly for it. In the end, that proved to be the match clincher and there were a lot of emotional scenes at the end of the game as the fans, manager and players bid farewell to their favored son.
Podolski hangs international boots with one gold medal for Germany in 2014 and two bronze medals from the 2006 and 2010 World Cups. He also picked up a silver medal for his nation in the 2008 Euros and a bronze medal in the 2005 Confederations Cup. On an individual note, he won the Young MVP award in the 2006 World Cup and he will be very proud of all he achieved with Germany.
In a club career that has seen him play for FC Cologne, Bayern Munich, Arsenal, Internazionale and Galatasaray, Podolski has announced that he will start a new adventure with Vissel Kobe in Japan at the completion of the European campaign in the summer.
I wish Podolski the very best in his future endeavors.
Sayonara.
Follow Gooner Daily on Twitter  @goonerdaily. I'll follow back
Visit Gooner Daily's  Facebook page.
Click on the "Follow button" to join Gooner Daily's Mailing List