Football has evolved to the level where everyone is more concerned about results, so there is a high demand for teams to lineup their strongest possible squads to challenge for every competition. Different football club board of directors have different expectations for their respective teams and it cascades down to the manager to assemble a team capable of matching those expectations, because if he doesn't his head will be on a plate and a new manager would be hired.
Oil-rich clubs like PSG and Manchester City can afford to have their fare shares of 'trails and errors', because the money is readily available for the managers to sign whoever they please as long as the prices is right. With clubs spending big for talent out there, what would happen to the young ones coming up? Different teams have different philosophies (I know LVG has abused this word – sadly) when it comes to player recruitment. FC Barcelona, for instance, isn't afraid to spend big when they want to, but the club believes in investing in the sheer talent available from their world-famous La Masia Academy, and when you think of the fact that the club has produced world beaters like Lionel Messi and co., you can tell that investing from within is a plausible option too.
That brings us to a club like Arsenal.
Arsene Wenger has been on the helm for 18 years and he has seen several generations of players come and go from Arsenal. We also know that Wenger is a strong believer of investing in youth, and under his tutelage, youngsters like Wojciech Szczesny, Kieran Gibbs and Jack Wilshere have broke into the first team and performed admirably. Wenger also chooses the option in investing in youngsters from other clubs to allow them continue their football education in Hale End Academy and today, the club can be proud of the likes of Hector Bellerin, that was snapped from Barcelona at just 11 years of age, and he's challenging a veteran like Matt Debuchy for his place.
This season, the club signed a couple of youngsters from other clubs with two players, Vlad Dragomir and Jeff Reine-Adelaide, been touted as the players that have massive potential. Born in 1998, Jeff Reine-Adelaide played for the RC Lens Under-19 side and impressed heavily, featuring in a number of playing positions across midfield and attack. When he joined the club this summer, he was tipped to be part of the Barclays Asia Trophy squad but he withdrew and was replaced by Jon Toral.
After a successful Barclay's Asia Trophy tour, Arsenal hosted three other European sides in the Emirates Cup and the fans got a glimpse of Reine-Adelaide's talent in the mauling of Lyon. It was a very superb cameo performance and Wenger had a couple of sweet words to say on the youngster after the game,
"Reine-Adelaideis something special you know. He is a great talent and when he came on you could see that – 17-years-old, let's not forget that. In fact, I don't remember how I played at 17 but I didn't play like that!

It is exciting to work with these players. You can imagine how they will look in two or three years for the club. That is always exciting" 
When the club released the team sheet for the game against Lord Bendtner's Wolfsburg, Reine-Adelaide was starting and he proved his worth with another great performance that was capped with a neat assist for Theo Walcott. I really don't expect the young lad to start against a fierce opponent like Chelsea in the Community Shield but I'm confident that he'd get a run out in the Capital One Cup this season.
Let's hope he can keep his feet on the ground and focus on improving himself.
Sayonara.
Download the Gooner Daily  BlackBerry App to receive notifications on your Smart Phone when a post is published.
Follow Gooner Daily on Twitter  @goonerdaily. I'll follow back
Visit Gooner Daily's  Facebook page.
Click on the "Follow button" to join Gooner Daily's Mailing List.
It's time for another environmental sanitation in Lagos State so we all have to stay indoors till at least 10 am, so I figured it would be a time to publish a preview before getting ready to leave for Yaba. After coming back home from Warri, I served myself some good game time with Witcher 3 and more plots unfold as I progress in the game. Lovely stuff.
The Emirates Cup has hit our screens yet again with VFL Wolfsburg and Valencia kicking the tournament off by 2 pm. Gooner of Steel took some time out share some facts about the tournament as well as the scoring system. It's worth a read. The Gunners have not won the tournament since 2010 and with the kind of form the team showed in the Barclay's Asia Tour, the fans would be hoping for more of the same in the home of football, Emirates Stadium.
The only time both teams met in a competitive game was as far back as the 2000/01 season, where the Gunners were paired in the same Champions League group with Bayern Munich, Spartak Moscow and Lyon. When the Gunners visited the Stade de Gerland, Thierry Henry scored the only goal that gave Arsenal all three points but when the French giants visited Highbury, Dennis Bergkamp scored what would have proved to be the winner but Edmilson equalized with a very late strike to give Lyon a share of the spoils. Arsenal and Lyon finished below Bayern with eight points each but the Gunners better head to head record saw them qualify in the French side's stead. Sadly, the Gunners were eliminated in the Knockout Stage in the hands of Valencia thanks to a John Carew goal.
Arsenal Team News
The Gunners would be in buoyant mood following their BAT success and they would be keen to impress in front of their home supporters in what would prove to be a good encounter against a formidable foe. The manager has confirmed that Wojciech Szczesny is leaving the club to join AS Roma on loan, so he'd be a notable omission from the squad. So far the young Pole has made 189 appearances for the club. The game could also see Petr Cech make his non-competitive home debut and I'm expecting him to get the kind of rousing reception he received in Singapore.
Wenger took 27 players to the Asia Tour and he managed to give every single player a piece of the action but I expect a more conservative approach in the Emirates Cup. With the Community Shield coming up next week, and the Premier League starting the week after, Wenger would want to ensure that his first team players are considerably fit for the encounter, so I wouldn't expect to see much youngsters in the tournament. Then again, what do I know?
Arsenal Injury News
Wenger confirmed in his press conference that everybody is fit but Mathieu Flamini is carrying a knock on his ankle. Flamini has been on the end of some stick from the fans as many are hopeful that the club sends him packing sooner rather than later but this insightful piece by Arseblog's Tim Stillman on the holding midfielder is worth a read.  The manager also confirmed that Danny Welbeck is still a long way from full fitness, and he stated that the Copa America superstars, Alexis Sanchez and David Ospina, are still on holidays.
Arsenal Predicted Lineup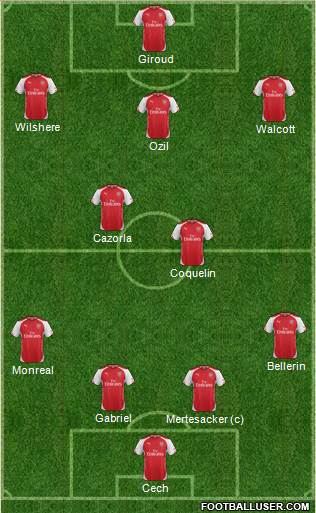 Lyon Team News
Hubert Fournier and his Lyon charges have began the new campaign rather tamely and would be hoping for their star man, Alexandre Lacazette, to stay at the club and lead them to glory. Lacazette scored a career-best 31 goals last season, with 27 of them coming in Ligue 1. The club brought in two players this transfer window – Jeremy Morel from Marseille and Claudio Beauvue from Guimgamp. A couple of players were released by the club including a certain Yoann Gourcuff, that used to have the world at his feet in his Bordeaux days. How sad.
Lyon Injury News
The only major absentee from the Lyon team is Milan Bisevac, that ruptured his anterior cruciate ligament in February last season. Theo Walcott and Abou Diaby are players in Arsenal that have suffered such a fate and we know how long the lads to return to full fitness.
Lyon Predicted Lineup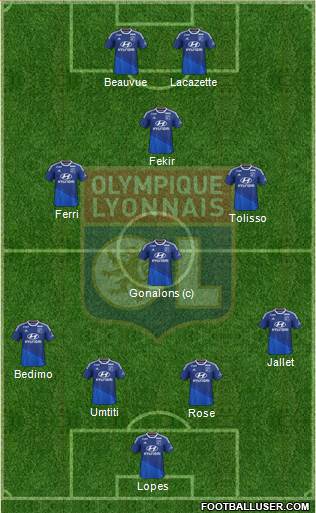 Team Form
Arsenal
Last Five Games: D W W W W
Last Result: Everton 1 (Barkley 74′) – Arsenal 3 (Walcott 22′, Cazorla 58′, Ozil 62′)
Leading Goalscorer: Chuba Akpom (3)
Olympique Lyonnais
Last Five Games: D W L L W
Last Result: Lyon 2 (Fekir 24′, Lacazette 80′) – AC Milan 1 (Poli 75′)
Leading Goalscorer: Nabil Fekir, Alexandre Lacazette (1)
Gooner Daily says 2 – 1 to the Arsenal
Sayonara.
Download the Gooner Daily  BlackBerry App to receive notifications on your Smart Phone when a post is published.
Follow Gooner Daily on Twitter  @goonerdaily. I'll follow back
Visit Gooner Daily's  Facebook page.
Click on the "Follow button" to join Gooner Daily's Mailing List.
Here I am at Osubi Airstrip in Warri as I wait patiently for my flight back to Lagos to be announced. My stay in the city was worthwhile as I got to hang out with my friends as well as having a successful alignment meeting with the Department of Petroleum Resources. It's always good to have meaningful engagements with your regulators you know.
When Wojciech Szczesny followed AS Roma, Francesco Totti and Alessandro Florenzi on Instagram, many fans thought that he had done it because things were in place for him to leave the club and play for the Romans. Their thoughts seem to be true.
ESPN recently published an article that AS Roma officials have began negotiations to secure the services of the Polish shot stopper on loan. It is believed that Roma harbored some faint hopes of making the deal permanent, but Arsenal was quick to quash to faint hopes. Szczesny will play on loan for the Italian giants for an entire season, and that's it.
For the Romans, getting Szczesny would be a superb short-term fix for the club as they aim to challenge Juventus for the Scudetto and go far in this season's Champions League. Morgan de Santics and Bogdan Lobont are currently on the club's books but they are aging veterans that have given their all to the club and in Szczesny, the team would have a goalie that is ready to challenge them for a first-team berth.
It's funny how things change in the twinkle of an eye. While David Ospina was busy flying his country's flag, Arsenal secured the services of Petr Cech and if you pay £10.9m for a legendary veteran like Cech, you're not going to put him on the bench. So rumors started flying that Fenerbahce had agreed personal terms with Ospina and all that crap and it brought mixed opinions, as some Gunners wished that it was Szczesny that got the boot instead – I guess their wishes came through.
Szczesny was somewhat elated with the arrival of Cech as he hoped to learn a lot from the Czech goalie but with the Pole moving to Italy, I think he has to put a rain check on his Goalkeeping 101 for Dummies class with Cech.
On the short term, a move to Roma would allow Szczesny experience new surroundings, and a new style of football that is Serie A. He has been around far too long at Arsenal and an air of complacency fell into his game as he saw the likes of Manuel Almunia, Vito Mannone and Lukasz Fabianski leave the club.
Moving to Roma will see Szczesny come back in the 2016/17 season refreshed and Wenger would assess his situation and make a decision on what his forward path would be.
I wish Woj the very best in his imminent experience in Italy.
Sayonara