Category Archives:
International Football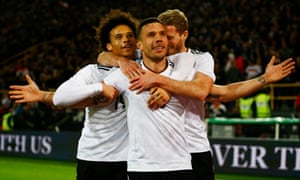 There has been so much negativity around the club in recent weeks amidst the bad run of results, so I decided to take a little break from writing about the club I love more than anything in this world – Arsenal. However, the international break is upon us and we 'neutral' football prefer to watch the games that have connections to Arsenal, like the Germany vs England game last night. These are two countries that have had their fair share of Arsenal contingent and they also have a lot of quality players on display but the night was about a former Gunner, Lukas Podolski, that was bowing out, after 129 games for his nation in 13 great years.
It's funny how Podolski was ignored by Poland in 2004, then 19-years-old, playing in second division FC Cologne. Poland's manager at that time, Pawel Janas, had really harsh quotes when he deflected the Polish media campaign for Podolski to get a call up to the national team,
"As for today we have much better strikers in Poland and I don't see a reason to call up a player just because he played one or two good matches in the Bundesliga. He's not even a regular starter at his club."
Poland's loss was Germany's gain as Rudi Voeller gave the 19-year-old his debut against Hungary, making him the first second division player since 1975 to break into the first team. From that moment, the fairy tale for young Podolski began. He featured in the 2004, 2008, 2012 and 2016 European Championships as well as the 2006, 2010 and 2014 FIFA World Cups, scoring 48 goals in 129 games before last night's friendly with England.
Podolski had already announced after Euro 2016 that he was going to retire from international football in March 2017, so everybody prepared for yesterday because they knew it was going to be the last time they were going to see their star don the German jersey and it turned out to be a great occasion.
There was a presentation to the 2016 German Player of the Year, Mesut Ozil, ahead of the game, and the maestro had already stated that he was going to inherit Podolski's #10 jersey after he retires. The game itself was a great spectacle with both sides giving their best to make a friendly game look competitive and I liked England's kit, but it was only written in the stars when the game was settled by a Lukas Podolski trademark piledriver.
We have seen Podolski do that times without number in the past but the English defenders chose to afford him some free space and paid dearly for it. In the end, that proved to be the match clincher and there were a lot of emotional scenes at the end of the game as the fans, manager and players bid farewell to their favored son.
Podolski hangs international boots with one gold medal for Germany in 2014 and two bronze medals from the 2006 and 2010 World Cups. He also picked up a silver medal for his nation in the 2008 Euros and a bronze medal in the 2005 Confederations Cup. On an individual note, he won the Young MVP award in the 2006 World Cup and he will be very proud of all he achieved with Germany.
In a club career that has seen him play for FC Cologne, Bayern Munich, Arsenal, Internazionale and Galatasaray, Podolski has announced that he will start a new adventure with Vissel Kobe in Japan at the completion of the European campaign in the summer.
I wish Podolski the very best in his future endeavors.
Sayonara.
Follow Gooner Daily on Twitter  @goonerdaily. I'll follow back
Visit Gooner Daily's  Facebook page.
Click on the "Follow button" to join Gooner Daily's Mailing List
So we heard the news that Alexis Sanchez suffered a hamstring injury in the Chile camp and had to sit out the stalemate against Colombia. Without their talisman, the Chileans put up a dogged defensive display and earned themselves one point. That game was a rough as you'd ever see, as I saw players tackle the hell outta each other.
Then they said he was going to be out for six weeks. Trust Arsenal fans and their panic attacks. Some fantasy football managers even sold the Chilean maverick, as many as 96, 651. His value even dropped by 0.1m but I didn't care. I trusted my Alexis to be the beast he is and shake off the injury. Then I saw how other footballers 'pulled out' from their national teams due to injury scares but not Alexis. He was determined to play for the South American champions in their crucial home clash against Uruguay.
That determination payed off as the Chilean brought his A-game for his nation, scoring two well taken goals in the 3-1 win against Uruguay.
That win has put Chile in fourth place with 20 points, behind table toppers, Brazil, that are on 27 points (won six in a row) as well as Uruguay (23 points) and Ecuador (20 points).
Alexis returns to England to catch a few days rest before playing for the Gunners in the all-important clash against Manchester United at Old Trafford. There are many demons that need to be banished on Saturday. First off, Arsenal hasn't won a game in the league on that ground since 2006. Thanks to Danny Welbeck, the Gunners sealed an FA Cup victory there two season's ago. The Gunners record on that ground is simply shambolic and Arsene Wenger's head to head against Jose Mourinho is pathetic to say the least.
However, the Gunners can know that they would have one of their best players available for selection this weekend.
The beast called Alexis Sanchez.
Sayonara.
Follow Gooner Daily on Twitter  @goonerdaily. I'll follow back
Visit Gooner Daily's  Facebook page.
Click on the "Follow button" to join Gooner Daily's Mailing List
After a short break, the European Championships is down to the last four and we would start with Portugal vs. Wales. Portugal are familiar surroundings, as the team has been astonishingly consistent in the Euros, playing their fourth semifinals in the last five competitions. In Euro 2000, they were knocked out by eventual winners, France. They hosted the tournament in 2004 and went all the way to the final only to lose to surprise package, Greece. In the last edition, the country was knocked out by Spain in the semis.
Wales, on the other hand, have exceeded every set expectations to be where they are in the competition. In fact, the only time Welsh football was in the spotlight in an international tournament was as far back as 1958, when Jimmy Murphy's side went all the way to the quarterfinals in that World Cup before losing to a Pele goal. Pele and his country went on to win the tournament.
This class of '16 led by Chris Coleman has been consistent from game one till this very moment but what they lacked in talent and skill, they made up for it with sheer determination and industry. Take a look at the back line for instance, Wayne Hennessey is certainly no Manuel Neuer, but he has come goods for his nation in this tournament. Ashley Williams, James Chester and Ben Davies are not world beaters, but they work very hard for each other as a defensive unit. On the flanks, Neil Taylor and Chris Gunter support both attack and defensive superbly.
With Joe Allen, the Welsh Pirlo, and Joe Ledley holding the fort in the middle of the park, Aaron Ramsey has been given the freedom to influence the game as his team's creative hub, and so far, he has been involved in a combination of five goals and assists for his team. The nation's talisman, Gareth Bale, has been outstanding the competition with his goals but Ramsey has been one of the contenders for the Player of the Tournament, which makes his suspension today a very bitter pill to swallow.
Ramsey picked up an unnecessary yellow card in the 90th minute when Wales beat Northern Ireland in the Round of 16. Knowing fully well that any foul play from him would see him miss the semis, you'd expect the Welsh Jesus to be on his best behavior against Belgium but on the 75th minute, he picked up a card that has ruled him out of today's showpiece. A petition has been raised to appeal the decision to suspend Ramsey but I'm sure they appeal will fall on deaf ears.
Luckily, the suspension is just for one match so Ramsey stands a chance of playing in the final if Wales gets a good result today. Good luck to the Dragons in their quest for glory.
Elsewhere, there has been some news in the transfer market, as youngster, Jon Toral, that was snapped from Barcelona with Hector Bellerin in 2011, is set for yet another loan switch to Granada CF this time. Since moving to North London to continue his football education, aged 16, Toral has been playing consistently for the reserves and has been waiting for a chance in the first team.
He was loaned out in the 2014/15 season to Brentford, where he made 37 appearances and scored six goals for the Bees. Last season, after featuring in some preseason games for the Gunners, Toral was shipped out again to Birmingham City, where he excelled with the team, scoring their goal of the season against Ipswich Town, as well as winning the Player's Player of the Year and Supporter's Player of the Season award.
With Toral having just one more year left in his contract, shipping him out on loan to another team would mean that if the Gunners fail to offer him a new deal, he would be available on a free transfer to another club. The thing is, a player like Toral, talented as he is, is finding it difficult to break into the Arsenal team due to the vast array of options Arsene Wenger has at his disposal in central midfield. A loan is actually good for the player because he would be limited to more Reserves football if he remains with us this season. It's only a major injury crisis that can make him get a chance in that central midfield.
Even if Arsenal succeeds and gets him to sign a new contract, the chances of him breaking into the first team would be slim to none, so if only makes some sense to offer him a new deal to get some financial benefit from him when he's sold. Last time I checked, he cost the club 300,000 quid when we shipped him from Barca's La Masia academy.
Let's see what happens as that develops.
Sayonara.
Download the Gooner Daily  BlackBerry App to receive notifications on your Smart Phone when a post is published.
Follow Gooner Daily on Twitter  @goonerdaily.
Visit Gooner Daily's  Facebook page.
Click on the "Follow button" to join Gooner Daily's Mailing List